Demystifying China
Thursday, October 16, 2014
Federal Reserve Bank of San Francisco
101 Market Street
San Francisco, CA 94105
Price (includes lunch): $50.00
Registration closes: October 6, 2014
Discussion: China is changing dramatically, and quickly. So quickly, in fact, that much of what we think we know about the country may be wrong. Join us for this Asian Financial Forum presentation, Demystifying China, by Andy Rothman of Matthews International Capital Management. Andy challenges some common assumptions about China's entrepreneurial spirit, its consumption-led growth, and the stability and growth in its property markets, and in its banking system. In addition to what he sees as the strengths of China's growing economy, Andy will discuss some of remaining roadblocks to success.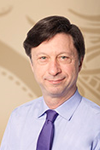 Andy Rothman
Investment Strategist
Matthews International Capital Management, LLC
Andy Rothman is an Investment Strategist at Matthews International Capital Management, LLC. He is principally responsible for developing research focused on China's ongoing economic and political developments while also complementing the broader investment team with in-depth analysis on Asia. In addition, he plays a key role in communicating to clients and the media the firm's perspectives and latest insights into China and the greater Asia region. Prior to joining Matthews in 2014, Andy spent 14 years as CLSA's China macroeconomic strategist where he conducted analysis into China and delivered his insights to their clients. Previously, he spent 17 years in the U.S. Foreign Service, with a diplomatic career focused on China, including as head of the macroeconomics and domestic policy office of the U.S. embassy in Beijing. In total, Andy has lived and worked in China for more than 20 years. He earned an M.A. in public administration from the University of Texas at Austin and a B.A. from Colgate University.
Sponsors