After the Fall: The Path Forward for China's Stock Market and Economy

Tuesday, October 20, 2015
12:00 – 2:00 pm
Federal Reserve Bank of San Francisco, Los Angeles Branch
950 South Grand Avenue
Los Angeles, CA 90015
Download presentation materials (pdf, 796 kb)
Discussion: China's economy is seemingly in turmoil. Markets are down, manufacturing is weak and the government has yet to provide a coherent explanation for August's tiny devaluation. Many argue that the economy is descending into policy chaos and a hard landing. Andy Rothman, however, argues that these are stumbles along the path toward growth rates that are continuing to decelerate (but are still quite fast) from an economy that is increasingly "rebalanced," with reform and restructuring to continue. He will explain the thinking behind this non-consensus conclusion.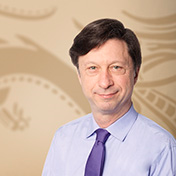 Andy Rothman
Investment Strategist
Matthews International Capital Management, LLC

Andy Rothman is an Investment Strategist at Matthews International Capital Management, LLC. He is principally responsible for developing research focused on China's ongoing economic and political developments while also complementing the broader investment team with in-depth analysis on Asia. In addition, he plays a key role in communicating to clients and the media the firm's perspectives and latest insights into China and the greater Asia region. Prior to joining Matthews in 2014, Andy spent 14 years as CLSA's China macroeconomic strategist where he conducted analysis into China and delivered his insights to their clients. Previously, he spent 17 years in the U.S. Foreign Service, with a diplomatic career focused on China, including as head of the macroeconomics and domestic policy office of the U.S. embassy in Beijing. In total, Andy has lived and worked in China for more than 20 years. He earned an M.A. in public administration from the University of Texas at Austin and a B.A. from Colgate University.