Fintech Innovation Office Hours
Tuesday, August 11 - Thursday, August 13, 2020
9 a.m. – 12 p.m. PDT
Virtual, by appointment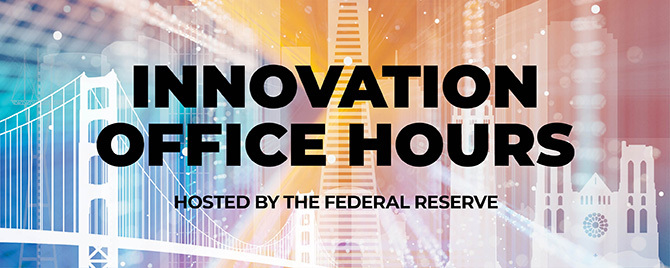 The Federal Reserve Board and Federal Reserve Bank of San Francisco are co-hosting virtual "office hours" to facilitate discussions with individual firms about digital innovation in finance. These meetings can be two-way learning opportunities for both firms and Federal Reserve staff.
The program is open to financial institutions and financial technology firms offering financial products and services. Please note: Federal Reserve staff will not provide new guidance or supervisory opinions during an office hour session.
You are also invited to join us for a Fireside Chat with Tracy Basinger, executive vice president at the San Francisco Fed, and Kavita Jain, deputy associate director at the Board of Governors, on Tuesday, August 11 at noon PDT.
Governor Lael Brainard, Federal Reserve Board, will wrap up Innovation Office Hours with closing remarks on Thursday, August 13 at noon PDT. Join live on Webex.
Join Us
Office Hours: August 11–13 from 9 a.m. – 12 p.m. PDT
Fireside Chat: August 11, 12 p.m. PDT
Closing Remarks: August 13, 12 p.m. PDT
Registration for Office Hours and the Fireside Chat are now closed.
To see future dates and locations, please visit the Federal Reserve Innovation Office Hours Series.
Details
Meetings are limited to 45 minutes and are by appointment only.
Discussions should relate to financial technology innovation.
Please specify topics of interest and state your objective for the meeting in the registration application.
We may contact you prior to the meeting to gather additional details.
We reserve the right to decline meeting requests as a result of space constraints or other reasons.
We will not provide supervisory review or approval as part of the discussions.
If you have already submitted a registration application:

We are currently assessing applications for scheduling.
A member of our staff will contact you directly.
Hosted by