Coins
The U.S. Mint produces both circulating and commemorative coins. Circulating coins include the cent, nickel, dime, quarter-dollar, half-dollar, and dollar, and these are the standard denominations used for everyday transactions.
To honor a person, place, or event, the U.S. Mint also administers Commemorative Coin programs. These coins are legal tender, but they are produced in limited quantities and are not intended for general circulation.
Cash Facts
Although coin designs and metal composition have changed since Congress passed the Coinage Act in 1792, many of the original design elements remain, including the inscription of the words "United States of America" and "Liberty," and the year the coin was produced.

Coins are manufactured at the U.S. Mint's Denver and Philadelphia facilities in a complex, multi-step process. Take a virtual tour of the coin-making process by visiting the Mint's feature, How Coins are Made.

A "numismatist" is someone who collects coins or paper money as a hobby. The U.S. Mint's website provides a number of resources for anyone interested in collecting U.S. coins.
View the gallery of U.S. coin designs below. Images courtesy of the U.S. Mint.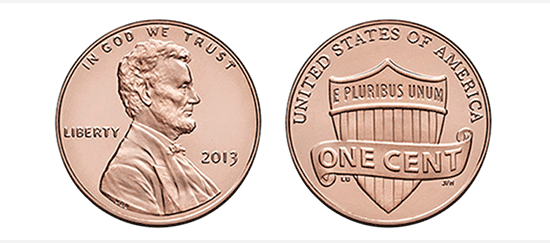 Cent (Penny)
Features Abraham Lincoln on the front, and the the reverse features a union shield with a scroll draped across and the inscription ONE CENT.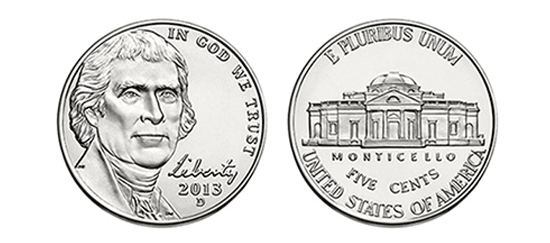 Nickel
Features Thomas Jefferson on the front, and the reverse of the 2006 nickel features the classic rendition of Monticello.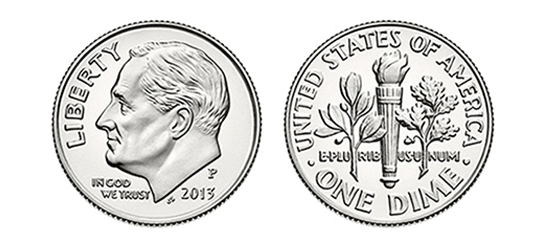 Dime
Features Franklin Delano Roosevelt on the front, and the reverse features a torch signifying Liberty, with an olive branch on the left signifying Peace, and an oak branch on the right signifying Strength and Independence.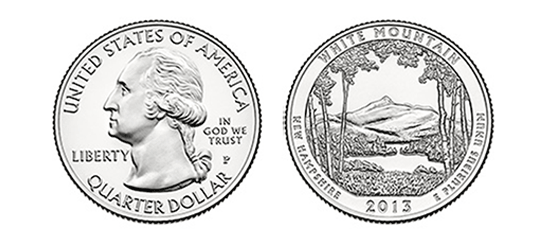 Quarter Dollar
Features George Washington on the front. Beginning in 2010, the United States Mint began issuing 56 quarter-dollar coins featuring designs depicting national parks and other national sites as part of the U.S. Mint America the Beautiful Quarters® Program. Previous quarter programs include the 50 State Quarters® Program and the District of Columbia and U.S. Territories Quarters Program.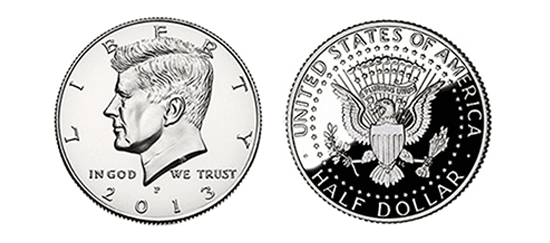 Half Dollar
Features John F. Kennedy on the front, and the reverse design is based on the presidential seal. It consists of a heraldic eagle with a shield on its breast, holding a symbolic olive branch and a bundle of 13 arrows. A ring of 50 stars surrounds the design, which gives this coin the distinction of having more stars than any other circulating coin.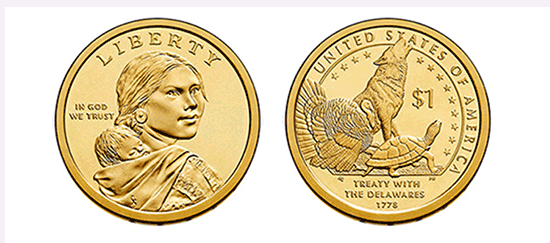 One Dollar
Dollar coins have been minted intermittently since 1794. Currently, the U.S. Mint produces two series of dollar coins: the Native American $1 Coin featuring Sacagawea (first issued in 2009), and the Presidential $1 Coin Series (first issued in 2007, not shown). In December 2011, the U.S. Mint suspended minting and issuing circulating Presidential $1 Coins, but new coins are available for numismatic purchase from the U.S. Mint's website.