2021 Findings from the Diary of Consumer Payment Choice
Download PDF (446 kb)
Download Chart Data (124 kb)
Summary
Every October the Federal Reserve conducts an annual payment study, the Diary of Consumer Payment Choice (Diary), to better understand payment trends and habits of the U.S. population.1 This year's Diary was conducted seven months into the COVID-19 pandemic. Given the timing of the study, the analysis shows some significant changes in consumers' payment behavior, though it is unclear if any of these changes will persist once the pandemic has ended. As with previous Diary studies, a demographically representative sample of adults from the Understanding America Study panel were asked to participate.2 There were 1,537 participants who took part in the 2020 Diary study. Each participant was instructed to report all their transactions, including cash withdrawals and deposits, over an assigned, consecutive three-day period. All transactions are then aggregated and, unless otherwise noted, reported on a monthly, per-person basis. The high-level findings from this year's Diary study are:
U.S. consumers made an average of 34 payments in October 2020, down from 39 in 2019
Cash use accounted for 19 percent of all payments, down seven percentage points from 2019
Small-value payments, defined as transactions under $25, declined by 26 percent
Total value spent increased from $4,236 to $4,760
Average value of cash held in consumers' pocket, purse, or wallet increased to $74, up $20 from 2019
Approximately 72 percent of U.S. consumers reported making an in-person payment over their three-day reporting period, down from 91 percent in 2019
Total spending on not-in-person, non-bill payments increased substantially at grocery stores, dining establishments, and general merchandise locations
As noted in the April and August supplemental Diary papers, consumer payment behavior changed dramatically and the pandemic continues to affect how consumers shop.3 Total payments in 2020 declined approximately eleven percent, or four total payments, compared to last year. Of the 35 total payments made in 2020, cash, debit card, and credit card payments accounted for approximately 19 percent, 28 percent, and 27 percent, respectively.
The decline in total payments in 2020 was mostly due to a decrease in the number of small-value payments under $25, which declined by approximately four payments per month. This change disproportionately affected the number of cash payments, which have historically accounted for most payments under $25. In 2020, consumers reduced the number of small-value cash payments by more than 40 percent compared to 2019, a decrease of three cash payments per month.
As a result of the pandemic, the share of people reporting at least one in-person payment during the Diary period dropped to 72 percent, a 19-percentage point decline compared to the 2019 Diary. While not directly comparable, supplemental surveys conducted in April and August found the number of consumers making in-person payments dropped sharply in April and began to increase throughout late spring and early summer.4
As online shopping increased, the average number of not-in-person payments made to grocery stores, dining establishments, and general merchandise stores increased slightly by approximately one payment per person. However, the total value of not-in-person spending per person at these merchant types increased substantially, doubling from approximately $110 in 2019 to $212 in 2020.
The paper consists of four sections, with each section exploring various aspects of cash use during the pandemic. Section 1 details changes in payment trends, including the share of individuals making in-person payments, payment instrument use for not-in-person payments, and the share of payment instrument use by purchase amount; Section 2 discusses how age and stated payment preferences influence payment use; Section 3 explores cash holdings by demographic cohort; and Section 4 outlines in-person and not-in-person payment use by merchant type. Appendix A provides an overview of the methodology. Additional information about the 2020 Diary is available at the website of the Federal Reserve Bank of Atlanta.5
Note Regarding COVID-19
While the paper highlights changes in payment behavior that may be accelerated by the pandemic, it is still unknown whether these changes will be transitory or permanent in the long run.  The Diary data is examined for year-to-year comparisons of payment behavior, and the authors acknowledge that payment behavior has changed throughout this pandemic. Therefore, the Cash Product Office and Federal Reserve of Atlanta sought to capture data on changing payment practices during the pandemic through a series of supplemental surveys, conducted in April and August of 2020. The findings from these two supplemental studies were published in two separate papers and highlighted important changes in payment behavior observed during the pandemic. The first supplemental paper describes changes in cash holdings, changes in choice of payment instrument, and cash avoidance. The second supplemental paper discusses in-person shopping behavior, consumer's experience with the coin shortage, and consumer cash holdings.
Acknowledgements
This paper would not have been possible without the support and contributions of the following individuals. From the Atlanta Fed: Kevin Foster, Claire Greene, Marcin Hitczenko, Brian Prescott, and Oz Shy. From the Boston Fed: Joanna Stavins and Ruth Cohen. From the San Francisco Fed: Tom Flannigan, Simon Kwan, and Justin Wray. From the Cash Product Office: Lauren Brown, Alexander Bau, Benjamin Gold, Jamie Law, Kelly McGuire, Margaret Riley, Louise Willard, Kathleen Young, and Roger Replogle.
Section 1. Trends in Cash Usage
Total number of transactions and share of cash usage declined during the pandemic
The COVID-19 pandemic changed many aspects of life in 2020. How U.S. consumers made payments is no exception. Given the nature of the coronavirus, consumers limited in-person activities due to the fear of infection and governments enacted shelter-in-place orders and restrictions, many of which remained in place throughout the fall. Thus, the way people engaged in purchases and payments shifted significantly in 2020. In April and August, the Cash Product Office and Federal Reserve Bank of Atlanta conducted two short surveys to quickly gauge how consumers were paying during the pandemic. This year's Diary provides a more detailed insight into consumer payment behavior and trends during the pandemic.
In October of 2020, U.S. consumers reported making an average of 34 payments per monthdown from 39 payments in 2019. Despite the decline in the number of payments, consumers' monthly spending increased to an average of $4,760 in 2020, up from $4,236 in 2019 and $3,999 in 2018.6 This suggests consumers consolidated their purchases into fewer transactions, combining transactions for multiple products at one store or on one platform.
Cash's share of all payments decreased by seven percentage points in 2020 (Figure 1), a larger decline than experienced in any category over the past two years. Meanwhile, credit cards' share of payments has increased since 2016, most recently increasing from 24 percent of payments in 2019 to 27 percent of payments in 2020. However, the increase in credit cards' share of payments was primarily driven by a decrease in the use of other payment instruments rather than a direct increase in use of credit cards; the number of reported credit card payments remained steady from 2019 to 2020 at 9 payments per month. For the first time since the start of the Diary in 2016, credit cards' share of payment instrument usage surpassed cash. Debit cards remained the most frequently used payment instrument, accounting for 10 of the 35 payments made, and a 28 percent share of payments.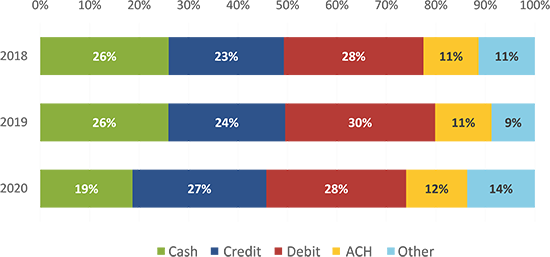 Figure 2 shows the share of individuals making in-person payments over their three-day diary in 2020 (72 percent) was significantly lower than in 2019 (91 percent).  The findings were higher than the results from the supplemental April or August survey, though the supplemental surveys asked whether any in-person payments took place over a longer period of time.7 The results from October 2020 are not surprising when compared to the results from the April and August surveys, given the easing of shelter-in-place orders and increasing comfort among consumers to conduct in-person payments as positive COVID-19 cases decreased from mid-summer to early fall.8