Top 6 Things You Need To Know About Underemployment Right Now
Anybody who has ever logged on to LinkedIn knows there's a difference between the job you want, and the job you have. Some are fortunate to have both, while others know that sometimes we have to work in unideal conditions to make ends meet. If you're one of millions of Americans who has been able to find a full-time job, you know these realities all too well.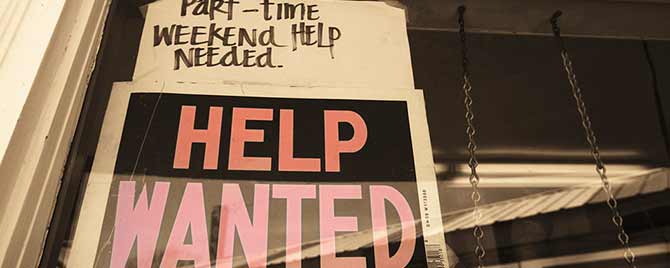 Today in America, there are more than six million of our neighbors who would like to find that full-time job, but thus far have been relegated to working part-time instead. Over the past decade, more and more Americans have found themselves in this predicament. One of the more difficult things that these Americans are finding is that they often remain in poverty, even as they work full-time. 
In fact, the research tells us that the poverty rate for folks who work part-time while aspiring to work full-time is just about the same as the poverty rate for folks who have no job at all. Roughly 1-in-5, or 19% of part-time workers are living in poverty. The rate of poverty is the same for unemployment Americans. Meanwhile, less than 4% of full-time workers live in poverty.
Seeing that part-time workers are just as likely to be living in poverty as those who are unemployed, my colleagues and I at the Federal Reserve Bank of San Francisco set out to better understand this trend. We wanted to better understand what drives involuntary part-time employment and how it impacts people. Is it a temporary trend or here to stay? And how can more people who want to work full-time secure full-time jobs?
Through conversations with employers as well as the many non-profits and government agencies who serve these part-time workers, here's what we learned:
1. Housing, transportation, and child care play critical roles in allowing workers to secure and retain employment.
Barriers to full-time employment lay not only in the availability of full-time jobs, but also in access to affordable housing nearby, transportation, and child care.
In Phoenix, Arizona, residents raised the issue of limited job availability in low-income neighborhoods and the lack of public transportation, which limits access to jobs in the broader region. Locals in the California counties of Ventura, Marin, and Napa, as well as in Honolulu, Hawaii, stated that the high cost of child care kept many potential workers out of the labor force because it's more cost-effective to not work and take care of a child than to work part-time.
2. Rising business costs (e.g. employee benefits, health care, workers' compensation insurance, and minimum wage hikes) and increasingly competitive markets are contributing to the increase in part-time jobs.
Economists now believe that the steady rate of involuntary part-time employment may have more to do with changes in the way workplaces operate, rather than solely the rise-and-fall of employment dynamics that tend to accompany recessions. As we spoke with employers throughout the western states, many shared they increasingly hired part-time in order to reduce overhead cost—wages (especially in light of minimum wage increases) and employee benefits, such as health care and workers' compensation insurance. One participant from the public sector in Fresno, California, stated that her agency "chose to hire two part-time employees rather than one full-time employee because they could get a lot more hours of work for cheaper with two part-time employees due to much lower cost of benefits." 
Employers also shared the benefits of added flexibility in hiring part-time, since they can increase and decrease hours as the need for workers waxed and waned. According to a Community Development Financial Institution (CDFI) that offers technical assistance to small business owners in California's Central Valley:
"Part time employees provide more flexibility to the employer—[they] can increase or decrease hours more easily, move schedules around more easily if someone is out sick or is a no show, or if business needs increase or decrease."
Employers spoke about lean profit margins, global competition, the need to be efficient, uncertainties in their markets, and the automation of work necessitating fewer workers. One of the biggest industries in California's Central Valley is agriculture, and some employers I spoke with there stated labor costs have increased significantly over the last several decades, driving employers to hire fewer workers and invest in more machines and technology. 
3. Workers are concerned about exceeding income thresholds for social service benefits (the "cliff effect") which may impact their employment choices. 
People assume that a part-time job is better than no job at all. But for many, working part-time means receiving less public assistance dollars for critical safety net needs as workers might find themselves financially worse off. A member of the community in Jefferson County, Oregon, shared a similar concern: 
"We frequently work with families who are grappling with the loss of benefits and the risk in taking a job that may be insecure, seasonal, or low-wage. There is little desire to risk [giving up] even limited public benefits for work that is only part-time or seasonal."
4. Increasing household expenses are exacerbating financial challenges for low-income individuals, forcing many to take multiple part-time jobs or engage in the "shadow economy."
Locals in all the areas we visited cited stagnant wages, limited opportunities for full-time work, and higher household costs as the forces driving many to take multiple part-time jobs or pursue cash-based or unlicensed businesses in the "shadow economy." 
In Hawaii, people we spoke with noted an increase in the number of residents engaging in bartering and unlicensed entrepreneurship. In the Central Valley, some immigrants feared deportation and therefore stayed within the cash economy, such as holding frequent garage sales and selling items at swap meets for income. Many regional discussions included the proliferation of part-time Uber/Lyft drivers and similar "gig economy" activities. To help address the high cost of living in Ventura County, workers are selling products on Etsy and eBay, participating in multi-level marketing, renting out rooms through Airbnb, and trying to monetize any other assets they have.
In discussing potential solutions to address underemployment, voices across the Western states unanimously agree there is no "silver-bullet" to solve the complex and interrelated nature of the underlying issues. Instead, we heard a call for holistic solutions that integrate across the identified challenges. Specifically, people we spoke with agreed that critical next steps must address the interrelated nature of housing, jobs, transportation, and child care, as well as and a need to examine public assistance programs to mitigate the potential impacts of the cliff effect.
5. Integrated solutions are needed to address the interrelated challenges of housing, jobs, transportation, and child care. 
People we spoke with shared a desire to see approaches that integrate across land use planning, investment, and state and local policy to expand the availability of affordable housing near major job centers, transit, and child care. Such expansion can help connect low-income workers to regional employment and provide added stability. California's Cap and Trade Program, for example, aims to reduce greenhouse gas emissions and has allocated funds for the State-wide development of affordable housing near transit, making it easier for low-income residents to live in opportunity-rich areas near public transportation. 
On a smaller scale, in Fresno, California, the City Council adopted an ordinance to legalize the placement of "tiny homes" on residential lots in order to increase the supply of affordable units. Other cities and the State of California streamlined the process for homeowners to build and rent out accessory dwelling units or "granny units." Programs to help families ensure housing stability, such as Keep Your Home California, were cited as important resources for helping people maintain job stability.
We also heard about the importance of family-friendly workplace policies to address child care expenses and challenges. Examples include consistent work shifts, on-site child care options, paid maternity and paternity leave, paid sick time to care for a sick child, and improved accommodations for lactating mothers.
Increased partnerships between employers and transit van-pool services may create solutions for employers and workers—and could even create business service opportunities for small businesses. In California, a van-pool program for farm workers—CalVans—is partially funded by State grants, while other van-pool programs are privately funded by employers, employees, or a combination of both.
6. Examining public assistance programs is needed to mitigate the potential cliff effect. 
Since underemployed workers may be more likely to be reliant on public assistance, people we spoke with stressed the importance of examining public assistance programs to mitigate unintended consequences, such as disincentives to work. In many regions, locals suggested that income-qualifying programs should not be based on volatile incomes and should allow workers to continue to receive assistance until they are permanently employed full-time and have reached some level of financial security. This subject is particularly relevant in light of recent federal, state, and city minimum wage hikes that may impact households receiving public assistance.
Although many of the solutions that emerged from our conversations were focused on federal and state policies, one local opportunity is the development of cross-sector partnerships. Connecting across sectors that often work in silos—workforce development, affordable housing, transportation, education, child care, and health–leads to greater efficiencies and better outcomes for the people that need it most.
The rise of underemployment necessitates innovative solutions that both strengthen family financial stability in the near term and expand career pathways for the future. What innovative solutions are you seeing in your community?
Interested in learning more? Read The Rise in Underemployment: Supporting the Needs of Low-Income Workers.
Would you like to be notified as new publications and resources become available? Want to stay in the loop on upcoming conferences and events? Join our mailing list.