Community Context Matters: Unpacking Common Trends in Community Development across the West
If you've been on the hunt for a reasonably-priced apartment lately in San Diego, Portland, Phoenix, or Las Vegas, you are probably well aware that housing costs are through the roof.  A new study reveals in stark terms, however, just how severe the housing crunch has become for the region's extremely-low income (ELI) renters, or those earning less than 30 percent of median household income. Over 3.5 million households in the Federal Reserve's 12th District fall into the ELI category.1 The National Low Income Housing Coalition (NLIHC)'s March 2015 issue of Housing Spotlight shows that four western states – Nevada, California, Oregon, and Arizona – now have the fewest units in the country affordable and available2 to their population of ELI renters. For every 100 ELI households in Nevada, the state with the most significant unit shortage, just 15 housing units were affordable and available to ELI renters in 20133, and the deficit throughout the rest of the West is not far behind.
Units Affordable and Available Per 100 Renter Households with Incomes of No More than 30% AMI, 2013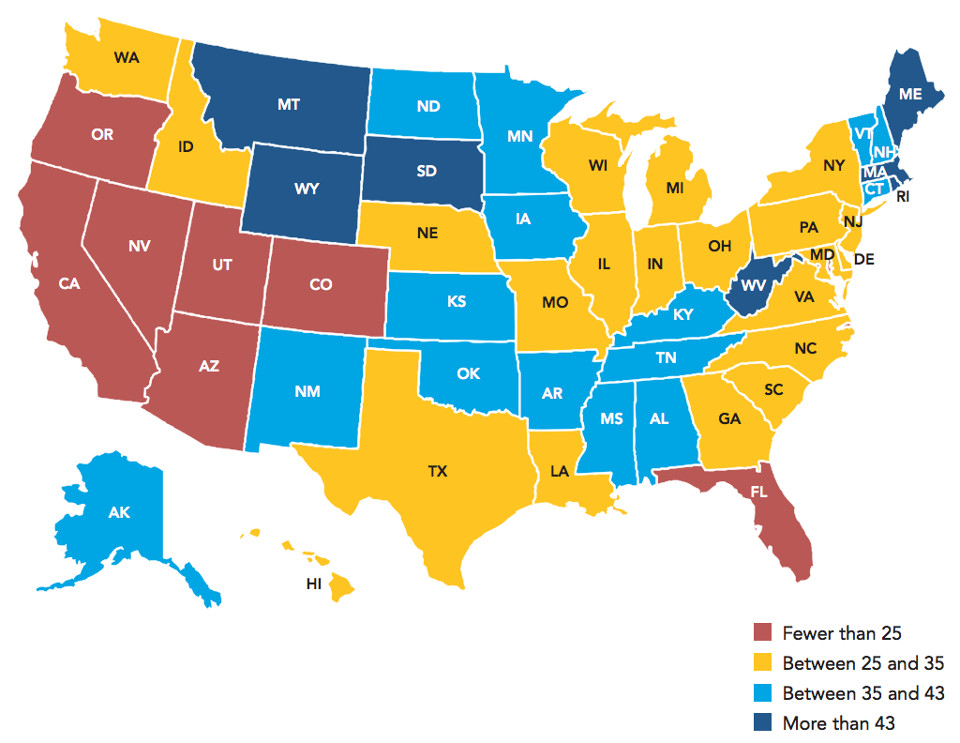 Source: NLIHC Tabulations of 2013 ACS PUMS data
Map courtesy of the National Low Income Housing Coalition
What is driving this pattern of extreme unaffordability in the western states? While the trend of too-high rents and too few units is consistent across our region, the factors behind the trend vary considerably depending on the location. Community practitioner responses from an ongoing Federal Reserve Bank of San Francisco survey shed light on specific drivers of the affordable housing shortage particular to each area. 
The responses come from Vantage Point, the Federal Reserve Bank of San Francisco's annual community indicators survey, which we have been retooling since late last year as an ongoing pilot. In phase one of the pilot, we distributed a data profile for each of twenty select counties along with a survey to community stakeholders in the selected counties. Each profile contains charts and maps on measures such as the percentage of households with a housing cost burden, median rents and home prices, and the availability of subsidized housing units across each county, among many other indicators. We asked our community respondents in phase one of the pilot to reflect on the data when answering questions about housing, employment, household financial stability and other community issues affecting low- and moderate-income (LMI) residents in their county and explain to us why we are seeing the numbers that we do for their area. The narratives they provided expose the nuances behind the numbers for each county and can help us understand what drives the housing trends reported by NLIHC.
For instance, the structure of the local economy appears to play a key role in the housing crunch, particularly in places where jobs are concentrated in just a few industries, such as gaming in Las Vegas and Reno and agricultural work in California's Central Valley. In Clark County, Nevada – where Las Vegas is located – over half of job opportunities are in service and sales industries, with the largest concentration of nearly 250,000 jobs in accommodation and food service, often part-time work, with an average annual income in that county of $32,678.4 A respondent from Clark County explained that this employment concentration directly impacts housing: "Affordability of housing is affected by earnings – having a part-time or on-call job makes it difficult for people to know how much they can afford and for how long."
In other areas, respondents noted that growing income gaps and an influx of a more affluent population are bigger problems, with LMI renters often pushed out by other groups: higher-income newcomers in trendy neighborhoods, absentee buyers in prime vacation areas, or students in college towns. Our respondents' comments help us to see these trends, which otherwise can be obscured by quantitative data points that suggest growing prosperity for residents in a given area. For example, in San Francisco's Mission District, U.S. Census data shows a median household income of nearly $120,000 per year. A respondent working with LMI households in the Mission noted, however, that "speculators are displacing low-income families from their housing through informal and formal eviction processes. The incomes in our neighborhood are relatively high compared to the city median, [but] this is not because our low- to moderate-income families have increased income and wealth over time. Instead it is from their displacement by higher income earning individuals." In Honolulu, the median home value of $594,000 is over three times the median value for the United States, and the median rent of $2,357 is more than twice the U.S. median.5 Yet our survey respondents from Honolulu County noted that these figures are heavily influenced by a large number of absentee buyers and vacation renters, putting pressure on the area's housing market and driving home prices and rents out of reach for LMI residents who live and work on the island year-round. 
Respondents in hot markets like San Francisco, Seattle, and Portland have also observed an increase in the construction of market-rate and high-end properties, which they fear are being prioritized over more affordable units. In King County, Washington, where the median rent is nearly $700 more per month than the U.S. median6, respondents have seen an increasing number of formerly affordable housing properties be converted to market-rate units once their affordability contracts tied to housing subsidy programs expire. Our survey takers in Maricopa County (Arizona) and Multnomah County (Oregon) also inform us that while multifamily housing construction has been on the rise there in recent years, many of these new developments are luxury housing properties, leaving LMI residents with fewer and fewer affordable options. Indeed, NLIHC found that only 11 units in metropolitan Portland and 12 units in metropolitan Phoenix were affordable and available for every 100 households in the lowest-income category in 2013, and 95 percent of these renters in Portland and 96 percent in Phoenix faced severe housing cost burdens.7
In other communities – often isolated rural areas or neglected urban neighborhoods – problems stemming from a limited supply of affordable housing are compounded by the low quality of units that are available. Several respondents in areas as widespread as Pima County, Arizona; Alameda County, California; Salt Lake County, Utah; Riverside County and Tulare County, California; and Anchorage Borough, Alaska emphasized that many LMI households are living in aging and deteriorating housing stock due to landlord neglect, unaffordable repairs, and/or a remote location. In some rural communities in western and central Pima County, for instance, nearly ten percent of housing units lack complete plumbing and kitchen facilities, compared to fewer than one percent of all units in the U.S.8 In Oakland, California, where respondents noted that residents contend with peeling lead paint and deferred maintenance, nearly 40 percent of the housing stock is over 75 years old.9 Similar issues are at play in Salt Lake County, Utah, where one respondent noted, "older units are often neglected and in unacceptable condition for LMI folks. Landlords won't fix and maintain them without passing through the cost of improvements to the tenants who are already unable to pay the expected rent without doubling up with friends."  In rural communities in Riverside County's Eastern Coachella Valley region, over half of households live in mobile homes, and the majority of these households spend more than 30 percent of their income on housing costs.10 Respondents from the area highlighted the effect of very poor housing conditions on very-low income farmworker households in particular, with one respondent explaining that "most live in overcrowded substandard rental housing, often near toxic waste sites. They live in small, privately-owned mobile home parks, many of which are in serious disrepair and are 25-40 years old. Few of the parks have utilities or the infrastructure to bring water to the units." In similarly rural Tulare County, California, respondents emphasized poor or lacking water and sewer systems in lower-income communities as a major hurdle to housing improvement and that the state's drought conditions are increasingly compounding the problem of securing safe water supplies for these remote communities. 
Finally, in certain markets, lower-income residents are finding themselves stuck in an overheated rental market due to either personal finance problems or a lack of resources that might otherwise allow them to access homeownership. In Pima County, Arizona, one respondent points out that "median home prices are lower [but] low wages, lack of savings, [and] bad credit are barriers to homeownership." This observation was echoed by a Multnomah County respondent, who said that "while more families are now renters, if they were mortgage-ready, they could possibly lower their housing expenses, as rents are currently higher than mortgage payments in many cases." For some communities, needed homeownership assistance resources are falling short, as a Tulare County, California, respondent observes: "Families in our area depend on housing assistance loans provided by cities to make homeownership possible. Some cities in our county don't offer these programs or the money doesn't go far enough, which makes it difficult for low- to moderate-income families to qualify for mortgages."
All of these responses reinforce the reality that quantitative data alone can't tell the whole story about what is going on in a community. Gathering input from those working on the ground – those who have the best understanding of their own communities – helps us to more quickly and effectively identify the diverse nature of the problems that communities face and refine ideas about appropriate program and policy responses. The responses featured here are just a small selection of the wealth of locally-specific comments on a wide range of topics that community stakeholders shared with us in the pilot of our new Vantage Point approach; some of the input we received is already being put to use to inform other Federal Reserve Bank of San Francisco activities, such as Community Reinvestment Act exams. 
We are currently scaling up our Vantage Point pilot project for the second phase, to include the original 20 counties from phase one along with 46 additional counties and 33 cities. We will provide a more detailed data profile for each county and city in phase two, featuring a wider range of indicators and geographies based on input about the pilot design received from respondents in the first round of the pilot survey. The second round survey will be distributed to community respondents in mid-June 2015. As detailed in this blog post, the qualitative data we receive through this project from the survey responses of community stakeholders across the West provides invaluable local context for the quantitative data we have compiled in the profiles for each county.
Provide Your Insights
If you work with or represent LMI communities in the Federal Reserve's 12th District (Alaska, Arizona, California, Hawaii, Idaho, Nevada, Oregon, Utah, and Washington), we need your observations about conditions in your area to give us a first-hand look at what is happening on the ground and help inform where and in what ways community investments could have the greatest impact. To participate in the second phase of our Vantage Point pilot, please send your name, organizational affiliation, and email address to the Vantage Point project coordinator, Gabriella Chiarenza.
For more information or to participate in the Vantage Point survey, please contact Gabriella Chiarenza.
Notes
1. U.S. Census Bureau, American Community Survey, 2009-2013 5-year estimates.
2. NLIHC defines "affordable and available units" as those that are vacant and being offered at rent levels affordable to ELI renters or those currently occupied by ELI households.
3. Ibid.
4. U.S. Bureau of Labor Statistics, Quarterly Census of Employment and Wages, 2013.
5. Zillow, 2014
6. Zillow, 2014.
7. NLIHC, "Housing Spotlight," Volume 5, Issue 1, March 2015.
8. ACS, 2013.
9. Ibid.
10. Ibid.
Would you like to be notified as new publications and resources become available? Want to stay in the loop on upcoming conferences and events? Join our mailing list.