Health: The Untapped Market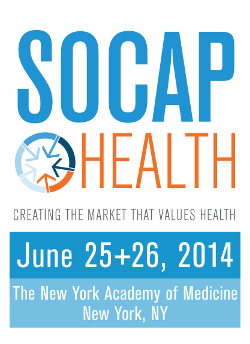 Join us for SOCAP Health in New York City on June 25+26 
The U.S. spends $2.7 trillion each year on health care—yet we are raising a generation of children who may live shorter and sicker lives than their parents. Recent changes in health care require a fresh, innovative look at how we leverage that capital and where promising investment opportunities lie to reduce health costs and improve lives.
Now in its second year, SOCAP Health is back with an expanded two-day agenda featuring leaders in finance, policy, health systems, community development, philanthropy and impact investing. Join SOCAP, the Federal Reserve Bank of San Francisco, The New York Academy of Medicine and the Build Healthy Places Network for the largest-ever convening exploring the untapped market for improving health: 
Learn how health systems, social systems and innovative solutions are improving health in low-income communities.  
Meet entrepreneurs and policymakers working at the intersection of finance and health.
Hear from organizations whose investments are generating economic gains and improvements in health and well-being.
Join us as we work together to create a new market that values health—beyond health care—on June 25+26 in New York. Secure your spot now! 
View the Agenda and Sign Up Now
Would you like to be notified as new publications and resources become available? Want to stay in the loop on upcoming conferences and events? Join our mailing list.