Art, Culture, and Engaging Communities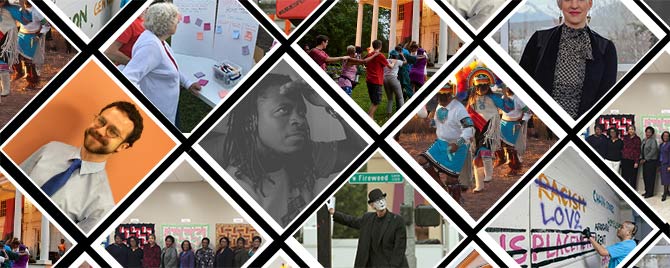 Art and culture have the power to lift up what makes a community thrive.
With art, especially art seeped in cultural experience and context, spaces become more vibrant. Celebrations of local art and culture help bring people together and build relationships. Spaces infused with art soon become central gathering places. Art can help a community redefine itself, or it can be part of the process of reclaiming cultural identity in the face of rapid change.
Sounds good. So why isn't art everywhere?
While we all intuitively understand the value of bringing art and culture into places, there's still a lot to learn about how to do it in partnership with artists and communities.
Over the last several years, the community development field has experimented with creative placemaking solutions. That is, ways to enhance the role of artists and culture bearers as partners within the community development process. In particular, the infusion of arts and culture into community development processes allows for deeper engagement and relationship building with communities. Most recently, the field has begun to intentionally emphasize the interplay of arts and culture with issues of racial equity, equitable development, and gentrification and displacement to mitigate less desirable outcomes.
In a recent publication from the San Francisco Fed, industry leaders share their learnings from the Community Development Investments (CDI) program, and its implications for the broader community development field. CDI, led by ArtPlace America, provided flexible funding to six diverse community development organizations in support of their partnership with artists and creative practitioners.
Through a process of listening and discovery, CDI participants developed locally tailored, creative solutions to challenges that impact many low-income communities and communities of color. For example, building community power to advocate for policy change, or reducing health disparities tied to community disinvestment and intergenerational poverty.
For concrete examples, and to celebrate the power of the arts to advance equitable and resilient communities, visit the latest Community Development Innovation Review from the Federal Reserve Bank of San Francisco, PolicyLink, and ArtPlace America.
Videos from our event, Transforming Community Development through Arts and Culture, hosted by San Francisco's Yerba Buena Center for the Arts, are coming soon.
Laura Choi is the San Francisco Fed's Community Development research manager.