Celebrating Nowruz a la COVID-19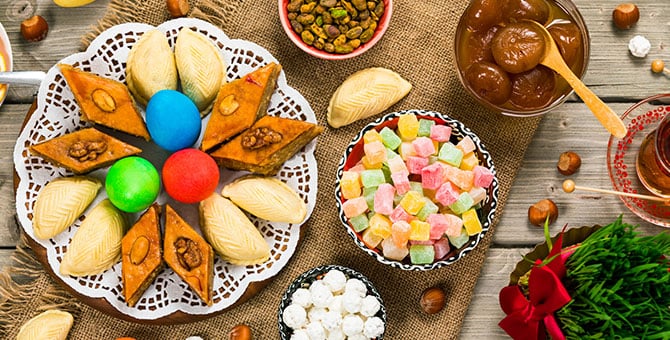 The ancient holiday of Nowruz begins at the stroke of the vernal equinox and is celebrated in Iran, Afghanistan, Azerbaijan, Turkey and many other central Asian and Middle Eastern countries. This festival marks the beginning of spring and celebrates the rebirth of nature. Families and friends meet and greet for thirteen days, renew relationships, and celebrate with lots of good food. To usher in the new year, everyone typically deep cleans their home, buys new clothes to wear, and prepares sweets to serve their guests.
Last Nowruz, we planned to kick off the holiday with an event at the Bank, share our traditions and celebrate with all our colleagues. Little did we know that would not be the case—we would spend the following year only connecting and forging new relationships virtually. We adjusted our celebration plans with family and friends in the same way. The word Nowruz means "new day" and in reflecting on the past twelve months, this was not the type of "new day" we look forward to.
This is our second Nowruz a la COVID, and my family prepared for Nowruz in the same fashion we have for generations. We shook our house clean, set the Sofreh Haft-Seen, and prepared a small feast to enjoy with my parents and sister, who were recently vaccinated. Our dinner table was filled with traditional Nowruz dishes such as herbed rice and fish (sabzi polo va mahi), herb frittata (kookoo sabzi), and an herb salad. Those fresh green herbs symbolize the rebirth of nature.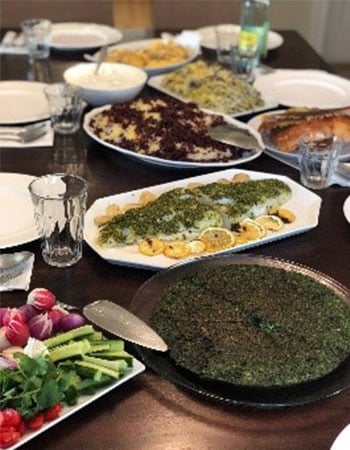 Then we topped off dinner with a nice cup of tea, chickpea cookies (nan-e nokhodchi), and rice cookies. Since I love baking, I always prep the cookie dough in advance, and then cut them out and bake a few days before the festivities. I love baking these cookies as it fills my house with the aroma of rose water and cardamom. My son loves to pitch in, cut the cookies out with a cookie cutter, and snatch a few when I am not looking.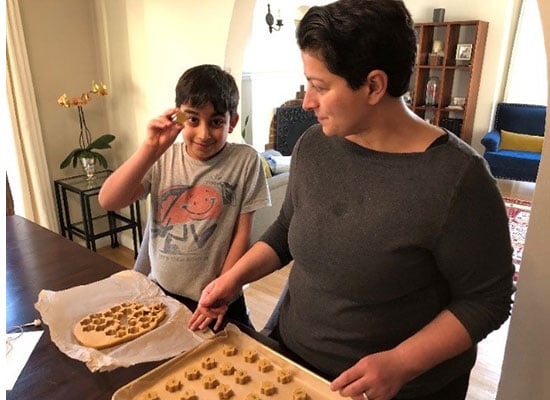 A Recipe for Nan-e Nokhodchi
Want to have a taste of Nowruz in your home? Try my yummy recipe for nan-e nokhodchi adapted from Food of Life: Ancient Persian and Modern Iranian Cooking and Ceremonies by Najmieh Batmanglij.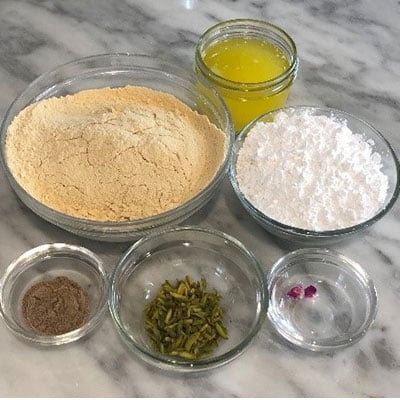 Ingredients
1 cup clarified butter, room temperature
1 cup confectioners' sugar
2 teaspoons ground cardamom
1 tablespoon rose water
Pinch of salt
2 cups triple-sifted, roasted chickpea flour
1 tablespoon slivered raw pistachios, for garnish
Combine the clarified butter, sugar, cardamom, salt and rose water in the bowl of a stand mixer or hand-held electric mixer; beat on low speed to combine, then increase the speed to medium and beat for about 5 minutes, until light and creamy. Stop to scrape down the bowl. Add 2 cups of the chickpea flour and beat on low speed for 1 minute or until the dough is no longer sticky; add a couple tablespoons of chickpea flour, if it is still very sticky.
Line a rimmed baking sheet with parchment paper, then dust it with some of the remaining chickpea flour. Place the dough on the dusted surface; knead until the dough is soft and pliable.


Break out the rolling pin to get the dough just right for these savory cookies.

Flatten the dough and shape it into a 1/2-inch-thick square. Cover the dough with a large sheet of plastic wrap; gently use a rolling pin to even out the surface of the dough without losing any thickness. Refrigerate for 1 to 24 hours; this will make the dough easier to cut. This dough can be frozen and thawed in the refrigerator, if you want to make it way in advance.
Preheat the oven to 300 degrees. Line 2 baking sheets with silicone liners or parchment paper.
Unwrap the dough. Use a small cloverleaf-shaped cookie cutter to form 35 to 40 cookies, spacing them 1/2 inch apart on the baking sheets. Insert a sliver of pistachio vertically at the center of each cookie.


We use flower-shaped cookie-cutters to continue the celebration of spring, but anything around the house will do just fine.

Bake one sheet at a time (on the middle oven rack) for 25 to 30 minutes or until the cookie bottoms are a light golden color. Transfer the baking sheet to a wire rack to cool; bake the second sheet of cookies.
When the cookies on the first sheet have thoroughly cooled, use an offset spatula to transfer them to a platter or storage container; be careful, as these cookies crumble easily.
Enjoy!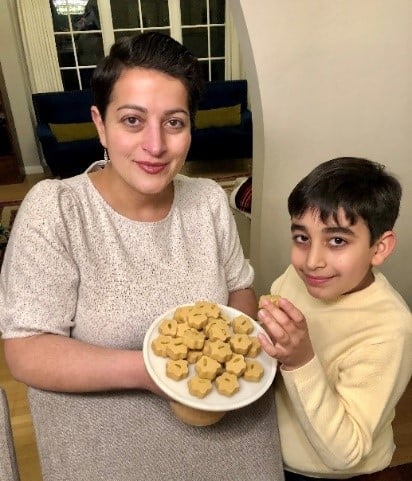 Mana Shahvaran-Jam is an assistant manager for business operations in the Federal Reserve Bank of San Francisco's Police Services Group, as well as a member of the SF Fed's Women's Professional Network.
Banner photo credit: alisafarov via iStock. All other photos courtesy of Mana Shahvaran-Jam.
You may also be interested in: