Commemorating 100 Years in Los Angeles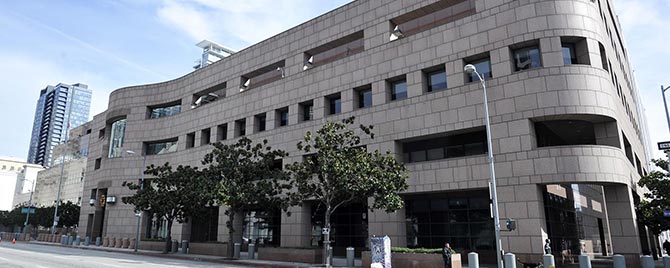 We think of the roaring twenties as glamorous and enchanting thanks to Hollywood period films. An era of garden parties and picnics. Jazz clubs. Bob-haired flappers dancing to the latest ragtime. Gentlemen, dapperly-dressed, savoring spirits in the shadows of their favorite speakeasy. Off the silver screen during this post World War I era, our Los Angeles branch opened 100 years ago. The milestone gives us an excellent opportunity to reflect on our history over the last century, and where we're heading together.
Los Angeles Fed, then and now
On January 2, 1920, the second floor of the Washington Building at Third and Spring Streets became the proud new home of 42 Los Angeles branch employees. The branch provided Fed oversight of Southern California and a portion of Arizona. The City of Los Angeles had a population of more than 576,000 residents, most living downtown. Gas prices hovered around a quarter dollar.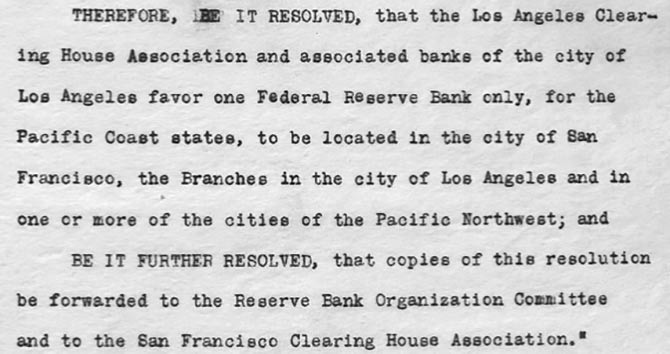 Over the next hundred years, the Los Angeles area grew to America's largest metropolitan area by population, supporting an immense 4 million residents within the city of LA. It was often at the forefront of momentous change, and our branch witnessed and responded to many historic moments. Notably, the city hosted the Olympics in 1932 and 1984 and is currently in the planning stages to do so again in 2028. It became the new home of the Brooklyn Dodgers in 1962. It endured several large-magnitude earthquakes and the 1992 LA riots.
We made marks of our own on the downtown landscape with two building projects: our original building in 1930 and current LA home in 1987. In fact, the original office still stands as the handsome six-story building next door to our current digs.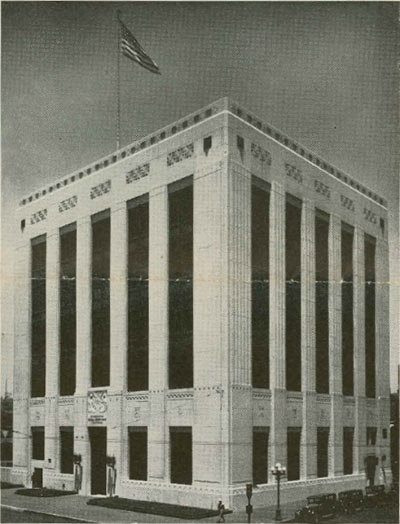 Yes, just as in 1920, our office is in Downtown LA (DTLA). It's an area that's seen ups and downs and experienced an incredible revitalization over the past few years. An influx of companies has brought people downtown to live, shop, eat and drink. Previously empty buildings and parking lots have come to life in recent years. LA Live, a large entertainment center, is only a few blocks away. The change in energy is palpable.
Today our branch serves an incredibly diverse footprint, covering Southern California, Southern Nevada, and all of Arizona. With nearly 300 employees, it's the largest San Francisco Fed office outside headquarters, and is the largest branch in the Federal Reserve System. LA is one of a handful of locations around the country where the Federal Reserve's Cash Product Office has a presence. You'll also find bank examiners and other Financial Institution Supervision and Credit employees and analysts from various groups in the Bank. The biggest thing we do: process the most cash in the12th Federal Reserve District. It's the second-largest cash operation in the country.
Pulse of the region
Given the size and prominence of the LA economy, and the areas we serve, we need to keep up with what's going on. What top issues and challenges are business leaders, bankers, and other community members identifying? Where are businesses excelling? How are they evolving? Fortunately, our remarkably insightful Board of Directors reflects the array of talent in our region. They actively contribute to the information flowing into our branch.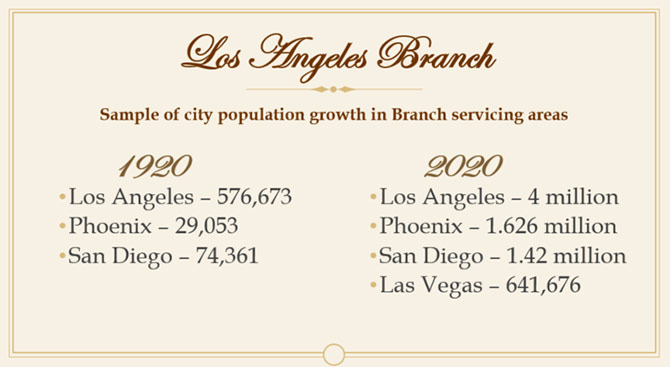 Given our proximity to Mexico, we've also hosted several meetings for our Board, community guests, and Banco de México (the Central Bank of Mexico). The goal: foster a mutual understanding of the US-Mexico border economy.
Employee-community connections
More than in 1920, and ever before, our LA branch employees are out making personal connections with our local community. This is a group that continuously seeks out opportunities to engage in meaningful and creative ways. Reaching out and creating firm, positive ties is a particular point of pride for our team.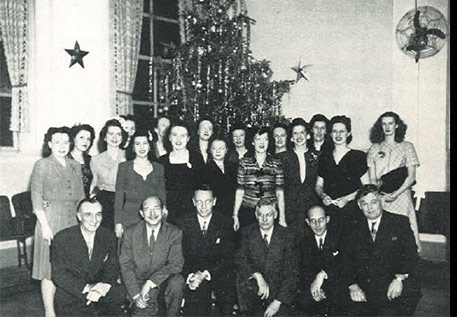 The San Francisco Fed gives employees 16 hours of paid volunteer time off to make a difference during regular work hours. We've had folks help out at local food banks, and serve meals, collect supplies, and organize care packages for people experiencing homelessness.
Our Police Services recently partnered with LAPD to host "Coffee with a Cop" in DTLA.
Members of our team get together to host a car wash, flower sale, or our popular annual online auction supporting the United Way of Greater Los Angeles.
Given the branch's proximity to Hollywood, the movie and television industry have played a part in the branch's history. Actors that have starred in movies that are based on events at the Fed, often visited the branch to take a public tour. These visitors have included Katie Holmes and Gerald Butler. The LA Fed has also been the subject of several television shows. They include a visit by Huell Howser's PBS show California Gold, and Henry Rollin's History Channel show Ten Things.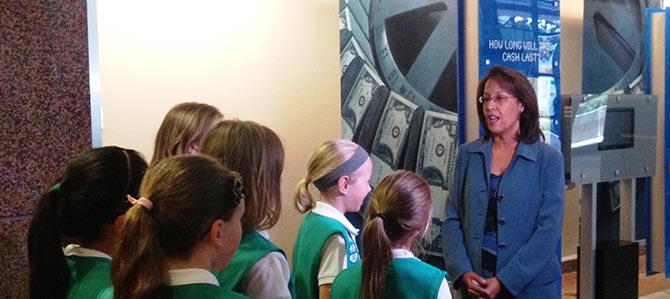 We engage with a broad range of groups, from USC and the Iris Cantor-UCLA Women's Health Education & Research Center to our longstanding relationship with the Ed Asner Foundation and the Exceptional Children's Foundation.
Developing the next generation's workforce
Everyone here is firmly committed to the next generation of our workforce and community, supporting education and students in various ways.
When a local young man received a perfect SAT score, we invited him and his school principal to lunch. Branch leaders personally congratulated him on behalf of the Fed.
With the Los Angeles Education Partnership, we help students practice their interview skills.
Many employees are trained as Fed Ambassadors, going out to speak in classrooms, teaching personal finance workshops at our office, and joining recruiters at college and community career fairs. They put on an annual Junior Internship Day in collaboration with a local high school.
Our Federal Reserve police officers and branch K-9 officer Cash travel to schools to teach children about emergency response and preparedness.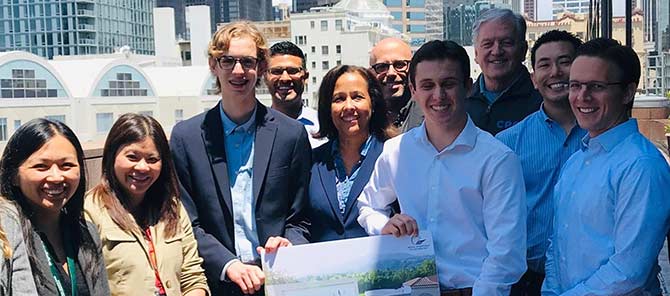 We're proud to say that our LA branch embraces a culture of inclusion and employee empowerment. A passion for our mission and a spirit of camaraderie fuels our team. We live, breathe, and celebrate inclusion and diversity, reflected by active employee resource groups (ERGs) focused on race or identity. We organize panel discussions for SF Fed employees and members of our community to attend on topics ranging from women's health to combatting poverty. Phoebe Beasley, a world-renown collage artist and a mainstay in the contemporary African-American art world, who brought several priceless, original works of art into our building for a fascinating exhibition and discussion.
We celebrate achievements together, at all levels of the organization.
Our employees are amazing people who enjoy including one another in activities. As we continue to move forward, we never lose sight of where we've been. We hope you'll visit us soon and help us celebrate 100 years of serving our remarkably inclusive community.
Roger Replogle is executive vice president, cash product manager, and Los Angeles branch regional executive at the Federal Reserve Bank of San Francisco.
Jessica Alexander is a business analyst with the Federal Reserve's Cash Product Office and an avid historical currency and coin collector.
Photos courtesy FRBSF Archives.