Three Lunar New Year Traditions You Can Participate in at Home
Happy Lunar New Year! The lunar calendar begins with the first new moon of the year. In the Chinese Zodiac, 2021 is the Year of the Ox. The ox represents strength, reliability, fairness, confidence, calm, patience, and trustworthiness.
Last year, InspirAsian, the SF Fed's employee resource group for Asian employees, was fortunate enough to bring a Lunar New Year celebration to the Bank.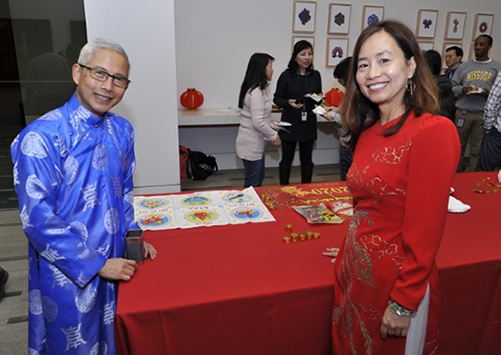 Although the COVID-19 pandemic means that celebrations may be a bit different this year, you can still participate in some Lunar New Year traditions at home.
Wear red: Red is the main color of the Lunar New Year because it is considered an auspicious color.
Deep clean your house: A thorough cleaning will drive away the back luck from your house and prepare it for a fresh start. But make sure not to clean again for another few days after New Year's because that can sweep away incoming good luck.
Eat some delicious dumplings: Dumplings are a traditional food because they are shaped like an ancient Chinese ingot and symbolize wealth. Ordering takeout from a local restaurant is also a great way to support small business owners and your local community.
Brittanie Phou is a strategy and risk analyst in the Strategy, Risk + Analytics Group and co-chair of InspirAsian.
Image credit: Pazhyna via iStock.
You may also like: