Rethinking Asia: 5 Trends in Finance and Economics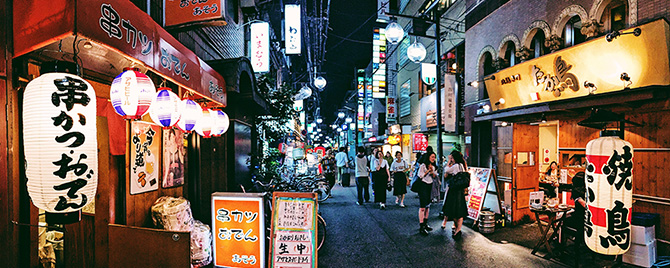 In season three of Pacific Exchanges, we hosted 13 guests over 13 episodes. Each one an expert. Every conversation we wanted to continue. It's impossible to pick just five moments that really stand out. So, for the purpose of this list, we asked the podcast's hosts, Sean Creehan, Cindy Li, and Paul Tierno, to talk about five noteworthy trends in Asian finance and economics from the season's Rethinking Asia series. Here's what they had to say.
1. "Womenomics"
Cindy: "Kathy Matsui, vice chair of Goldman Sachs Japan, joined us to talk about womenomics. That is, female workforce participation and how economics improve when more women are working. Historically in Japan, it's very much expected that women stay at home and raise children. Expanding access to good daycare, shifting societal norms, and thinking about policies that can help businesses achieve better gender balances in the workplace are issues that resonate in the United States as well as Japan."
2. Cross-Border Capital Flows
Paul: "Looking at cross-border capital flows in and out of Asia, with a closer look at China, was fascinating. We talked with Brad Setser, a senior fellow for international economics at the Council on Foreign Relations, to see what's happened since the Great Recession. He dove right into which countries are attracting stickier foreign direct investment and which are subject to more flighty bank and portfolio flows."
3. The Diminishing Role of China's Private Sector
Sean: "Nick Lardy from the Peterson Institute for International Economics sat down with us to discuss the Chinese private sector's diminishing role. At the same time, China's state sector has gone through massive amounts of consolidation. In spite of this – or perhaps because of what the implied reduction in competition brings – the efficiency of state-owned enterprises lag behind. The implications on long-term growth, employment, and innovation could be substantial. However, Nick believes this slowdown might nudge China to go back to more market-oriented reforms to keep pace with growth and their standards of living."
4. Shadow Banking in China
Cindy: "Charlene Chu, a senior partner at Autonomous Research, gave us her assessment of the rising influence of shadow banking in China. She explained how one-third of China's new debt is coming from this non-traditional, less-regulated sector. From her perspective, there doesn't seem to be a painless exit to this problem, as authorities first need to change what's considered a sustainable level of growth the economy can handle without having this reliance on excess credit."
5. Asia's Other Trade War: Japan vs. South Korea
Sean: "Tensions between Japan and South Korea, which in some cases date back to the early 20th century, are spilling over into trade. Chad Bown from the Peterson Institute for International Economics, provides a historical backdrop to the trade war the two countries are currently experiencing."
Paul: "With new diplomatic tensions arising, Japan and South Korea have taken to trade to resolve their political and social differences. He foresees that not only will Japanese and South Korean companies experience the potential ramifications, but other countries may also feel the impact."
We hope you enjoyed listening to the third season of Pacific Exchanges, where we explored noteworthy and unusual trends in Asian finance and economics.
Pacific Exchanges will be back for season four in 2020. Listen to past episodes or subscribe for new episodes on Apple Podcasts and Stitcher.
Episodes on this playlist: