SF Fed Named 2020 Best Place for LGBTQ Equality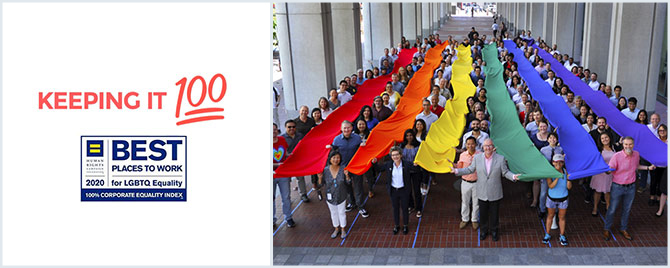 Helping people show up to work as their authentic selves and embracing inclusivity are integral to our organizational culture, a tremendous part of who we are and what we do. So, we are honored (and thrilled!) that Human Rights Campaign named the Federal Reserve Bank of San Francisco a 2020 "Best Place to Work" for LGBTQ equality.
For the third year running, the San Francisco Fed scored a perfect 100% on the Human Rights Campaign Foundation's 2020 Corporate Equality Index (CEI), recognizing the organization as a great place to work for LGBTQ people and their allies.
We're incredibly proud to announce that we earned a top score on the @HRC's 2020 Corporate Equality Index! https://t.co/DMkGl4MeGs #CEI2020 pic.twitter.com/U6GMqVzguu

— San Francisco Fed (@sffed) January 22, 2020
CEI is a national benchmarking tool for corporate policies and practices related to LGBTQ employees. It assesses organizations on detailed criteria across four categories:
Non-discrimination policies
Employment benefits
Supporting an inclusive culture and corporate social responsibility, including public commitment to LGBTQ equality
Responsible citizenship
A few things helped add to a perfect score. We have a very active LGBTQ employee resource group. Domestic partners qualify for the same benefits as married partners. And all health plan options include benefits that meet the needs of trans and transitioning employees. LGBTQ inclusion is baked into our efforts to source diverse suppliers and vendors.
Our employees also remained deeply engaged in LGBTQ-related community outreach and volunteer projects. For example, gardening at the AIDS Memorial Grove, working with Project Open Hand to provide food to people experiencing homelessness, and helping the AIDS/LifeCycle organization plan and prepare for their annual SF to LA ride.
We are truly proud to be one of nine Federal Reserve Banks that earned a perfect score this year, and look forward to continuing to help set the bar as an exemplary LGBTQ inclusive organization.
You may also like: