Understanding Climate Risk: What We Learned about the Impact of Climate Risk on Affordable Housing Development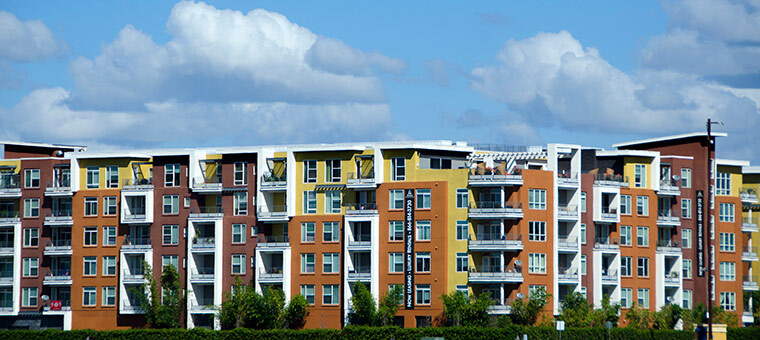 The Federal Reserve Bank of San Francisco recently kicked off a series of roundtable discussions on climate change-related risks with community development professionals who work in low- and moderate-income communities and communities of color. The first roundtable focused on understanding the impact of climate risk on affordable housing development and brought together a mix of developers, housing advocates, and investors to talk about the opportunities and challenges of building climate resilient affordable housing. Participants explored the impacts of climate shocks and stresses on existing homes and the affordable housing industry and discussed obstacles to financing resilience measures for new affordable housing and retrofits for existing homes.
Climate-related impacts on existing housing
One participant noted that Alaskans face climate change-related impacts such as mold and poor indoor air quality resulting from warmer weather patterns and lack of ventilation. As a result, they have already started to think about how to address permafrost melt and sea level rise for low-lying coastal and bay communities, including partnering with local universities to explore solutions.
"This has been on the radar for quite a while as far as adapting to some of the changes in our climate," she said. "And that includes how the foundations are laid and making sure that the heat transfer from the home doesn't go down to melt more permafrost or having to dig farther to hit permafrost."
Another participant said that the effects of climate change are already creating unsafe conditions for residents. She noted that during the recent heat waves in the Northwest, residents in affordable housing units without proper cooling were forced to take extreme measures. "We saw some residents driven to some incredibly unsafe behavior, in attempts to make their situation more comfortable: high up in a building removing window limiters with little kids in the unit; people leaving the building and just sleeping outside in an urban environment; or completely overloading the building with the makeshift heating or cooling equipment," she said. "So again, anecdotal, but I think evidence that the community needs to be thinking in a larger context on how to address these. Because our residents will do what they have to do to manage their circumstances."
Other issues for existing housing on participants' radars included the need for air filters to mitigate wildfire smoke, backup power for planned power outages, and air conditioning in regions that did not previously need it. However, funding for such retrofits is scarce and typically not included in the long-term financing of affordable housing developments.
Climate-related impacts on affordable housing construction
Participants noted water scarcity and increased risk of wildfires as existing challenges to building affordable housing, mainly due to permitting restrictions and increased insurance costs. One affordable housing developer has experienced a fivefold increase in insurance costs. He noted that the price of insurance is impacting their organization's ability to build due to fire risk because it now takes multiple insurance carriers to cover a project that a single carrier could previously cover. Increased insurance costs cut into affordable housing operating budgets or else result in rent increases for tenants. Another participant noted that some municipalities are limiting permits for new homes across the board due to drought-related water shortages.
Participants also pointed out the importance of building affordable housing in lower-risk areas, such as downtowns, in rural communities. One participant noted that rural and smaller municipalities face challenges meeting demand for affordable housing because lenders see multifamily development as untested or unproven, given that most rural areas have only built outward, not upward. She said, "Even just three-story apartment buildings or five-over-one [mixed use residential and commercial] in a downtown environment – if that's not a product that's readily available, what I've seen is lenders and investors say, 'Oh, it's untested. There's nothing like that in city X, and so we can't appraise it!' So the private capital is slower to come in."
Financing green affordable housing
Making new affordable housing more energy efficient reduces costs for low-income tenants in the long run. But as roundtable participants pointed out, there are cost hurdles that make incorporating these measures into new affordable housing challenging.
One affordable housing developer said that local efficiency regulations and rules for federal affordable housing tax credits can work against each other, discouraging development efforts. Developers want to include energy efficiency measures in their affordable housing projects, but these can increase costs. In California, for example, the state's low-income housing tax credit (LIHTC) program rules prioritize reducing cost per unit, which can be a tiebreaking factor between different projects receiving credits.
A participant from a community development financial institution (CDFI) suggested one solution—a "green enhancement fund" that could be modeled on the topic-specific sub-funds offered by the Treasury Department's CDFI Fund. Such a fund could bridge the gap between traditional sources of affordable housing financing and the energy efficiency measures that improve long-term resilience and lower utility costs for low-income residents. He noted that his CDFI is working on integrating energy efficiency and renewable energy into the planning phase of affordable housing development, but there is a need for greater funding for these types of efforts.
Continuing the conversation
Over the next several months, the Community Development team will be meeting with CDFIs and the workforce development sector as we continue to explore how climate-related risks impact low- and moderate-income communities and communities of color. We will share what we learn with our readers, so check back often or join our mailing list to continue learning with us.
Jessica Monge Coria is the Community Development regional manager for Southern California at the San Francisco Fed. In this role, she fosters strategic community partnerships to bring the best thinking and resources together to address the barriers to economic opportunities for low- and moderate-income communities.
You may also be interested in: