Understanding Climate Risk: What We Learned from Twelfth District Agriculture CEOs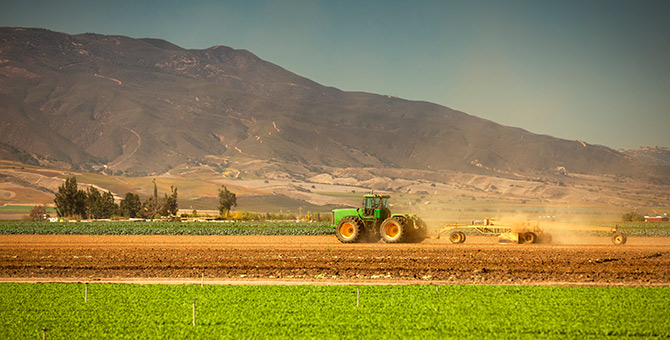 The Twelfth District boasts a large, economically vibrant and diversified agricultural sector that contributes billions of dollars to the region's economy. The sector's farmers, ranchers, and food processors feed the country and the world; they produce and process significant shares of everything from basic commodities like wheat to processed fruits and vegetables consumed by Americans and exported across the world.
Recently, Mary Daly, our President and CEO, sat down with CEOs from the Twelfth District's agricultural sector to discuss climate risk and their businesses.
President Daly began the roundtable conversation by asking the business leaders how they factored climate risk into their current business planning. While the participants represented or worked with a wide variety of agribusiness—dairy, tree nuts, wine grapes, fresh and processed produce—they all noted the increasing weight they must give to climate risk in reaching business decisions.
Faced with more severe and more frequent swings in weather patterns, the business leaders reported integrating climate risk into almost every aspect of their operations. They described identifying key climate risks and implementing enterprise risk management programs. Highlighting that acting on climate risk is inseparable from progress on becoming more sustainable, they also noted instituting programs to increase energy efficiency, reduce greenhouse gas emissions and waste, and minimize water consumption.
In discussing climate risk, President Daly and the participants drew a key distinction between short-term and long-term planning. To mitigate short-term risks, both producers and processors pointed to the increasing use of technology to improve productivity and resource efficiency. Processing plants reported adopting new techniques to use as much of the vegetables and fruits as possible. Some farms and food processors noted recapturing methane and increasing water recycling.
Over the long term, the agribusiness leaders described that they are rethinking what and how their businesses grow and produce, including consolidating production and processing and optimizing supply chains. Producers outlined taking longer-term steps such as diversifying what they farm or raise, cultivating new, more drought- and heat-tolerant crops and varietals, developing crops requiring less inputs, and developing new livestock diets to reduce methane emissions. To assure market access for farmers, food processors and marketers recounted engaging with retailers and restaurants to drive acceptance of new crop varieties that perform better in-field.
Participants also pointed to the necessity of modernizing the region's water infrastructure. The current drought in many parts of the District and changing precipitation patterns that generate warmer and more severe storms are stressing current storage and irrigation systems. With snowpack becoming less and less reliable as a tool of water storage, they reported that it will be imperative to rethink how the region stores and distributes water.
While the challenges associated with factoring climate risk into their business models is common to all producers, the roundtable participants underlined key variations in the relative ability of different types of producers to mitigate the risk. Smaller producers that are less vertically integrated reflected that they face higher financial and operational barriers to confronting climate risk. Additionally, the increased variability of weather patterns represents a particular challenge to specialty crop producers such as tree nut and fruit producers. Given the long-term nature of their investment, the leaders underscored that they must contend with elevated levels of risk and their calculations about what to plant are more complicated.
Dependent on weather patterns for their livelihoods, agribusiness is on the front lines of confronting climate risk. As several participants pointed out, this means the sector can also be on the front lines of addressing these risks. In concluding their dialogue with President Daly, they cited the potential of new technology, data science, and biotechnology to support agriculture's future resiliency and sustainability.
In providing these insights, the roundtable participants deepened what the San Francisco Fed learned from its recent climate risk survey of nearly 100 businesses across the Twelfth District. The first of its kind conducted by the Bank, the survey found businesses adopting formal risk mitigation strategies, including monitoring climate-risk exposure and reducing carbon dependence. To learn more about the survey findings, read our Economic Letter, "How Are Businesses Responding to Climate Risk?"
You may also be interested in: