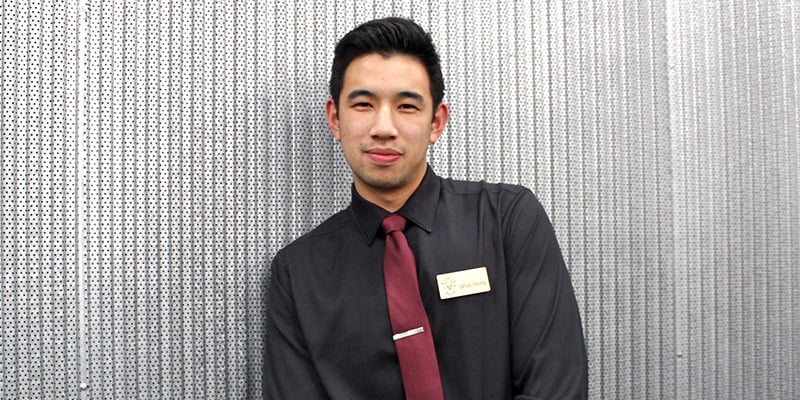 Bryan Duong
---
Former Intern Embraces Vulnerability and Brings New Strength to Fulltime Role
The SF Fed's Growing Opportunity for Leadership and Diversity (GOLD) internship program is a paid summer internship that supports key business functions at the SF Fed. We spoke with several former interns who recently transitioned into fulltime roles with the Bank to ask about their experiences. Bryan Duong interned in our Financial Institution Supervision and Credit (FISC) group during the summer of 2019. After graduating from UC Davis with a degree in international relations and economics this spring, he now works on our Strategy, Risk, and Analytics team.
Tell us about your internship experience. What was it like spending your summer with the SF Fed?
I entered my internship with no knowledge about what I'd be doing, but the vision of the SF Fed resonated with me. I spent my summer working in FISC, out of their Consumer Compliance group. I was mainly handling reports from different banks and assisting with investigations into potential violations of regulations.
I'd never had a job with the kind of responsibility that comes with resolving issues from both the consumer and bank perspectives. It required me to apply a lot of critical thinking, which I continued to develop over the course of my internship. But it wasn't all work—we managed to have a lot of fun along the way. The Consumer Compliance team is a great group of people. I loved working with them and had a great experience just from that.
What drove you to apply for a GOLD internship? And what did you learn along the way?
I knew virtually nothing about the Fed before I joined, but all my life I've tried to consider every opportunity in front of me. I'd take a swing at anything and do my best to go in there and give it my all. I've found it's a great way to know if an organization is a good fit for me. And once I was in my role, I knew I had to bring the best of my abilities. If you don't put your best effort into something, how can you really know if it's for you?
My supervisors in Consumer Compliance pushed me to not only take care of my core responsibilities but to also tackle new activities. I had great mentors who really supported me and encouraged me to branch out and explore the SF Fed. It's things like that that make the GOLD program really stand out. I'd never been a part of such a well-organized internship program, one that really put everything into the interns. They believed in us.
How did the GOLD internship program help you develop the skills necessary for your fulltime job at the SF Fed?
My time at the SF Fed helped me cultivate what I now believe is one of my biggest strengths, and that's being vulnerable. I feel like that word sometimes has a negative connotation when people hear it, but I believe vulnerability is at the root of many skills like leadership, being open-minded, communication, and, of course, empathy. When I'm vulnerable, I can not only reflect on the things I do in my life and what I value, but I'm also better able to solicit advice and see situations through an unbiased lens. Most importantly, being vulnerable has really helped me create both social and professional relationships in the workforce. That was huge during my time as an intern and has helped me in my fulltime role as a strategy and risk analyst.
What do you think about your new role?
We do truly meaningful work on the Strategy, Risk, and Analytics team. My group is currently working on a project where we get updates from different business lines across the Bank on how their core activities and strategic initiatives have shifted since March due to the pandemic. We want to see how our business lines are staying agile—are they able to make changes and adapt where they need to?
We're also taking a good look at whether or not people are taking time for themselves. We're trying to find out if there's too much on their plate—too much stress from work—and if they are able to take care of their family and kids. This project is really meaningful to me. At the end of the day, we're a Federal Reserve Bank; it's our job to keep the economy going, ensure people have access to the cash they need to carry out their lives, and so much else. But at the same time, the wellbeing of our employees is just as important. If people aren't able to focus on their wellbeing first, we won't be able to carry out our mission. So for us to dedicate a project to making sure all employees feel supported by their team, their leadership, and our entire organization is incredibly meaningful to me. This is our culture at the Bank and that's what we bring into the community with the work we do.
What do you think of the organization as a whole?
I love our emphasis on being a community-engaged bank. To me, that means not only understanding our role in the community and the resources we bring to the table, but also listening and staying curious so we can understand different perspectives. We know everyone has their own opinion on what community means, and every perspective should be treated in the same regard as any other. To be a community-engaged bank, we have to learn by listening with our heart and being empathetic throughout.
Do you have any advice for our next generation of GOLD interns?
At one point during my internship, a peer of mine told me that the best thing you can do for yourself is find ways to be optimistic during the hardest of times. And I know it sounds cliché, but I truly believe this too. I've seen too many—with myself and others—we continue to add gasoline to a fire when the extinguisher is right behind us. I quickly learned that some things in your life are out of your control, and that you need to understand what you can control. My approach has always been to take a step back and reflect on why I'm troubled or stressed. Sometimes it's okay to be more emotional than rational, but you have to have a plan to move forward so you can grow.
With that in mind, the best piece of advice I can give is: Bring your full self into your internship. Take on a little more than you think you can handle. Like I said earlier, don't be afraid to step up to the plate and take a swing—you might just hit it over the fence. And even if you miss the pitch, you'll learn from the experience and grow from it.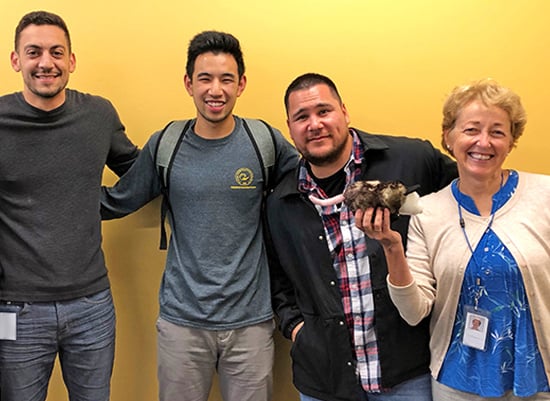 Are you or someone you know interested in becoming a GOLD intern? Applications for summer 2021 are open through Nov. 6.