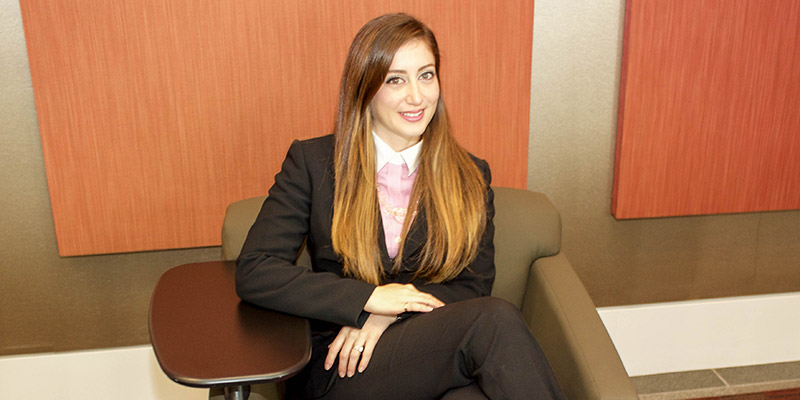 Natalie Zohuri
---
Earning a Master's Degree and PhD While at the SF Fed
Natalie Zohuri is a child of two cultures: American and Persian. The San Francisco Bay Area native believes it's this cultural duality that makes her a valuable asset assisting SF Fed economists. She credits her parents, who immigrated to the United States from Iran more than 40 years ago, for imbuing her with an emotional intelligence that makes her keenly aware of people's needs.
"In the Iranian culture, we're very giving when it comes to hospitality. I think that's why I've become so good at what I do. Strong interpersonal skills are part of my culture," she says.
Zohuri started working at the early age of 15 and enjoyed being financially independent. She jumped into the workforce full-time after earning a bachelor's degree in Business from the University of the Pacific. Zohuri decided to aim even higher with her education when she joined the SF Fed in 2011.
Zohuri worked with economist Mary C. Daly, now the San Francisco Fed's president, who recognized Zohuri's potential for growth early on. President Daly encouraged her to take advantage of the Fed's tuition assistance program to earn a Master of Business Administration degree. Zohuri admires her boss so much that she wrote her final paper about Daly's journey from high school dropout to leading economist.
"It was her encouragement and support that inspired me to believe I could accomplish anything," Zohuri comments.
Outgoing, friendly, and energized by others, Zohuri says one of her greatest passions is to foster connections and warm interactions among people. In graduate school, she discovered that she could apply those qualities to her degree. She excelled in courses focused on human behavior and communication, such as team dynamics, leadership, and business negotiation. She also applied them to several volunteer activities. She joined organizations such as the Mid-Peninsula Rotaract Club, where she served as Treasurer for a two-year term. She tutored at the Mid-Peninsula Boys & Girls Club, helping kids with their homework, study habits, and social skills, and serving as a role model and mentor. She became a regular SF Fed tour guide to help enhance the public's understanding of the Fed's role in the economy. The experience helped her gain confidence in public speaking. The Bank recognized Zohuri's on-the-job volunteerism with a certificate of excellence.
With her MBA in hand and Ph.D. close in sight, Zohuri is keeping her eyes open for opportunities in the Fed. She plans to continue her tenure with the Bank, applying her education and leadership skills, and working toward a leadership position managing a collaborative team. With the support of her department, Zohuri regularly meets with executives and managers throughout the organization to explore growth opportunities.
"I definitely get the family vibe here. The Bank has an atmosphere where top leaders are available and willing to share their career journeys with you," she explains.
Everyone she's reached out to has been more than gracious with their time. It's this openness that makes Zohuri confident she can achieve her goals with the SF Fed.