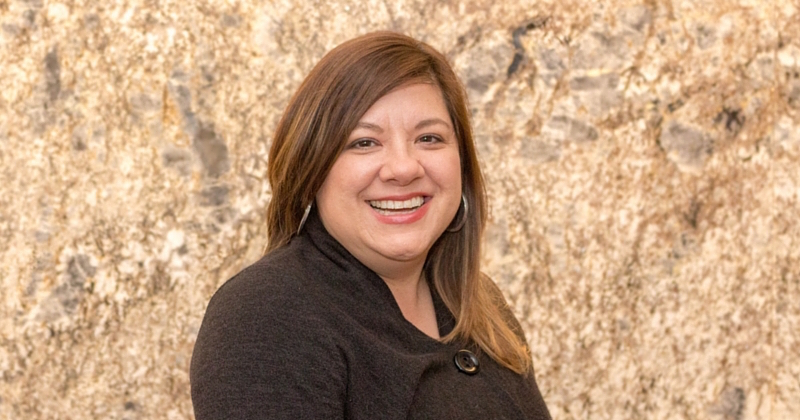 Rita Aguilar
---
Leading a Cultural Evolution in Diversity and Equal Employment at the SF Fed
"We don't just state we're committed to diversity. It's in our actions," says Rita Aguilar.
Aguilar is the Diversity and Equal Employment Opportunity (EEO) Officer in the SF Fed's Office of Diversity and Inclusion (ODI), which includes the Office of Minority and Women Inclusion (OMWI). (OMWI, created as part of Dodd-Frank, seeks to ensure diversity and inclusion in employment, procurement, and financial education.)
Still, Aguilar doesn't pull any punches in recognizing the Bank's efforts to ensure its workforce, agency contractors, and suppliers are representative of the District are ongoing. She believes culture change is one of the biggest hurdles and opportunities for any diversity initiative. That is, helping employees find opportunities to become more engaged in the organization and making sure they feel their voices are heard.
"In any organization, culture change can be slow. You need to find champions within the organization to carry the message and role model inclusionary behaviors," she explains.
Aguilar is encouraged that ODI has full support from the Bank's President, First Vice President, and senior management. These leaders, along with members of the Bank's Diversity Council, carry positive changes into each line of business. ODI also partners with Human Resources, Procurement, and Public Information, along with the Diversity Council and the Bank's employee resource groups.
Aguilar herself is uniquely qualified to lead the Bank's diversity initiatives, having experienced the organization from several vantage points since beginning her career at the Los Angeles Branch in 1988. At that time, her entry-level position in cash operations was anything but glamorous. Financial institutions would call in orders for currency and coin and Aguilar would type them up on her manual typewriter. Later she moved to cash shipping and receiving.
An armored carrier would put sacks of money in a vestibule and then exit and close the outer doors. Aguilar and her partner would open an inner door, count the sacks, and write their counts on slips of paper, which the carrier would verify through a glass panel. Handling millions of dollars was all in a day's work, and the duo would routinely take in deposits of more than $10 million.
Aguilar's responsibilities grew. She became a lead and was promoted to management positions within Cash. Before having her first child, Aguilar received an unexpected maternity leave present: another promotion. This time, she would face new challenges as a manager in Human Resources.
"Management saw my potential and the ability to grow within the organization, so I was given that opportunity," Aguilar says. She feels every leader should spend time working in HR.
"You see the organization from a different perspective. In cash operations, it was about one aspect of the Bank's business. When you're in HR, it's about the entire organization," she says.
Aguilar spent the next 8 years in HR. Notably, she oversaw a painful but necessary downsizing when Federal Reserve Bank check processing operations were scaled back nationwide. (Today most checks are processed using electronic services.) At the same time, she was growing her family and earning her degree in business administration and human resources aided by the Fed's tuition reimbursement program. Aguilar worked days and took classes at night. She had a small child at home and another on the way.
"I was 9 months pregnant when I took my last class," Aguilar recalls, remembering a presentation she made just before graduating. "Everybody was joking that they were waiting for me to have the baby right then and there."
Aguilar attributes her work ethic and drive for success to her parents who immigrated to the United States from Mexico. She explains, "My dad was a laborer who painted industrial pumps to support a family of five children. I learned to value hard work."
When Aguilar was ready for her next career move, she returned to Cash as the Officer overseeing Los Angeles' Cash Services, the second largest cash operation in the Federal Reserve System. She ran the department for a decade, modernizing automation equipment and restructuring. It's a role she likely would have stayed in if her position in ODI didn't come along.
In applying for a job that would give her a leading role in developing an ever-more-inclusive culture at the Fed, Aguilar thinks about what workplace diversity really means. About the values her hardworking parents instilled within her and how she'd applied them for the benefit of the SF Fed. And she thought of all the times in her Fed career that managers recognized her potential, dedication, and hard work.
"My opportunities were based on my abilities and competencies in areas that the Bank values. I don't see why that can't be true for everyone here," she explains.
For her, "It's about valuing what we each bring to the table: All our differences, our experiences, our backgrounds, which also includes visible attributes such as our ethnicity, gender, or sexual orientation. All of those things shape us and make us each unique and able to contribute in new and innovative ways."
You may also want to read: