Robert T. Parry (1986 – 2004)
Robert T. Parry served as president and chief executive officer of the Federal Reserve Bank of San Francisco from 1986-2004. A native of Harrisburg, Dr. Parry received a B.A. degree from Gettysburg College. He earned a M.A. and a Ph.D. in economics from the University of Pennyslvania and holds honorary doctorates from Gettysburg College and Southern Utah University.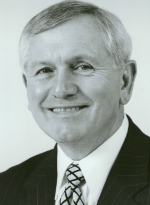 Robert T. Parry, Past President and Chief Executive Officer
Dr. Parry first joined the Federal Reserve System at the Board of Governors in Washington, D.C., and worked there as a research economist for several years. He left the Board to join Security Pacific National Bank as vice president, and he moved up through the ranks to become executive vice president and chief economist of Security Pacific Corporation and its principal subsidiary, Security Pacific National Bank. He held that position until he came to the Federal Reserve Bank of San Francisco in February 1986.