Henry L. (Skip) Kotkins Jr. Appointed to Seattle Branch Federal Reserve Board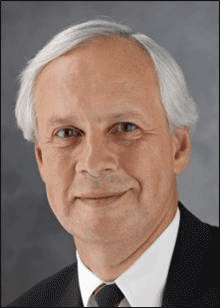 Henry L. (Skip) Kotkins Jr.
Seattle, WA – The Federal Reserve Bank of San Francisco has appointed Henry L. Kotkins Jr., chairman and chief executive of Skyway Luggage Company to its Seattle Branch board of directors. His appointment is for a three-year term and is effective immediately.
Skyway Luggage Company was founded in 1910 and Mr. Kotkins is the third generation to run the family business. He started with the company in 1971.
Mr. Kotkins, a former member of the Federal Reserve Bank of San Francisco Economic Advisory Council, sits on the boards of ABM Industries, Inc. and the Industry Trade Advisory Committee, which advises the U.S. Department of Commerce.
Mr. Kotkins is actively involved with numerous non-profit organizations, including the Marsha Rivkin Center for Ovarian Cancer Research, the Travel Goods Association and the Washington Council on International Trade. Mr. Kotkins is also a trustee of the National Association of Independent Schools, and treasurer of the Greater Seattle Chamber of Commerce.
Mr. Kotkins holds a B.A. in American Civilization from Williams College and a Masters in Business Administration MBA from Harvard University.
Other members of the Seattle Branch board include: William S. Ayer (chair) Alaska Air Group; Richard A. Galanti, Costco Wholesale Corporation; Ada M. Healey, Vulcan Incorporated; Mary O. McWilliams, Puget Sound Health Alliance and Patrick G. Yalung, Wells Fargo & Company.
Steven Fisher
Federal Reserve Bank of San Francisco
(425) 203-0799
---
The Federal Reserve Bank of San Francisco (SF Fed) serves the public by promoting a healthy, sustainable economy, and supporting the nation's financial and payment systems. With offices in Los Angeles, Seattle, Salt Lake City, Portland and Phoenix, the Bank serves the Twelfth Federal Reserve District, which includes one-fifth of the nation's population and represents the world's fourth-largest economy. As part of the nation's central bank, the SF Fed informs monetary policy, regulates banks, administers certain consumer protection laws and acts as a financial partner to the U.S. government.