Fintech: Innovation, Inclusion, and Risks Conference
Friday, February 24, 2023
UC Santa Cruz Silicon Valley Campus Center in Santa Clara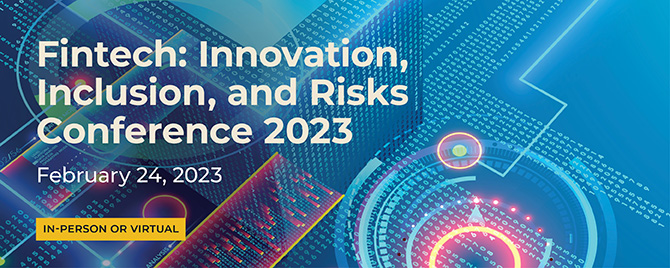 The Federal Reserve Bank of San Francisco, the Lam Larsen FinTech Initiative at San Francisco State University, and the Center for Analytical Finance at the University of California at Santa Cruz are jointly hosting the conference on Fintech: Innovation, Inclusion, and Risks on February 24, 2023.
Building communication channels among regulators, industry, and academia is critical to developing a safe, fair, efficient, and transparent digital financial system. This conference brings together top experts and leaders from policymakers and regulators, industry participants, and academics to contribute to this conversation. The conference's goal is to provide a venue for a productive dialogue among participant groups to discuss each other's concerns and experiences from the equal ground and share knowledge on the current state and potential of fintech.
Our overarching theme this year is to understand better how fintech will be integrated into our existing financial infrastructure, as well as the role of banks, stablecoins, and payments. We seek to understand the optimal amount of decentralization versus centralization, and we will also explore how these new technologies can enhance financial inclusion globally.
Financial support for the conference from CAFIN Advisory Board Chair Stephen Bruce and the UC Santa Cruz Foundation Board of Trustees is gratefully acknowledged.
February 24, 2023 (all times PST)
8:30 AM – Breakfast and Registration
9:00 AM – Welcome and Opening Remarks
9:15 AM – Morning Keynote
10:00 AM – Digital Currencies / Payments
11:15 AM – Decentralization / Centralization
1:15 PM – Fintech Regulation
2:15 PM – VC Perspective on DLT
3:30 PM – Digitalization & Financial Inclusion
4:15 PM Lessons for the Future
5:00 PM – Keynote with Mark Gould