2014 National Interagency Community Reinvestment Conference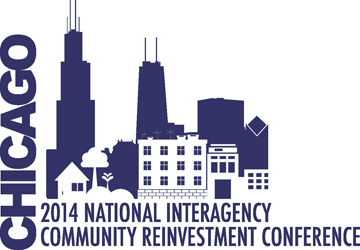 Download the program (pdf, 1.35 mb)
Sunday, March 30 - Wednesday, April 2, 2014
Hyatt Regency Chicago
Chicago, IL 60601
Sponsored by the Federal Deposit Insurance Corporation, the Federal Reserve Banks of Chicago and San Francisco, the Office of the Comptroller of the Currency, and the U.S. Department of the Treasury's CDFI Fund, this conference is the premier training and networking event for community development professionals, including CRA officers, CDFIs, nonprofits and government officials.
The 2014 program featured a keynote presentation by Federal Reserve Chair Janet Yellen; innovations in community development policy and practice; CRA examination training; the National Community Development Lending School; and Community development tours of Chicago. Watch videos of keynotes, select sessions, and attendee interviews.
Questions? Send an email to the conference organizers.
Share the #NICRC experience on Twitter.
Related
2016 National Interagency Community Reinvestment Conference
2012 National Interagency Community Reinvestment Conference