2018 National Interagency Community Reinvestment Conference
Sunday, March 18 - Wednesday, March 21, 2018
Hyatt Regency Miami
400 South East Second Avenue
Miami, FL 33131-2197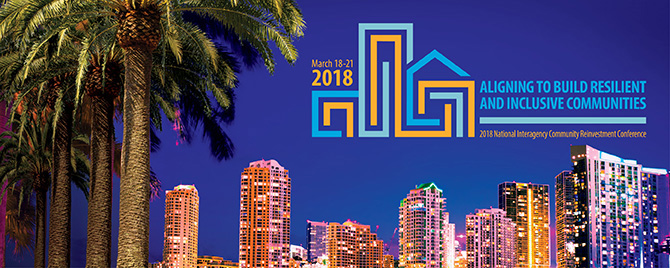 Download the conference program for more information (pdf, 2 mb)
Recent natural disasters, growing income disparities, and the economic challenges facing our nation make building resilient and inclusive communities more important than ever. At the 2018 National Interagency Community Reinvestment Conference, 1200 community development professionals came together to learn how to align stakeholders, resources, and strategies to better face these challenges, strengthen our communities, and produce lasting impact.
The program offered Community Reinvestment Act examination training with regulators' participation and insights, emerging ideas and best practices in community development shared by experts from around the country, and tours of Miami that explored resilience, recovery, and economic inclusion in a diverse and vibrant city.
Watch recordings from Miami below. More will be posted in the weeks ahead.
A Conversation with Raphael Bostic
Inclusion and Equity: A Presentation Series at the 2018 National Interagency Community Reinvestment Conference
Promoting Racial Equity through Community Development: Focus on Investment
Alignment and Cross-Sector Partnerships: A Presentation Series at the 2018 National Interagency Community Reinvestment Conference
Integrating Racial Equity, Health, and Climate Resilience in the Built Environment: An Overview of SPARCC
Community and Climate Resiliency: A Presentation Series at the 2018 National Interagency Community Reinvestment Conference
Advancing a 21st Century Community Reinvestment Strategy
Sponsors