Supplier Diversity
The Federal Reserve Bank of San Francisco is committed to ensuring the fair inclusion of certified diverse businesses owned by minorities, women, veterans, disabled persons, and lesbian, gay, bisexual, and/or transgender persons in the Bank's procurement efforts. This commitment includes promoting access to business opportunities through our outreach efforts and providing training and orientation to familiarize suppliers with the Bank's business needs and procurement procedures. Our Supplier Diversity Program is a collaborative effort involving the Bank, the communities we serve, and a diverse supplier community, including small businesses.
We seek to enhance our partnerships with advocacy groups and chambers of commerce to identify suppliers whose expertise match our organization's needs and encourage interested suppliers to visit our Supplier Information page to be considered for upcoming procurement opportunities. Our outreach efforts help us understand the business challenges faced by diverse suppliers and guide our technical assistance programs.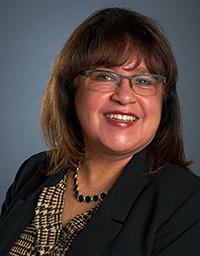 Lynn Reddrick, Manager of the Supplier Diversity Program
Lynn Reddrick is the manager of the Supplier Diversity Program at the Federal Reserve Bank of San Francisco and is responsible for developing, implementing, and administering the program in the Twelfth Federal Reserve District. She joined the Federal Reserve Bank of San Francisco in March 2012, and is an advocate for fair inclusion of diverse businesses in the procurement process, which in turn increases the Fed's involvement in the economic development of these businesses.
Lynn comes to the Fed following more than a decade of managerial experience assessing 70 public sector supplier diversity programs; developing small, local, minority, and women business policies and programs for public agencies; and planning and directing successful business community outreach campaigns throughout the United States. She has nurtured the Supplier Diversity Program both internally and externally with diverse advocacy organizations. Lynn serves on the Board of Directors for the Western Regional Minority Supplier Diversity Council, Women's Business Enterprise Council – Pacific, and the Financial Services Roundtable for Supplier Diversity. She is also a member of the Executive Committee for the Bay Area Business Roundtable
Lynn received her Bachelor of Science degree in business administration from the University of California at Berkeley and a Master of Business Administration degree in finance and marketing from Columbia University.
In This Section