Mapping Student Loan Debt in the Bay Area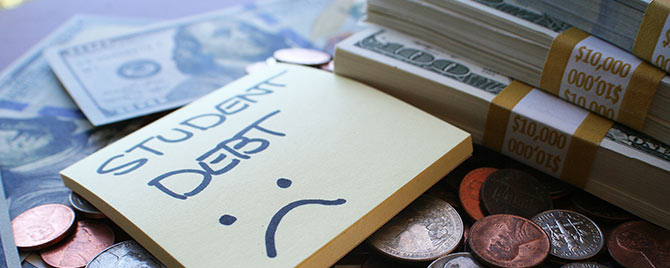 A college education is a crucial driver of financial security and economic mobility. Yet, certain communities throughout the San Francisco Bay Area have significantly higher rates of student loan default and delinquency than others.
Who's experiencing student loan debt distress? Explore student loan borrowing and repayment in the nine-county San Francisco Bay Area with our new interactive maps.
"Who's experiencing financial distress related to student debt? Which neighborhoods have the highest rates of student loan delinquency? Student loan default? These maps help our Bay Area communities and policymakers identify answers that can lead to meaningful change," says Bina Patel Shrimali, DrPH, a senior researcher with the San Francisco Fed.
The maps are an extension of a recent report from the Federal Reserve Bank of San Francisco and San Francisco Treasurer's Office of Financial Empowerment. The report employed the Federal Reserve Bank of New York Consumer Credit Panel/Equifax data.
"Our research finds that regional trends can mask disparities. Drill down to the neighborhood level, though, and you'll see where borrowing rates are much higher. It becomes clear that student loan delinquencies and defaults disproportionately affect low-income communities and communities of color," explains Shrimali, who co-authored the report.
It's Not All about the Money
Data reveals that borrowers with low student loan balances experience higher levels of delinquency and default.
Nearly one in five defaulted borrowers owe less than $5,000.
Approximately half of all Bay Area student loan borrowers in default owe less than $15,000.
A Competing Priority
Student loan debt repayment seems to become more challenging for those already struggling to make ends meet.
The maps show the highest delinquency rates almost uniformly in low-income neighborhoods. Zoom in on Bayview-Hunters Point in San Francisco, East and West Oakland, Richmond, and Vallejo, for instance.
Twenty percent of borrowers in the lowest income neighborhoods are delinquent on their loans.
Black and Hispanic Residents at Greater Risk
Negative impacts are concentrated in neighborhoods with high percentages of Black and Hispanic residents, such as Bayview, Hunters Point and Treasure Island.
In predominantly Black and Hispanic neighborhoods:
19.9 percent of borrowers are delinquent
15.3 percent are in default
26.9 percent have defaulted since 2003
Explore these findings and more with our interactive San Francisco Bay Area student debt maps.
For the full report, visit At What Cost? Student Loan Debt in the Bay Area.
You may also like: