Happy Diwali!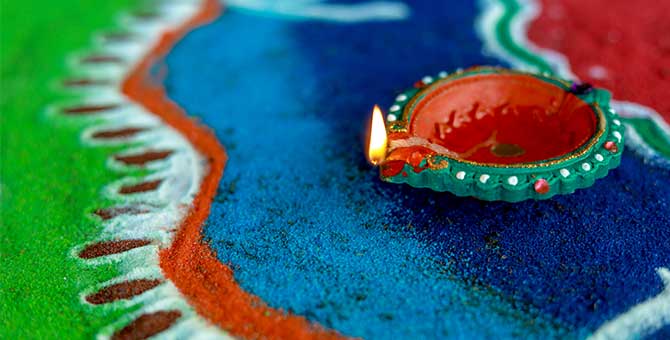 As we've continued to adjust to this year's new environment, celebrations throughout 2020 have pivoted. Through socially distanced or virtual events, people have found ways to continue honoring cultural traditions and celebrating their heritage while following safety guidelines. For Indus, the SF Fed's employee resource group (ERG) dedicated to preserving and sharing South Asian cultures, it's led to a new take on Diwali, the Hindu festival of lights.
Diwali is one of the most popular festivals of Hinduism and is celebrated each year in autumn, in the Indian subcontinent, Fiji, Guyana, Malaysia, Singapore, and many other nations.
Leading up to Diwali, those celebrating clean, renovate, and decorate their homes and offices. On the night of Diwali itself, they dress up in their best clothes, light up the interior and exterior of their homes with diyas (lamps and candles), and participate in family puja (prayers). In larger celebrations, puja is followed by fireworks and a feast with family and friends.
For a closer look at how people are celebrating Diwali this year, we asked Indus co-chairs Saachi Gupta and Taruna Sharma to share a little about their own experiences.
What does Diwali mean to you and your families?
Saachi: Diwali to me and my family means many things: Victory over evil, the Hindu new year, praying to the Goddess Lakshmi for wealth and prosperity for the next year, buying and wearing new clothes, thoroughly cleaning the house, and spending time with family and close friends. At the end of the day, it's generally a lot of eating, dancing, and having a good time. I always look forward to Diwali, and this year is no exception.
Taruna: It's very similar for me and my family as well. Diwali for us is a time to begin anew. We all celebrate the rise of good over evil and the start of the Hindu New Year. We also clean house, decorate our puja room with fresh flower garlands, and perform the Goddess Lakshmi puja with family. Diwali house cleaning is still a big thing, and there are weeks of planning and organization that goes into it. In addition to lighting diyas—candles placed all over the house—we create rangoli, which are colorful designs on the floor made from rangoli powders, ground rice powder, flowers, and diyas. Then we host an elaborate dinner with lots of dishes and mithais—Indian sweets—prepared at home.
When is Diwali traditionally celebrated? Is there a particular significance to this time of year?
Saachi: Diwali tends to fall in October or November of each year. This is the time of year when many Hindu festivals take place.
Taruna: There is a lot going around Diwali—celebrations go on for five days, and each day has its significance. Before Diwali itself, we celebrate Dhanteras and Chaturdashi. After Diwali comes Govardhan Puja and Bhai Dooj.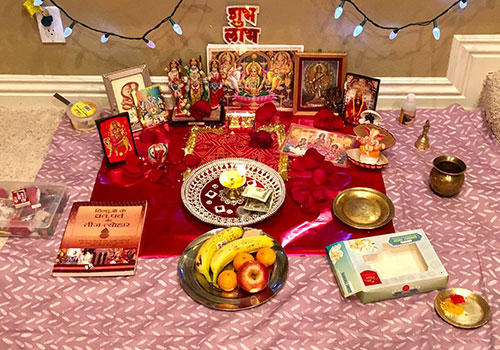 Dhanteras, or the worship of wealth, is the first day of Diwali. Goddess Lakshmi is worshipped on this day, and there is a custom to purchase something precious. The second day is Naraka Chaturdashi or Choti Diwali, which is actually the death anniversary of Narakasura. The day is therefore celebrated as a way to get rid of negativities.
The third day is the main Diwali festival. Lakshmi Puja is performed on this day. Goddess Lakshmi is believed to enter homes and bless people with good fortune.
After Diwali, the fourth day is Govardhan Puja or Padva. It is the day when Lord Krishna defeated Indra by lifting the huge Govardhan Mountain. The fifth and last day is Bhai Dooj. On this day sisters invite their brothers for a lavish meal and perform a "tilak" ceremony. Sisters pray for their brother's long and happy life, while the brothers give gifts to their sisters.
How does the SF Fed typically celebrate Diwali?
Saachi: We usually coordinate bringing in several Indian dishes and sweets for at least 100 attendees, and we decorate the space we use to share different parts of our culture with the Bank. In addition to food, there's dancing and singing, a presentation, trivia, and a fashion show. It feels great to share this time of joy and giving with our colleagues. This year won't be quite the same, but we're hosting a virtual celebration for all employees. While we won't be able to share food this year, we highly encourage everyone to support your local businesses and order Indian take-out to eat!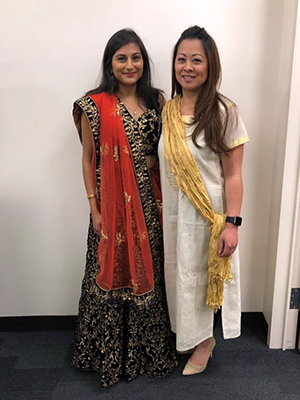 Taruna: Diwali at the SF Fed is one of the most popular Indus ERG events and involves months of planning and preparation by several teams. The Indus ERG has been celebrating Diwali at the SF Fed for many years and that won't change in 2020, even if it has to be a virtual event.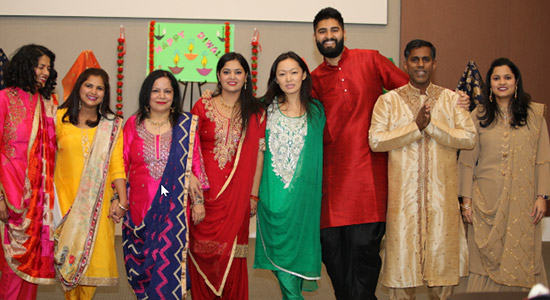 How are you celebrating Diwali in this unusual year?
Saachi: Instead of celebrating with many friends and family members, I will be limiting the celebrations to my immediate family. It's hard because our culture involves a significant amount of socializing and coming together with our community. We will still carry on much of our traditions, of course. My family and I will still spend several hours cleaning the house, turning the lights on in all of the rooms, and placing diyas and candles throughout the house.
Just as in years past, we will dress our idols and pictures of the various Hindu gods in our small shrine at home; prepare tikka (a red powder used for bindi); make chandan (sandalwood paste) with a piece of sandalwood, water, and grinding stone; and our dog Daisy will sit right in the middle of everything throughout the whole process. After performing puja prayers and singing bhajan hymns, we will enjoy a delicious dinner together. It's definitely going to be odd to not see everyone I am used to seeing each year. But we are trying to make up for it with a Zoom call to my relatives in India, Singapore, and Australia so we can catch up and wish them well.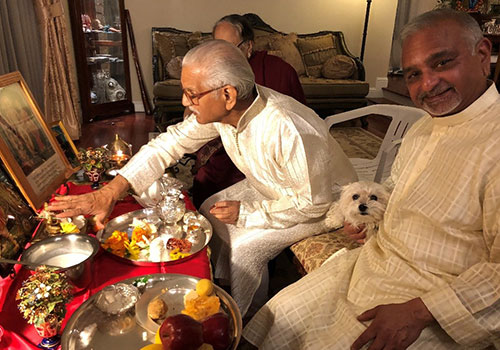 Taruna: Diwali has to be different in the time of COVID-19. We will be staying indoors and celebrating only with immediate family, but like Saachi's family, will continue with our traditions. We will make rangoli, cook an extensive Diwali dinner menu, and decorate the house with lights and diyas. In addition to what Saachi mentioned, my family will also do some Diwali shopping—purchasing new clothes, decorative diyas, and candles. And we'll distribute sweets and gifts to our immediate family and close friends.
Is there anything else you'd like to add?
Saachi and Taruna: We hope everyone has a great Diwali celebration at home this year, and we wish you all prosperity and good health in the year to come!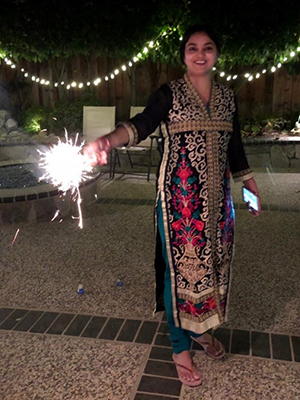 Image credit: Nikhil Patil via iStock.
You may also like: