5 Tips for Successful Remote Work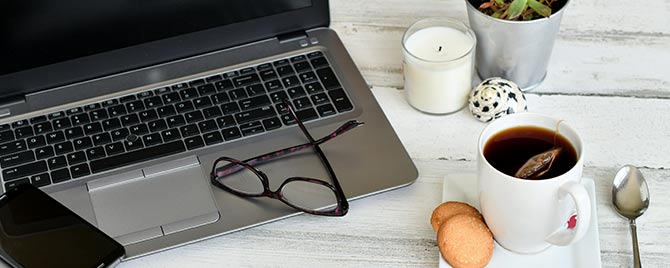 Thinking of joining the remote workforce? The right technology and life-work balance can make all the difference.
Both of my parents worked the entire time I was growing up. My mom is still working in the commercial title insurance field. My dad's retired now, but used to work with hospitals on software for medical devices. They raised my sister and me to put 110% into everything we do, believing that hard work pays off in the long run.
Interesting enough, although my parents expected our schoolwork to come first, there was a balance. If we did really well in school, keeping our heads down and grades up, we could do almost whatever we wanted on weekends.
Their mentality was: Work hard, play hard. 
I've brought their mentality into my adult life. I put everything I can into the work I do, while also making sure I have time to disconnect from the job and reenergize. It can be tough to do since I work from home.
Here are five simple things I do to keep my own life-work balance on an even keel.
1. Schedule breaks.
When you're a remote worker, you can literally start the second you turn on your coffee maker and then easily catch yourself working after dinner. It makes for a long day, every day, unless you pay attention. You think it will only take a minute to go back into your office to check on things, but it's never that quick or simple. That was something I had to learn at first.
Don't get me wrong, the San Francisco Fed is great about helping employees find a good life-work balance. Managers are very tuned into if you're taking your time off. But you have to do your part, too.
I schedule lunch breaks to make sure I don't work through lunch.
I know when I need to take other short breaks.
Luckily, my dog Jake is my coworker, so I can take him on walks when I need some time away from my screen.
2. Get really good at prioritizing tasks.
When I'm at work, I'm 100% at work. That means I really need to prioritize what I'm working on. Of course, there will always be projects where you need to work a little bit longer, and a little bit harder, but you need to schedule that, too. It takes discipline to be able to turn off your email and laptop, and just enjoy your family or go do something fun. I'm fortunate that my team shares the same mentality. We all bring the same kind of focus and passion for our work to our projects, whether we're working as individual contributors or collaborating remotely or in person. When we're together for in-person team meetings, we go out to dinner together. When we're at our home or branch offices, our after-hours time is our own.
3. Watch out for distractions.
You might not have co-workers dropping by your desk like you do in an office, but the same type of thing happens on chat. You get the ping: "What's going on? I need your help with this." Of course you want to be helpful, but it is okay to say you can pitch in later, or that you don't have the bandwidth to tackle a question if you have too much going on.
4. Embrace video chat for team meetings.
Members of my team are all over the place, which isn't surprising. Although my department, the Federal Reserve's Cash Product Office (CPO), is based in San Francisco, we have employees around the country supporting 28 Cash Offices.
I'm in Jacksonville, Florida. My manger is at the Cleveland Fed. I have co-workers in San Francisco, Boston, and even Missouri. We're always on chat and the phone, and we do a lot of video chat, including all of our team meetings. It's rare that a day goes by that I'm not on some sort of video conference collaborating with the team. It's efficient, personal, and makes everyone feel connected.
5. Join a community for remote workers.
We have a remote workers employee resource group at the San Francisco Fed. It's great because we can suggest things that we'd like to learn about that were previously only available to office-based workers. For example, we had someone talk to us about our electronic library and were given a sneak peek of our intranet redesign so we could weigh in on whether it worked for us.
The group also shares a lot of travel tips, ways to set up our home offices, and tips for being successful in our day-to-day work. It makes us all feel like we're really part of a community, and the Bank.
Courtney Obi is a project consultant with the Federal Reserve's Cash Product Office. She works from her home office in Jacksonville, Florida.