As Rents Rise, Nonprofits Feel the Squeeze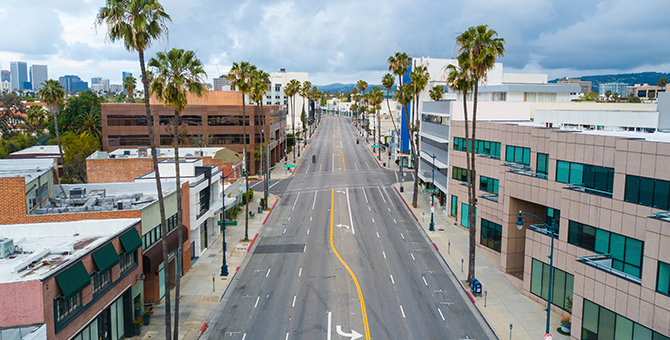 It's an old story. When an economy rises, the cost of real estate rises. If costs keep rising, those with lower incomes move out while those with higher incomes move in.
This displacement happens with people, with businesses, and with nonprofit organizations. It changes neighborhoods—and can hurt communities.
In Los Angeles, nonprofits have faced rising real estate costs in recent years. Now, with the economic downturn related to the COVID-19 pandemic, they face revenue shortages. Prior to the pandemic, the Federal Reserve Bank of San Francisco surveyed nonprofits in the Los Angeles metropolitan area to get a pulse on their situations. The survey was conducted in November 2018 and follow-up interviews were conducted between January and February 2020.
Here are key findings:
68% of the nonprofits that responded to the survey reported an increase in the cost of operating space in the previous five years.
25% called the increase "significant" and 35% called the increase "moderate."
Of survey respondents that had relocated within the previous five years, 35% cited the high cost of real estate as a reason for moving—and 29% had moved more than once.
65% of nonprofits were concerned about the possibility of their organization being displaced from the communities they serve due to rising costs.
88% of nonprofits were concerned about clients and constituents being displaced from their neighborhoods due to rising costs.
39% anticipated that their nonprofits would have to reduce the programs or services that they provide, and 28% anticipated a potential reduction in staff.
57% anticipated a possible reduction in operating space.
These nonprofits serve critical needs. 73% serve low-income communities, 64% serve communities of color, and 12% serve LGBTQ communities. The nonprofits work mainly in the arts (25%), community development (17%), human services (16%), and education (9%)—all vital to community health and wellbeing.
When a nonprofit moves out or shuts down, it leaves a hole in the community. The people who benefited from the nonprofit's programs and services must do without, or travel farther to find them.  
So what can nonprofits do?
Through strategic partnerships, nonprofits can secure affordable operating space in the communities they serve. Here are policy and strategy ideas that emerged from the survey and interviews:
Lease unused space on property owned by a school district or city or country government.
Share space with commercial businesses.
Share space with complementary nonprofits, such as a food pantry and a homeless shelter in the same building.
"Barter" programs or services with others in a shared space. For example, one arts nonprofit manages an art gallery in a tech incubator office in exchange for reduced rent on office space in that same building. The building owner values the gallery space.
Join forces with other nonprofits and work with financing organizations such as Genesis LA to buy multi-tenant properties to occupy and to manage as landlords, renting spaces to businesses.
Work with finance-and-technical-assistance organizations such as the Nonprofit Sustainability Initiative to find nonprofit-owned spaces and to secure long-term leases.
While these strategies can help many nonprofits, it may not help them all.
Especially during the pandemic, nonprofits in the Los Angeles metropolitan area will continue to need assistance in finding and keeping affordable operating space—and in keeping their doors open.
For more detailed analysis of the survey and interview results, read our research brief: Holding Space: Underlying Real Estate Conditions for Nonprofits in the Los Angeles Region.
Image credit: AleMoraes244 via iStock
You may also be interested in: