San Francisco Fed President Daly and Team Visit Singapore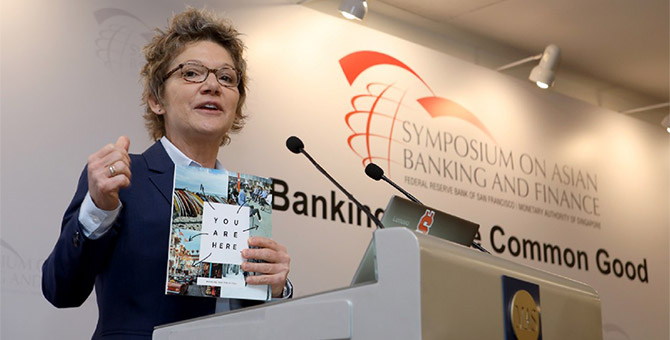 We traveled to Singapore in June with President Mary Daly and other colleagues. The trip had two parts. First, we held the Asia Symposium, which is co-sponsored with the Monetary Authority of Singapore (MAS). Then, we met with various institutions and industry experts who could give us a better understanding of Singapore.
Crossing Bridges
What we've learned in our years of outreach with Asia is this:
You can't just build the bridge, you have to cross it and so do your counterparts.
Sitting an ocean away, the Federal Reserve Bank of San Francisco is the closest Reserve Bank to Asia. It's a significant region in an interconnected global economy and financial system. Many Asian banks also operate within our District. So, our Bank is the most natural touchpoint for expertise on and relations with Asia.
There's no better way to understand another country than by actually being there. Talking with people, experiencing the culture, and working with our counterparts in central banking and financial regulation.
Our Asia Program is one of our efforts to reach out to and understand Asia. Activities aim to not only facilitate the exchange of information on issues and developments in Asian financial sectors but also bring together a global community of people involved in Asian financial system stability and dynamics.
2019 Asia Symposium: Banking for the Common Good
The theme for the 2019 Asia Symposium (formally known as the Symposium on Asian Banking and Finance), was Banking for the Common Good. The event explored the impact of banking services on the function and wellbeing of society.
MAS Managing Director Ravi Menon gave opening remarks on trust, while President Mary Daly gave a keynote speech on the business case for culture change. The thread woven through both reflected one of the best characteristics of the Asia Symposium; that everyone in the room is working toward the shared goal of a safe, stable financial system.
The 2019 Asia Symposium covered a range of topics, including:
global regulatory reform
financial inclusion
sustainable financing
technological advancements
cyber resiliency
Participants included central bankers and regulators, senior executives of financial institutions, market participants, and academics from around the United States, Asia, and Europe.
The Asia Symposium began over a decade ago to commemorate the tenth anniversary of the Asian Financial Crisis of 1997-8. In 2015, we began partnering with MAS and now co-sponsor this annual event, alternating locations between San Francisco and Singapore. This collaboration allows us to create a better agenda with a more diverse line-up of speakers and participants, which leads to more meaningful dialogue.
Getting to Know the Singaporean Community
One of the greatest gifts of travel is finding the similarities, understanding the differences, and getting to know what makes another country tick.
Our meetings in Singapore explored the country's current economic conditions and challenges as well as plans for the country's future economy. Along the way, we reaffirmed that we have many shared values, practices, and goals, especially forward-looking thinking and community engagement. We were also delighted by everyday commonalities, in particular, the same ergonomic office chairs and relaxed dress code.
We also learned about different approaches and solutions to some shared issues, like an aging population, technological obsolescence, digital innovation, and continuous training in the workforce.
One of the most enjoyable parts of the trip was a talk President Daly gave to graduate students at Singapore Management University. In addition to discussing issues relating to the U.S. economy, President Daly talked about insights from her own life and encouraged interested students to pursue careers in economics. She connected with students halfway around the world over shared life experiences and a passion for economics. Through these connections, we were reminded that the San Francisco Fed's public outreach extends to regulators, policymakers, and industry players, and global citizens of our interconnected world.
One thing is clear from our time in Singapore: Relationships can be made on paper, but meaningful connections are best built by crossing bridges and connecting with communities.
Visit us on Medium for behind-the-scenes photos from the trip.
Visit the Pacific Exchange Blog and tune into the Pacific Exchanges podcast for timely analysis of the most important financial and banking trends in the Asia Pacific affecting the world's economy.
Walter Yao is a Director in the Financial Institution Supervision and Credit Group at the Federal Reserve Bank of San Francisco overseeing the Country Analysis Unit.
Linda True is the Asia Program Coordinator and ASEAN analyst in the Country Analysis Unit within the Financial Institution Supervision and Credit Group at the Federal Reserve Bank of San Francisco.
You may also like to read: