'Tis the Season for Cash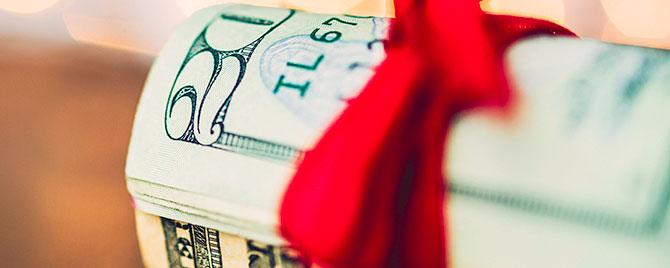 Federal Reserve Banks across the country are busy ensuring that commercial banks have a sufficient supply of cash to meet consumer demand during the biggest shopping time of year. Preliminary findings from the 2015 Diary of Consumer Payment Choice show that cash continues to be the most frequently used payment instrument, and when it comes to consumer spending, there's no time like the holidays.
With all the warm and joyful feelings of the season comes a frenzy to find perfect gifts for family, friends, and colleagues. But while your list of recipients may be long, and payment options many, there's a very good chance cash will be in the mix.
The 2015 Diary found that while more consumers are shopping online than a few years ago, more than 90 percent of purchases still take place in retail stores. The Diary also shows that 63 percent of in-store purchases are under $25, and consumers tend to use cash for purchases in that price range.
People use cash to pay for a variety of things, of course, but when it comes to gifts, sending money, and paying back others, cash holds its own. In 2015, 75 percent of these types of transactions were made with cash, an increase from 2012.
In fact, even with the emergence of peer-to-peer (P2P) money transfer apps like Venmo and PayPal, people continue to use cash for personal money transfers. For some, giving cash gifts during the holidays is a great option for that hard-to-shop-for person on the list. For others, it's a family tradition or a way to thank those who provide us with year-round service. In other words, for your babysitter, dog walker, hairstylist, or caregiver, the gift of cash is always welcome.
The Federal Reserve Bank of San Francisco and the Cash Product Office wish you a happy and safe holiday season.
You may also want to read: