Turning Dirty Cash Into Clean Energy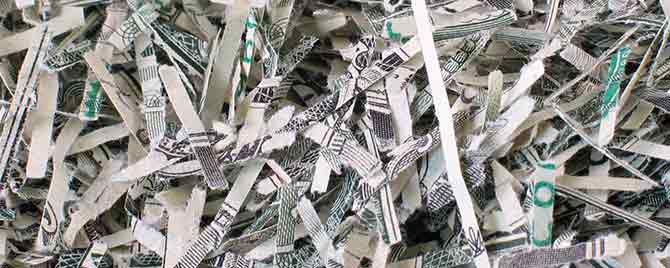 Bottles, cans, plastics, and paper probably come to mind when you think of recycling. But what happens to old U.S. currency?
Federal Reserve Banks finely shred notes to remove damaged and soiled currency from circulation. The shreds can't just go to a municipal recycling center, though, since Federal Reserve notes are a blend of cotton and linen. To minimize landfill deposits, we work with companies to re-purpose cash shreds for alternative uses such as biofuel and compost.
In 2017, the Fed's 28 Cash offices nationwide shredded nearly 5,000 tons of unfit currency. Eighty-five percent of that shred—4,200 tons—was recycled.
In California, our San Francisco and Los Angeles offices sent more than 600 tons of shred to companies in Northern and Southern California that turn waste into energy. The companies mix currency shred with other materials to generate power for local communities.
"We always look for ways on how we can divert waste from landfill and help reduce greenhouse gas emissions," says Scott Johnson, chief engineer of facilities at San Francisco Fed headquarters.
Johnson and his team manage the vendor responsible for recycling shredded currency for the San Francisco office.
"Working with cash management, we found a facility not far from our location that converts waste to energy. We're helping power homes instead of adding tons of shred waste to landfill every year," he explains.
Cash shred recycling is just one of the ways the Fed is working to reduce its environmental impact in our region. See more initiatives.
You may also want to read: