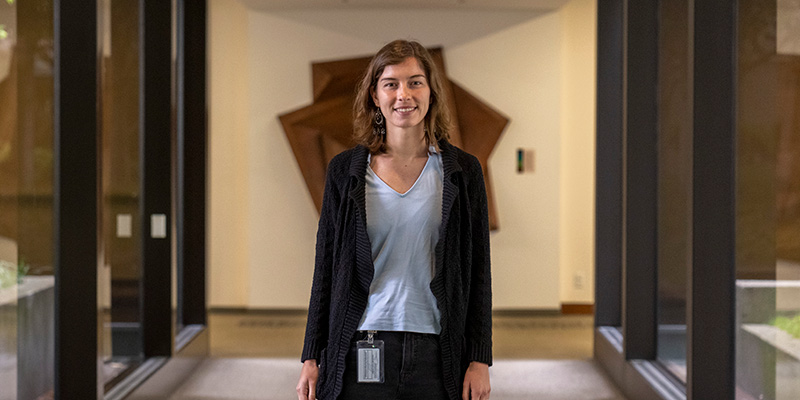 Aina Puig
---
Unlocking Insights into Economic Inequity as an SF Fed Research Scholar
In 2021, the San Francisco Fed piloted a graduate student essay contest called Unlocking Our Potential to deepen our understanding of the economic impact of inequities in support of our full employment mandate. Aina Puig, a macroeconomics PhD student specializing in inequality topics at American University, authored one of two essays selected through the contest. As a Summer 2022 Research Scholar at the SF Fed, Aina refined and further developed her research by working closely with the Economic Research team. She shares her experience with the essay contest, her time at the SF Fed, and her hopes for her research moving forward.
What drew you to economics? When did you realize you were interested in the subject?
I was drawn to studying institutional policies and how they drive country development and impact people's lives. In school, I was always interested in classes on country development and math, so economics seemed like the perfect blend of those two subjects. I also liked that since economics is such a broad field, there are endless possible questions to research. Whether you're studying the U.S. or other countries, through economics you can answer important questions with different economic theories and methods. A subfield of economics that drew me in is inequality due to its implications on economic progress and well-being.
I realized I was interested in the subject during my undergraduate studies in economics, when I saw the jobs that economists have. I thought these jobs were very meaningful, especially those with policymaking roles.
What is your research about?
My research is on the impact of unexpected changes in monetary policy: unexpected changes in interest rates and the impacts of that on consumption patterns for households in the U.S. I break down households into different demographic groups by race and gender, comparing households headed by white women and men and Black women and men. I find that each group responds differently. Usually, we expect people to respond in the same ways and with certain behaviors, but when you disaggregate the data, you see that the response you were expecting actually only reflects that of a certain group. That's what I'm trying to show for spending patterns, to better understand how people spend their money.
Why did you decide to enter the SF Fed Essay Contest?
I'm really passionate about macroeconomics inequality research. When I saw the Essay Contest calling for essays on economics with gender and racial components, I thought it aligned with my interests and would be a great opportunity to see what economists at the Fed think about my project.
It was very appealing to me to come to the Fed for six weeks, work with the economists that are here, and get their direct feedback to develop my research. I thought my research topic would also be valuable to the Fed, especially to better understand the complexities of how interest rate changes are transmitted to households. I thought that it was very much within what the San Francisco Fed is working on now.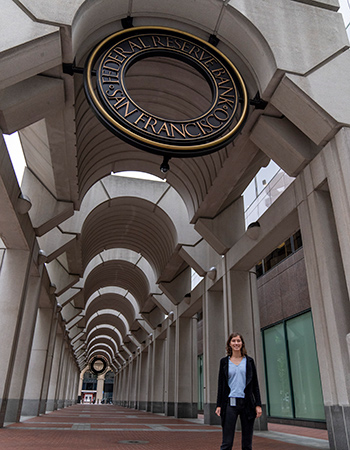 Take us back to when you heard that your essay had been selected. What do you remember about that moment?
I remember opening the email, and I couldn't believe it! I was so excited to come to the Fed. As I said, coming to the Fed and working with the economists was my main motivation for entering the contest, so having my essay selected was incredible. I was super happy and excited for the summer visit.
Now that you have been at the SF Fed working with the researchers and the team, has it lived up to expectations? What has this experience been like for you?
It has definitely exceeded my expectations! Everyone at the SF Fed is so welcoming, whether I was working with the economists or people in other departments.  Everyone was willing to listen to my findings, provide their feedback, and give me time to discuss economics, careers, and what's going on in the field. It felt like they were very interested and willing to help. I hope I can stay in touch with the people here and keep working together in the future.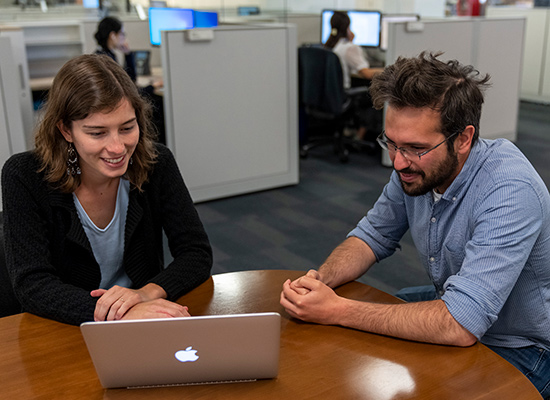 How do you think this experience has expanded your research?
When I first came to the SF Fed, I presented in a brown bag seminar. It was really valuable because the room was packed with economists who are experts in the field. They put words to ideas that maybe I hadn't thought of, which gave me a clear path to developing my project in the future. So, I feel like now I have a clearer understanding of the improvements that need to be made to my project. In a way, the research development process was accelerated during my time at the Fed because I had all of these fantastic economists giving me feedback. I've focused my research topic more and had time to think about the methods and data I used, how to better shape my questions, and how to write the analysis in a clear way.
I produced an Economic Letter from this essay. Drafting the letter was helpful in learning how to convey my research to a non-technical audience in a way that's easy to understand. This is something new since I am used to writing in an academic setting. I still can't believe that this Letter was published—it's such a great opportunity that came through the contest!
Do you have any advice for grad students interested in applying to the essay contest?
My advice would be to write a paper on a topic that you are interested in and passionate about because you'll be putting in a lot of work into it. It is also important to think about the implications of your research. So, you want to be thinking not just about the results, but how they might affect people and communities. While you are visiting, take advantage of getting as much feedback as possible on your project. And be open to getting feedback.