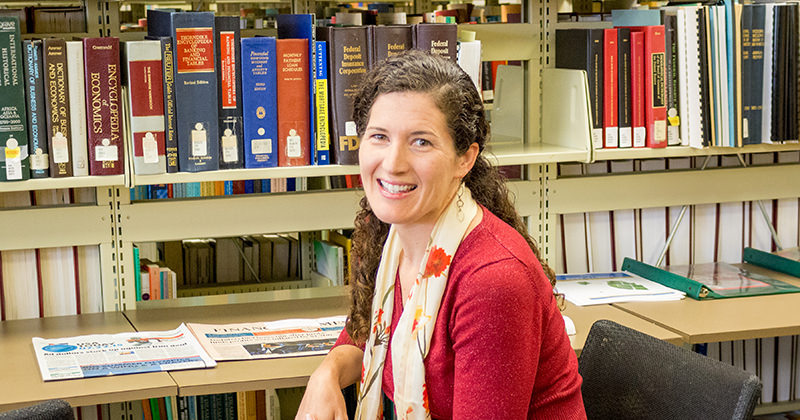 Anne Hall
---
Research Librarian Anne Hall Proves Life Outside the Fed Can Enrich Life Inside in Unexpected Ways
Anne Hall's passion for a good story shines in her eyes. She spends hours exploring how people are connected to history, off the clock and as a librarian and archivist for the Federal Reserve Bank of San Francisco. She's come to recognize themes of wellness and community intrinsically weaved into the fabric of her personal and professional life.
Thematic patterns began emerging back when Hall was managing the Wells Fargo History Museum in San Francisco. Researching the1906 earthquake led her to produce a podcast, which included an interview with children's author Milly Lee. Lee had written about her mother's experience surviving the quake in San Francisco's Chinatown, where her family maintains deep community ties. The conversation left an indelible impression on both women, and they stayed in touch. A short time later, Lee invited Hall to create a similar podcast for the Chinatown YMCA's 2011 centennial celebration.
Hall was unfamiliar with the work of the Chinatown YMCA and with YMCAs in general, but she attended the centennial planning meeting as a favor and immediately fell in love with the organization. Thinking back, Hall remembers, "There was this multigenerational dynamic, and everyone loved the Y, what it does, and how it serves the community. They wanted to document and celebrate that feeling."
Hall enthusiastically jumped into the project and, along with other volunteers, collected oral histories and created a book, exhibit, and documentary. After that she continued volunteering with the Chinatown Y, impressed by its accomplishments in improving health within Chinatown's dense, resource-strapped environment. Y efforts that contribute to the community's vitality include wellness classes, a camp outside the city for children, and surprisingly basic things like access to a kitchen and clean bathrooms. (In Chinatown, it's common for individuals and families to live in single room occupancy (SRO) residences with communal bathrooms.)
By that time, Hall had switched jobs to her current position at the SF Fed. The supportive culture and built-in flexibility of the position turned out to be a blessing in disguise when Hall gave birth to her second child in 2012, and she found herself fighting for her daughter's life.
Born with congenital heart defects and other health challenges, the baby underwent heart surgery at UCSF Benioff Children's Hospital Oakland at just three months old. Hall extended her maternity leave to six months, and then returned to work part time so she could continue to care for her daughter, who is now doing well but still needs to see specialists regularly. She has powerful empathy for parents of sick kids whose jobs are not as flexible.
"There are so many workplaces that wouldn't have accommodated my needs. I would've had to outsource care to a nurse or nanny to stay at my job, or more likely, stop working. I'd be out of the workforce and without opportunities to continue developing my skills around information and history," she explains.
In the midst of this family crisis, Hall looked around the hospital and saw a valuable institution facing a host of challenges, and a community of patient families in need of emotional support. She wanted to help other families like hers, and joined the Family Advisory Council. The group helps Oakland Children's medical staff and administrators understand families' perspective while striving to deliver the best care. For example, they collect usability feedback about MyChart, an online and app-based portal where patients and caregivers can access medical information, email their doctors, and schedule appointments. If anything's frustrating about the experience (for example, if instructions are unclear), the Family Advisory Council lets the portal's developers know. The group also hosts Cookies and Conversation. These gatherings in the hospital's cafeteria give caregivers the chance to take a break, have some coffee, and bond with other families over the shared challenges they're facing.
The experience has opened Hall's eyes to the growing national conversation around how health issues impact people, communities, and the economy. "I know firsthand the impact that a medical situation has on a person's ability to be productive, to hold down their job. How can you expect someone to take a child in and out of emergency visits or other doctor's appointments all the time and still keep a job? Think about waitresses or people in other service jobs where you're either there or you're not. You're not able to come in and, boom, you're out of a job," she comments.
At the Fed, where her work includes the practical task of directing employees and the public to the statistics or publications they need, Hall is happy to share her personal experiences to help enrich the organizations work. "Our Community Development team is doing a lot of work around health issues affecting communities. [When they come to our Research Library] I'm able to provide additional context, to help them understand more of the personal nuances affecting the projects. It's a testament to how outside life can inform your work, and vice versa."
Embracing it all makes her a busy woman, and also a valuable employee.