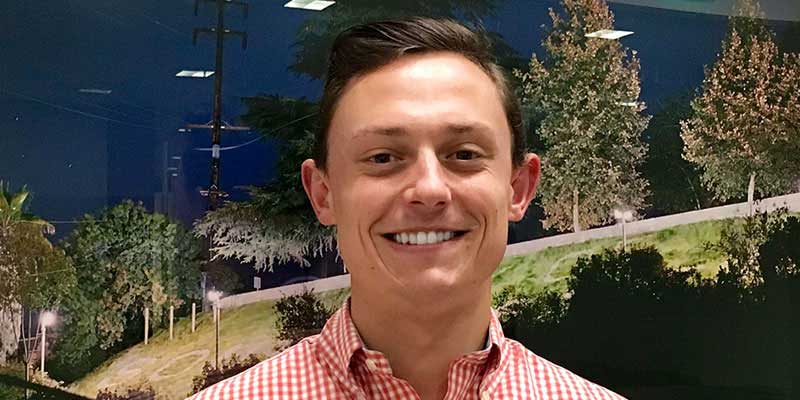 Anthony Kontilis
---
Team Player from Home Plate to the San Francisco Fed IT Audit Team
What does an athlete with college baseball aspirations do when a back injury forces him to hang up his cleats at age 16? Anthony Kontilis applied his traveling baseball team's lessons in teamwork, ambition, and leadership to a career as an auditor.
If his transition from baseball to audit seems to come out of left field, it might help to know that Kontilis spent game days crouched behind the plate.
"I was the catcher. In a way, I got to control the game," he explains. Baseball catchers direct what pitches get thrown from the mound and they often grow into leaders. In the majors, for example, a large percentage of managers are former catchers.
"I'm a natural project manager. I took that on myself in grad school projects, creating documents and presentations, and assigning everyone roles," says Kontilis, who has an MBA and a bachelor's degree in accounting.
Another thing Kontilis learned from baseball is that he loves to travel. His first job as a governance, risk management, and compliance consultant for a regional certified public accounting firm had him traveling to client sites to gather data. He enjoyed working with a cohort of other young graduates who helped guide each other, not unlike the way teammates do.
"When I was in middle school, I played for a league made up of 13, 14, and 15-year-olds. The 15-year-olds would come and shepherd the 13-year-olds starting out. It's comforting knowing there's someone there looking out for your interests," he says.
His coworkers reminded him of those older kids. "They took you under their wing, showed you how to do the work."
Despite the welcoming atmosphere, Kontilis left the firm after a year to pursue an internal audit opportunity with the Federal Reserve Bank of San Francisco. It sounded like a move in the right direction.
"I didn't want to focus only on the financial side. I wanted to become a well-rounded, value-adding partner that advises on all aspects of business," Kontilis explains. "Everything is now computer-driven. It makes sense to understand technology, especially risks associated with computers and IT business processes."
After interviewing for the Federal Reserve Bank of San Francisco, Kontilis knew he'd found a team that would help him move his career into a different league.
"I was looking for people who could take me under their wing and mentor me. They have so much IT auditing experience and IT experience in general," he says.
These hopes were fulfilled when Kontilis worked on his first audit at the Fed. He was paired with an experienced auditor so that he could learn everything expected of the audit team and how an audit works from beginning to end.
While working at the Fed, Kontilis continued attending MBA classes evenings and weekends. Now that his MBA is complete and he has the necessary hands-on skills and training, Kontilis is leading his first audit.
"On our team, when you combine strong work ethic and the ability to produce high-quality work, you're rewarded with increased responsibilities," Kontilis says.
While Kontilis doesn't play baseball anymore, he has found a new team sport, an after-hours work bocce ball league that plays on courts near San Francisco Fed headquarters. Kontilis and his colleagues play against bocce teams from other parts of the organization and other companies in the neighborhood.
"It's a great way to get to know people outside of your normal routine," he says.
Back at the office, Kontilis is eager to continue growing with the audit team by taking on more responsibility and establishing meaningful client relationships.
He hearkens back to what it felt like to get a couple of years under his belt on his middle and high school sports teams: "It's a proverbial passing of the torch. You get to become the mentor."