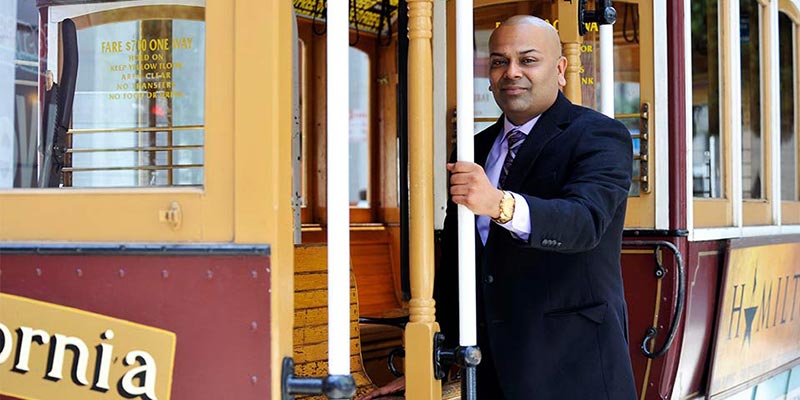 Ash Rawal
---
San Francisco Native Talks Work Ethic, Diversity, and Tech
Ash Rawal is the group vice president of Program Delivery Services, which serves two of the San Francisco Fed's Information & Technology Services (ITS)'s major business lines. He's also a San Francisco native who grew up in the Tenderloin, learning the importance of diversity and grit at a young age.
"When you look at my journey, it's easy to see how diversity has played an important role throughout my life," he explains. "I was raised in the Tenderloin, a notoriously tough area that is a place where many cultures collide. I quickly learned to value diverse perspectives because I've also seen first-hand how they make any group stronger. Diversity unleashes new sources of thinking to tackle challenges. San Francisco really embodies that idea."
Frequenting the diverse minority-owned small businesses in his neighborhood, Rawal saw what it took to build a life in a place where the odds seem stacked against many residents.
"Every day in my neighborhood, I saw the value of having a strong work ethic and striving for self-improvement. I did my best to internalize that when I was young and applied it to my education, first at Balboa High and then at San Francisco State University," says Rawal.
But the path to college was full of obstacles as well.
As a high school senior, Rawal experienced the reconstitution of Balboa High School. The entire staff, both teachers and administrators, was dismissed due to the school's academic performance. But he was determined not to let the upheaval slow him down.
"It helped that I saw a lot of people with determination and drive around me at school. Playing the victim because of my circumstance never even crossed my mind. I believed that I could do better, despite what was happening in my environment," he says.
Rawal pushed hard to graduate high school and entered San Francisco State's business program, continuing on to earn a Master's in Public Administration.
He then took his first professional job as a project manager with a well-known wealth management firm. He found corporate investing eye-opening, and the timing could've been better.
"I was working there in 2008 when the bottom of the financial markets fell out. I felt like I was seeing the industry at its worst. I knew that wasn't the world for me," he says.
Looking for his next opportunity, Rawal applied for a project manager position with the Federal Reserve's Cash Product Office (CPO).
"I found a place that felt like home," he says. He was surprised that the SF Fed had a large, diverse, and growing technology group, and with the many opportunities the teams had to be involved in innovative and exciting work. While in the CPO, Rawal became intrigued with the emerging technologies in the CashForward program, the CPO's multi-year program for modernizing Cash applications.  Once he got to know the CashForward team in ITS, he felt he could really make an impact working with them.
"I took the project management skills I'd honed over the years and put them to work in ITS. Even though it was technically a lateral jump, I felt it would be a good step in my career. I picked up my first direct report and started building skills as a people manager," he says.
He also quickly developed a reputation as a supportive manager and mentor.  Many have benefitted from his counsel and suggestions on navigating a successful career at the SF Fed.  Once he assumed a leadership position, he recognized an opportunity to pay it forward with students who had a challenging background but showed the kind of grit it takes to succeed. Earlier this year, Rawal was pleased to offer an associate application developer position to an intern from the Year-Up program. 
Rawal is now well-regarded as a leader. He's known for inclusively bringing people together and putting the needs of his team first. It helps that he's extremely personable with an inherent ability to lighten the mood during intense product development sprints.
His approach stems from an appreciation for the sheer amount of talent at the San Francisco Fed.
"When you first consider the Bank's workforce across so many distinct groups, it's easy to think that someone in Economic Research and someone in Police Services might have very different skillsets. In my experience, that's hardly the case. There are a lot of transferable skills that we nurture. Our people managers are taking amazing steps to make these commonalities clear to both hiring managers and employees considering their career options. We've got a lot of potential to tap into," he says.