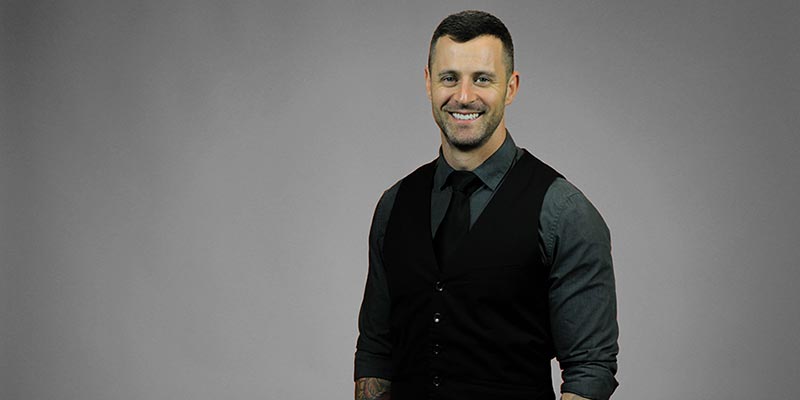 Christian Westleigh
---
Marine Veteran Protects and Serves in Phoenix
Christian Westleigh doesn't do one thing at a time.
He's a police lieutenant at the San Francisco Fed's Phoenix cash processing center and member of the Bank's Inclusion Alliance.
He serves on the Federal Reserve System's special response team and on a 12th District business continuity workgroup.
He's a trained emergency medical technician, a certification he earned while on the job.
And by the way, he recently earned a Master's degree in emergency management and homeland security.
"I like having more things to do, I guess," Westleigh says unassumingly. "I thoroughly enjoy being involved and meeting new people."
An ability to excel at multiple projects has always come naturally to Westleigh. For example, when he attended the University of Wisconsin-Madison, he didn't just complete a political science degree.
"While I was going to school, I got certified as a personal trainer. I was a personal trainer for three years for UW Madison. I also worked at a triathlon specialty store selling bikes and wetsuits, and I competed in triathlons," he says.
Is that all? No.
"I was playing in a couple of bands," he adds.
A rigorous schedule was nothing new to Westleigh, who attended college on the GI Bill after completing two tours in Iraq as a United States Marine. He had enlisted just out of high school, and his deployments helped him grow up fast.
"I was a cryptographic linguist in signals intelligence, and got my first experience with leadership at a young age," working first as an assistant team leader, then a leader, he recalls. His role allowed him to coordinate with all branches of the US military, as well as with Iraqi police and military.
During his time in the Marines, Westleigh learned he loved desert climates. So it's no surprise that when the Maine native graduated college, he decided to move west to Phoenix. It wasn't long before he found a job in police services at the Federal Reserve Bank of San Francisco.
Westleigh completed the Fed's police academy, moving through the ranks at warp speed—officer, senior officer/instructor, training coordinator, sergeant, and then lieutenant in his first three years. He jokes about how many new badges and credentials his department has had to process.
"I promised my captain I wouldn't make him do that again for a while," he quips.
In the meantime, Westleigh continues to turn opportunities into accomplishments.
When the Phoenix SF Fed branch needed officers to train as EMTs, Westleigh attended a four-week intensive certification course, training 9 to 5 while working the night shift. He also took classes to become a certified CPR and first aid instructor so he could teach life-saving skills to other Fed police officers and employees.
When the Federal Reserve Special Response Team was looking for new team members in 2016, he jumped at the chance to help get cash into disaster zones. Although his team hasn't had to deploy yet, they've been on standby during events such as the aftermath of Hurricane Maria in Puerto Rico.
"One part of a disaster you don't think about is that the economy there needs to keep going," Westleigh explains. "If the need comes up, we'd escort armed guards, transporting money into disaster zones."
At the office, Westleigh wrote an essay on what inclusion means to him, which landed him a spot on the Federal Reserve Bank of San Francisco's Inclusion Alliance.
"It's not easy to measure inclusion. It's more of a culture, a feeling of being able to be who you are at work. When people feel included, they're more likely to share their ideas. And when you get more ideas from a more diverse pool of individuals, the work products you get are better," he says.
Given all these contributions, perhaps Westleigh was the only one shocked when he was honored with a 2018 San Francisco Fed Engage, Enable, Excel (E3) award.
"E3 awards aren't necessarily recognizing work on a specific project. They're awarded based on how well a person embodies certain behaviors in their day-to-day. Recipients are collaborating with others, innovating," he explains.
He humbly credits supportive managers and the groups he's worked with in Phoenix and around the System, simply saying "the San Francisco Fed is an awesome place to work."