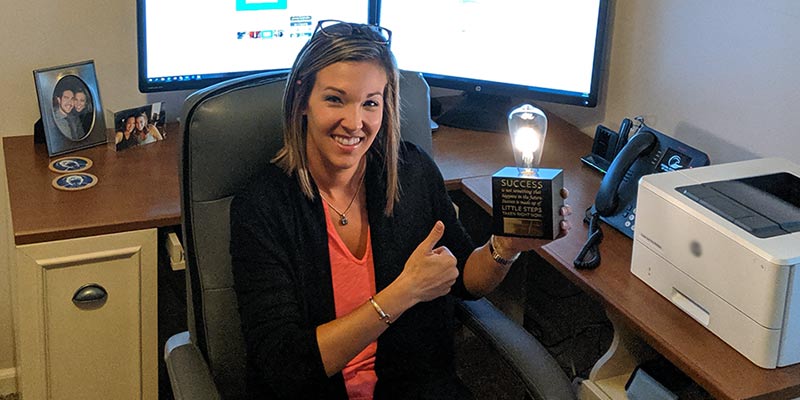 Courtney Obi
---
Inspiring Collaboration across the Fed's Financial Services Technical Roadmap
"My path to the Fed is probably very different than most folks," says Courtney Obi, a project consultant with the Federal Reserve's Cash Product Office (CPO).
That's an understatement. Obi once focused on safeguarding the United States against biological weapons.
"I got my undergraduate degree in microbiology from the University of Florida. My graduate degree is in infectious disease and biological weapons from Georgetown University in Washington, DC. After college, I worked for several government contracting firms. And I spent time on Capitol Hill for the Committee on Homeland Security and for the Department of Homeland Security's biological weapons defense programs," says Obi.
Today, her commitment to serving the public continues, helping to maintain confidence in the systems used to process billions of dollars in US currency every year.
"I work on the risk and compliance side of things. My role supports the Fed Cash Suite of applications and our work to replace high-speed cash processing equipment that's reached its end of life," explains Obi.
Like many people, Obi didn't think about currency processing before she came to work for the Fed. Having behind-the-scenes insights into the strategy, technology, infrastructure, and operations changed the way Obi thinks about cash.
"You go to an ATM and pull out money. As long as it comes out, you're happy. I never thought about how currency got there. I didn't think about the machines used to process cash or the people working them. That there are goals for speed and volume that need to be met, all while removing possible counterfeits and unfit currency. There's a lot of planning that goes into getting cash to banks, too. The reality is that a whole group of us works to make sure currency is fit for circulation and that you're able to access it when you go to your bank," she explains.
The Florida native says cash availability becomes especially critical during business continuity events. "I'm the first person to make sure I have cash during hurricane season or weather events. It's the only way to pay for things if the electricity is down. People don't always think of cash as a product, but it really is the product that we're providing to the community."
Obi does her part by ensuring project managers track and mitigate risks effectively for cash technology projects and advising on compliance with security policies.
"The majority of our applications have a cadence for upgrades and releases where we track and monitor risks and compliance. We've identified risks, and also dependencies across those risks, for each of our projects. Even though our project managers hold ultimate responsibility, I participate in project discussions. If I'm noticing that one timeframe could impact the risk to another project or area, I can flag it and have a discussion in real-time. What are the business requirements? How might they impact our applications? What do we need to plan for? Where might something impact something else? The majority of my role in the risk management space is to be able to draw those linkages," she explains.
The other aspect of Obi's job is security compliance. It's an area not everyone wakes up excited to work on, but Obi enjoys it. If an issue needs to be addressed, she's always ready to rally team members around a way to resolve it.
"One of my first managers after college told me never to bring a problem forward if I didn't have a proposed solution. I've tried to keep that mindset. I might say, 'Hey, we need to fix X, but I have a plan for how I think we can do it.' Then we can all work together on identifying and working toward the same goal," she says.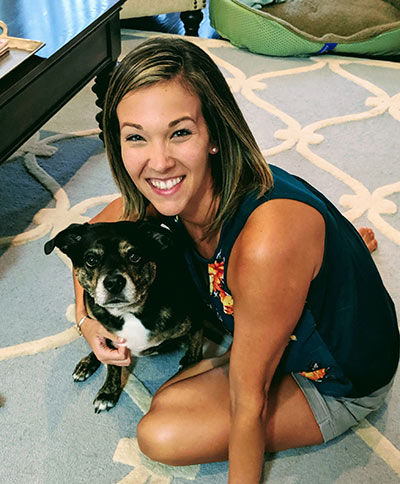 By helping others understand that security is a critical part of every project, Obi builds collaborative relationships with application development and business teams.
"Any time you're working on a team, you need to share your knowledge. You're only as strong as the next person on your team. This is especially important as new initiatives form, and we need to onboard more people to work on them. It's a way to build collaboration and invest in those around you, even if you don't manage other people," she says.
For example, Obi recently led a project to pull together information used across the Federal Reserve's financial services product and support offices, into a shared roadmap for more efficient collaboration. Creating a common naming convention turned out to be one of the biggest challenges of the project.
"You can Google information, watch YouTube videos, and go to conferences to learn about roadmaps and dashboards. You can pretty much teach yourself anything that way. I'd say the hard part was creating a shared nomenclature to bring different roadmaps together into one viewpoint. The vocabulary and organization needed to apply across the Financial Services Product and Support Offices," she shares.
Obi worked with her team to set up meetings with various stakeholders, from analysts to executives, across offices. She was vocal in suggesting ways to group projects and technologies in a way that makes sense to stakeholders.
"You can't be too in the weeds about technical details when you want a holistic view. We really wanted people to understand and feel comfortable with the way information was presented in the Roadmaps. In this case, I was able to toss out ideas, and a lot of them stuck. The stakeholders have continued to ask for support from our team, so I take that as a compliment," she says.
Obi was so instrumental in the project's success that her peers in CPO and at the San Francisco Fed honored her with an Engage, Enable, Excel (E3) Award in 2019.
"I really appreciate getting nominated by my peers. It means the world to have that recognition and hear positive feedback from senior leadership, and really feel like I'm making a difference," she says.
Thanks to the Fed's flexibility for remote workers, Obi's able to do it all from her home office in Jacksonville, Florida.
"We were still living in DC when my husband was matched for a residency in general surgery at the Mayo Clinic in Jacksonville. I was born in Clearwater, Florida, so I'm a born and raised native Floridian. All of my family and all of my husband's family are here. We were happy to come home. Most people got to Florida for vacation. I get to live here, a 10-minute walk to the beach," she says.
When they first moved, Obi began working as an emergency preparedness coordinator for the health department in Jacksonville. After she gave a presentation to the Jacksonville Fed branch aimed at building joint collaborations, the Cash Director handed Obi his business card.
"He had an open management associate position. A bit random and not a typical path, but project management is the same, regardless of the topic. For several years I managed projects for cash operations, and also pitched in on short rotations in facilities and police services," she remembers.
Obi was a cash section manager over the High Speed operation when she met her current manager Greg Nichols during a training session. Greg was standing up the portfolio support office for cash applications and thought Obi might be a good fit.
"It was an easy transition because the group was brand new. Although I was new to CPO, the group was also just forming. The vision was in place, and we all got to help shape what we would do and focus on. It was exciting to carve out what that was going to look like and take a front seat in executing the vision," she says.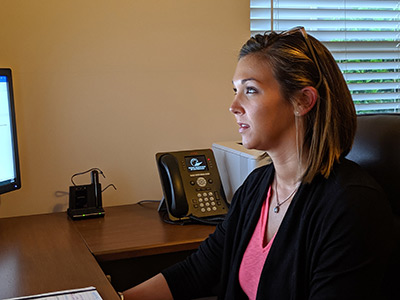 To focus on CPO work, Obi moved out of her workspace at the Jacksonville branch and joined the San Francisco Fed's remote workforce.
"Working from home took an adjustment. My commute is a walk across my house to my home office. I like to joke that my dog, Jake, is my coworker," she laughs. "Our team does a lot of video chat, including all of our team meetings, so I constantly feel connected," she says.
Maintaining a life-work balance can be tricky for remote workers, but Obi makes time to work out, ride beach cruisers with friends on the weekends, and pamper Jake.
During college football season, you'll find her in the stands cheering on the University of Florida. "I'm a diehard Gators fan! So when my husband and I do have time off, we go to Florida Gator games. We have season tickets to all of the home games, which is awesome. As soon as college football season hits, the majority of my weekends are spent at the University of Florida, watching, screaming, and cheering on my team."