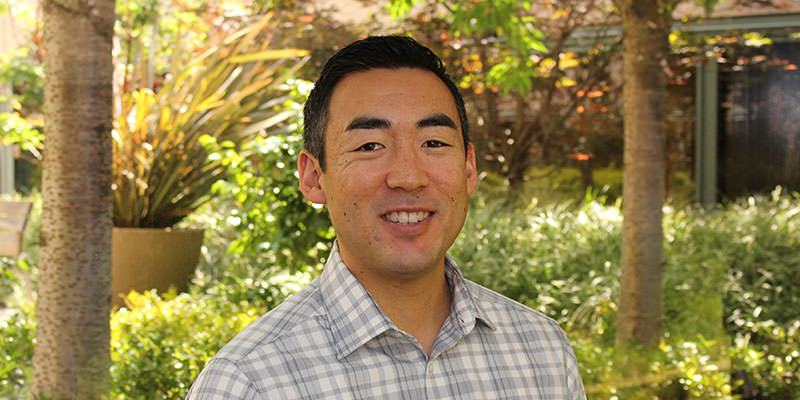 Dan Fukuyama
---
Fed Ambassador Leadership: Combining Business Prowess with Public Service
Dan Fukuyama is known for creative business problem solving, a passion for public service, and for ramping up volunteer programs to achieve audacious goals. As the 12th District's Fed Ambassador Program Manager, he fuses these distinct skills in ways he never imagined before arriving at the Federal Reserve Bank of San Francisco.
"What attracted me to the SF Fed was the focus on expanding an employee volunteer program and reaching out to underserved communities," Fukuyama says.
In launching the expanded Fed Ambassador Program, he now leads and supports employees in learning more about the important work the Fed does and increasing their touch points in the communities the SF Fed serves.
Fukuyama's goal: make sure employees are comfortable talking informally about various aspects of the Fed.
"In Economic Education & Outreach, we want the public to understand what we do as the nation's central bank. We believe a great place to start is with our own employees and empowering them to easily explain our work and mission in their own words to their personal networks," says Fukuyama.
In addition to his Fed Ambassador program leadership role, Dan also balances another important aspect of his work in supporting public education programs and outreach events, such as with the annual Meet the Experts event which allows senior SF Fed leaders to share their expertise with educators. Fukuyama also helps organize an annual Financial Education Day event for several hundred high school students from underserved communities. It includes workshops for resume and interviewing skills, budgeting and saving, and how to finance college.
He traces his passion for public service to his time at San Jose's Bellarmine College Preparatory.
"They were really big on volunteering. They opened my eyes to helping others. It carried over to what I do now," says Fukuyama.
After Bellarmine, he headed off to college intent on getting a business degree and one day occupying the C-suite of a big company. A stint as a financial advisor got him wondering if his focus on business and finance was misplaced.
"I started to think maybe the world doesn't need more financial advisors. What could I do that was something meaningful? That could have an impact?" he asked himself.
Fukuyama left his financial advising job and spent two months volunteering in Costa Rica at an elementary school and AIDS clinic. When he returned to the United States, he went to work for Catholic Charities of Santa Clara County's CORAL after-school program. He realized the non-profit world offered plenty of challenges.
"When I came on board with CORAL, we had this great reading program. But reading didn't necessarily sell the program to a lot of students," Fukuyama recalls.
He was faced with the question, "How do we make the program the 'it' program that makes students really want to be there?"
Fukuyama helped add enticements to CORAL. There was a soccer league complete with uniforms and championship games, in addition to science clubs, cooking clubs, and a hip-hop dance class.
"Our main goal was to increase literacy. But at the end of the day, the bigger goal was to give the kids as many opportunities as possible," he says.
The changes paid off. New schools began requesting the program, and waiting lists formed. To meet the new demand, Fukuyama helped to grow the organization's small volunteer force to 400 people, expand fundraising, and revamp the fee structure so families could participate based on what they could actually afford.
"Being able to create change is what brought me there. Seeing change happen is what kept me there for a long time," he says.
At the SF Fed, Fukuyama sees familiar challenges, particularly the opportunity to redesign a volunteer program from the ground up in a way that invigorates and engages all employees. There's also the feel-good aspect of increasing financial literacy in underserved populations.
"The programs I work on are a win for the Bank, employees, and our communities," he says.