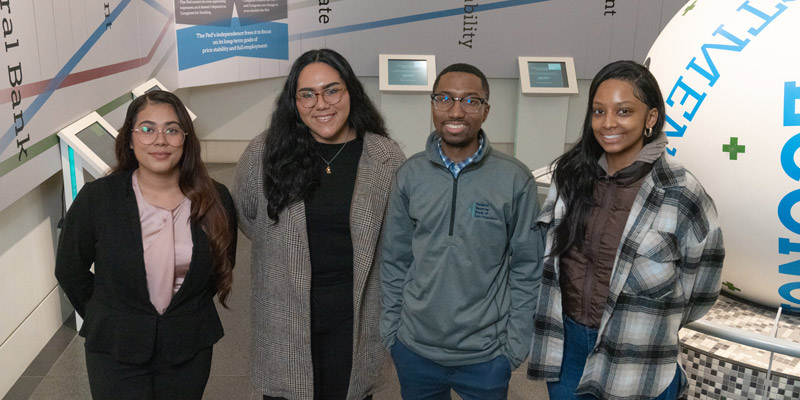 Early Career Program
---
SF Fed Invests in the Future Through New Early Career Program
In the last several years, employees and companies have been adapting to new social conditions, advancements in technology, and changing demographics in the workforce—estimates suggest that approximately 10,000 people reach retirement age each day in the United States.
One way the Federal Reserve Bank of San Francisco keeps up with the times is by onboarding early career talent. The SF Fed hired eight University of California (UC) Merced students; seven now work in Information Technology Services (ITS) and one on the Financial Institution Supervision and Credit (FISC) team.
Jeanette Lewis, the SF Fed's Early Career Diversity Program Manager, says attracting recent college graduates is one solution to addressing the shifts in workforce demographics, skill sets, and experience.
"As more workers retire over the next five to 10 years, the early career professionals we're investing in now will be a bit further along, ready to take on the challenges of their predecessors," Lewis says.
Focusing on new grads also serves the SF Fed's goal of maximum employment and, more specifically, aligns with the SF Fed's efforts to have the workforce reflect the diversity of the communities it serves.
In 2021, nearly 90% of students admitted to UC Merced were from diverse backgrounds. Additionally, the U.S. Department of Education designated UC Merced as a Hispanic-Serving Institution in 2010, which certifies an enrollment of at least 25% Hispanic students.
The new employees, who have now been in their roles for two months, shared their early impressions, both of the Bank's partnership with UC Merced and their new career paths at the SF Fed.
An up-and-coming campus
First, the graduates appreciated that the SF Fed spotted the value UC Merced offers to the workforce.
"UC Merced is a school just now getting the recognition it deserves, and I'm grateful that the Fed saw that potential in us," says Joshua Jones, an associate analyst training to become a consumer compliance examiner in Supervision and Credit.
"I think UC Merced has bred students to be hard workers who go out of their way to find and capitalize on opportunities," says Katrina Atkinson, an API team product analyst. "We're hungry for success."
A nurturing atmosphere
Once they started their jobs, the new employees were impressed by the welcome they received from colleagues and supervisors.
Katheryn Torres worried at first that as a management and business economics major, she didn't know enough about technology for her role as a product analyst with the National Data Hub. But she quickly learned that her skills were valuable in ITS. Her supervisors meet with her weekly to help push through the learning curve.
"Everyone has been so supportive in providing me with resources and tools to learn the best ways to support our team," Torres says.
For Atkinson, a weekly lunch illustrated her new team's collaborative nature.
"The leader of my team and I sit next to each other—everyone's an equal at lunch. We get to know people on a personal level," Atkinson says.
As they settle into life as SF Fed employees, the new grads are engaging in the Bank's culture, joining employee resource groups (ERGs), and volunteering with their teams.
Jones joined Mosaic, the SF Fed's African American employee resource group, participating in activities like the recent ERG fair for employees.
"One of the biggest surprises is how much opportunity there is to interact with others," Jones says. "Events like the ERG fair and the employee town hall—with panels on how different business lines in our Bank interact—were great."
Through the SF Fed's volunteering program, Torres worked for a few hours alongside other team members at an urban farm in San Francisco's Bayview neighborhood. Composting brought back happy memories of growing up on a farm in Mexico, where she would help her father with his crops of corn, mangoes, and other produce. Although Torres moved to Los Angeles at age 13, she believes that her work ethic was forged on that farm.
"I learned that if I want something in life, I have to work hard for it and have discipline," Torres explains.
Goals: career stretching and giving back
The new grads are busy learning to make the most of their first jobs at the SF Fed. But they each also have an eye on the future. Most hope to work their way up to roles of greater responsibility within their current teams. Fortunately, they're finding that the SF Fed provides support to guide employees to stretch and develop their skills.
Laura Cabrera, a financial analyst in the ITS department, set a short-term goal of completing a "gig," a professional development assignment available to employees outside of their current role. Through an internal gig marketplace, SF Fed employees can temporarily pick up projects on other teams to flex new muscles and learn more about different groups at the Bank.
Many of the new UC Merced hires received degrees in management and business. They knew about the Fed's mission of promoting a healthy, sustainable, and inclusive economy and its dual mandate of achieving stable prices and maximum employment. But for Libanose (Libby) Teffera, a computer science and engineering major, learning about the Fed's role in the economy was mostly new—and very inspiring.
"You don't see a lot of organizations that are fully for the people. So, in working for the Fed, I appreciate the opportunity to help the community and the economy," Teffera says.
Another shared experience for many of these new hires is their status as first-generation college students. Many also come from communities that have seen barriers to economic access and opportunity. A common wish among cohort members is to go back and help their own families and communities—as individuals and through their roles at the SF Fed.
They'd also like to give other students from UC Merced a helping hand.
"Most of us are first-generation college students, and many of us come from low-income households," Cabrera says. "I want to give back to the communities I came from by helping other college and high school students excel in business. I serve in an advisory role with my business fraternity Delta Sigma Pi from UC Merced."
Often the best way to help new and future colleagues is to share experiences and advice. One piece of advice that Atkinson has for students:
"Take every opportunity. You have to learn and grow, whether that's joining clubs or volunteering. If you don't see the opportunity you're looking for, create your own."
To learn more about open positions, workplace culture, and employee benefits at the Federal Reserve Bank of San Francisco, visit our Careers Page.