Ed Espiritu
---
Mastering the Power of Connection
When a manager in the SF Fed's People+Culture team needed a hand solving a problem, a colleague made a recommendation: "Go talk to Yoda."
"Yoda" turned out to be Ed Espiritu, senior change management analyst.
"Ed had earned the title within our team because he's the MacGyver of problem solving. And he has the right combination of complex operational and organizational skills," the manager later said. "If you need to get something done, you go to Yoda."
Hold on, MacGyver and Yoda? This man must be a superhero. In fact, Ed does have a skillset he calls his "superpower": Finding the right people for a tough job and getting it done quickly.
That's why Ed is often the first person called not only to solve vexing problems, but also to take on big-ticket projects. And it's one of the reasons he was honored with the Bank's e3 award, which recognizes employees for engaging others, enabling growth, and excelling in their work.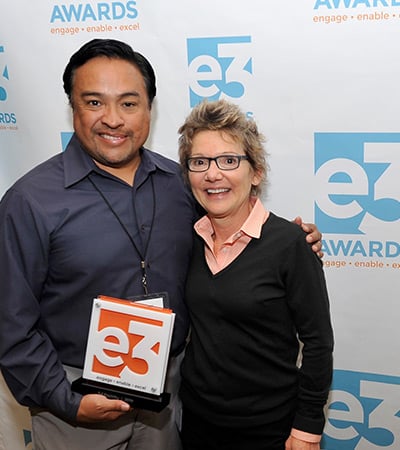 Friends all over
Ed has worked at the SF Fed for 21 years. He started as a national marketing consultant, promoting services such as Direct Deposit, Direct Payment, and ACH (Automated Clearing House) products to financial institutions. Then he moved to a new role supporting the Bank's graphic designers with the Communicating Arts team. He stayed with that team for 17 years, where his projects included facilitating the "Sounding Board" project that the Bank uses to spark conversations on events, initiatives, and cultural values. The team is also where he started making close bonds with his colleagues across districts and departments.
"I met people not only within our Bank district but also throughout the Federal Reserve System," he says. "My previous manager, Thom Coberg, used to say that my 'superpower' is how I build and maintain relationships with anyone who comes through the door."
These connections have proven key in crisis situations. Ed is often the go-to person to take the reins if a project manager unexpectedly has to leave an in-progress project.
"I have to step in right away and provide high quality products in a short period," he says. For example, he took over project managing a two-day development summit for Bank leaders, six weeks before the event.
"It was a team effort, not an individual effort," he stresses. But his leadership, particularly a knack for planning, guided the team to a successful summit.
"One of my mantras is 'one minute of planning avoids 10 minutes of crisis,'" he says. "Being thrown into a situation, it's a little uncomfortable at first, but once I get into what I call 'relationship mode,' it comes pretty easy to me."
As one colleague said when nominating him for the e3 award, Ed is "thorough…compassionate…and calm under pressure."
The 'we' mentality
Leadership and responsibility came early for Ed, who grew up in cities around the Bay Area. As a latch-key kid, he learned to be independent and to take care of himself and his younger brother. His parents, who both worked at major banks, would leave him instructions like: "Be home before the streetlights are on" and "make sure the rice is cooked before I get home."
He remembers those days fondly, along with family trips to San Francisco, Lake Tahoe, and Southern California. But when he was 13 his father passed away.
"I was told, 'Now you're the man of the house,'" he recalls. "I was thinking, 'I don't want to take on that role.' But it wasn't about me: It was about my mom and brother. It was more of a 'we' mentality."
The "we" mindset continued into college at San Francisco State University, where he found he relished working on team projects.
Ed majored in marketing, inspired by one of his favorite movies, the Tom Hanks film Big. He wanted to become a marketer for a toy company, and even took early childhood education classes and worked as a Kindergarten teacher before graduating.
After college, though, he decided to stay in the Bay Area, rather than look for toy industry jobs far from home. He took a job at a local credit union, launching his career in banking. The lessons of working in education stuck with him, though.
"I was honing in on my leadership skills," he says. "Even though I was working with a young age group, it taught me that what I say matters and resonates. I also learned to be a good listener, to the children and to my fellow teachers."
A founder
At the Fed, Ed has been more than a great team player. He's been a team organizer, too.
In 2012, Ed founded the Filipino American Network to gather people of Filipino descent or who had interest in the culture. The group has evolved into a space for employees to educate others and have cultural events.
"At the time there weren't a lot of Filipinos in leadership positions," he says. "I realized that Filipinos at the Bank needed a place to voice their experiences and to network."
And, as a lifelong basketball player, Ed co-founded the Fed Hoops employee resource group, an intermural basketball league. These days the league is on hold, but Ed still enjoys shooting hoops with his kids. His team spirit extends to the community, where he regularly volunteers at a food bank.
"I have always favored the team approach, whether that's with family, friends, or colleagues," he says.