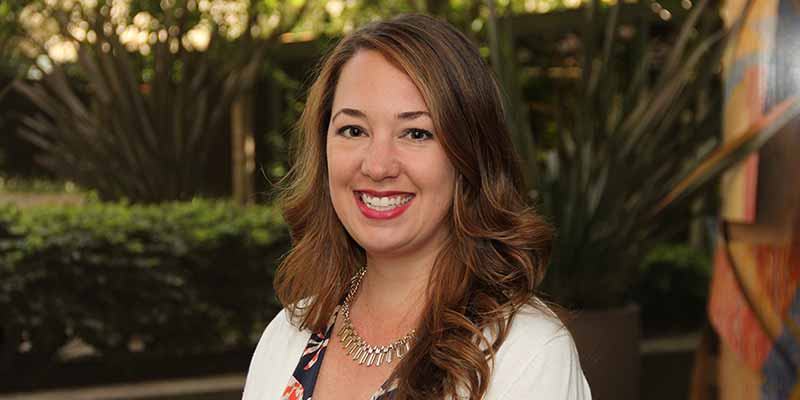 Ellen Toker
---
Ellen Toker Embraces Bay Area Fog, Drives Operational Efficiency at the SF Fed
You could say Ellen Toker's journey to the Federal Reserve Bank of San Francisco began with a bang, literally. A massive ice sheet slid off the roof of her Cleveland home, tearing off gutters and destroying everything in its path.
"It made a terrible noise. I thought the roof was caving in," Toker shudders. The ice sheet didn't hit her, but the realization she could move to warmer climes did. "I thought, 'I don't have to live this way' and started looking for another job in the Federal Reserve System."
At that point, Toker, an Ohio native, had been at the Cleveland Fed for six years. For most of that time, she'd focused on operations, budgeting, strategic planning, and performance management, first in check adjustments, then in the Retail Product Office, and finally in Banking Supervision and Regulation. When a position with similar responsibilities opened at the SF Fed, she jumped at the opportunity to transfer.
Toker admits to having a touch of wanderlust. She's traveled to destinations such as Cambodia, Singapore, Hong Kong, Thailand, Italy, France, England, and Turkey. Many of those adventures were alongside her husband, who hails from Istanbul. But she makes it clear that her move had more to do with escaping icy weather than anything else, showing genuine appreciation for the opportunities she was granted in Cleveland. She's especially grateful to her previous manager, who encouraged Toker to take on more team leadership responsibilities as she earned her MBA.
The ability to move around, to work with various departments and even different districts, keeps things interesting and challenging.
"The Fed really encourages continuous learning, whether on the job or in the classroom. Everyone's very supportive, and the tuition reimbursement program, for example, is wonderful." With a flash of Midwestern pragmatism, she points out, "If you don't take advantage of it, you're leaving money on the table."
Seizing opportunities to learn and grow, Toker has risen to a senior management position. Her team of professionals provides administrative and executive support to the SF Fed's Communications and Community Engagement department, which includes Community Development, Education & Outreach, Public Affairs, Public Web Team, and Research Library. "Along with my MBA, I have certificates in project management and business process improvement. A lot of those skills influence my management style. It's become part of our team's DNA to evaluate and optimize our workflows."
Now comfortably established in the Bay Area, Toker relishes the mild winters and just about every weekend holds an outdoor adventure. The lifestyle is a perfect complement to her personality, a blend of serenity and thirst for new experiences. "Ohio has the Great Lakes and beautiful forests, but they don't have the ocean or mountains like we do here. The mountains are just beautiful. I love hiking and being among the redwoods trees, and walking along the beach," she says.
That combination of still waters and dynamism is reflected not just in Toker's leisure pursuits, but in her tenure at the Fed, which has now lasted more than a decade. "The ability to move around, to work with various departments and even different districts, keeps things interesting and challenging."