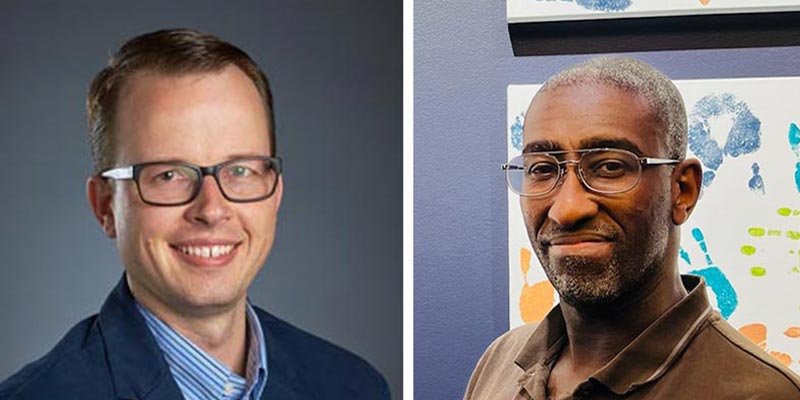 Elmer Stokes and Lee Anderson
---
Finding Hope and Healing in the Christian ERG
Elmer Stokes didn't know that joining the Christian Employee Resource Group would lead him to not only discussions of faith, but to a wider understanding of racial reconciliation.
Elmer, a supervisor of Cash Operations in Los Angeles, joined the Christian ERG a few years ago. Though he'd been at the Fed for 25 years and had sometimes volunteered for ERG functions, he was new to being an active participant. He first joined Mosaic, the resource group for Black employees, and then the Christian ERG, after being introduced to it by a friend.
"The first time I attended, I felt like I belonged," he says of his experience at the faith-based group. "The conversations we were having felt uplifting. I looked forward to it."
Last year, following the killing of George Floyd and during the Black Lives Matter protests, Elmer found himself exploring his experience and feelings about the events with other Christians at work. Because the ERG draws people from a wide variety of racial backgrounds, Elmer learned that some of his colleagues weren't aware of the extent of the prejudices and dangers faced by Black people today.
It was an opportunity for Elmer to discuss his own experiences as a Black man and to help people understand and empathize. And it was a safe space to do so, because everybody trusted each other, he says. The discussion was guided by Christian teachings about unity and love, two things he feels are missing in the wider world.
"The fact that our group could come together, it gave us hope," Elmer says.
This experience was useful when Elmer was later asked to speak to a larger audience for a Bank-sponsored discussion about race. From the Christian ERG, he understood that not everybody would be aware of certain aspects of race and racial discrimination. He had an opportunity to help educate them.
"I realize folks don't know," he says. "So what needs to happen is I need to slow down and inform them as to what's going on."
A sounding board for life and work
Elmer is one of several co-leaders of the Christian ERG, a group for both Christians and non-Christians to discuss faith and find community. During the pandemic, the group has started meeting more frequently online.
For co-leader Lee Anderson, a senior cyber security advisor based in Salt Lake City, the move to more frequent meetings has been a way to stay connected during the difficulties of the pandemic. People can check in about their feelings, or life circumstances, and the other members of the group will pray for them.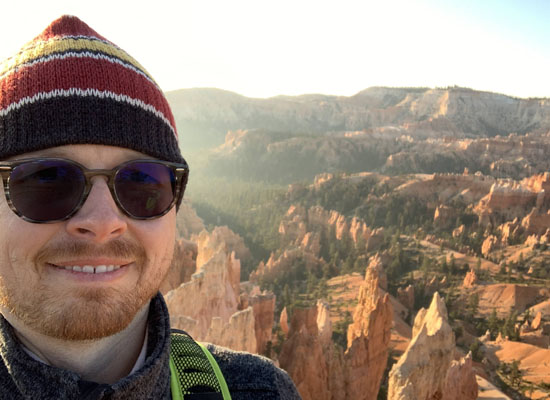 The group also acts like a sounding board for issues at work. Lee says that several years ago, when he was having issues with a manager who questioned his job performance without understanding the challenges of the job, the group was there to comfort and counsel him.
Even though he felt frustrated at his manager, the group reminded him of the Christian idea that everyone is imperfect: "We all fall short and need grace extended to us, whether it's divine or personally," Lee says.
"They did a really good job of providing support during that difficult time," he says. "It felt like they had a vested interest in me. There's a strong camaraderie within the group."
Building relationships
Lee recently became an employee of the Federal Reserve Bank of Richmond, but he continues to volunteer with the San Francisco Fed's Christian ERG. In his new workplace, he's also joined PRISM, a group that supports LGBTQ+ employees.
Though Lee isn't LGBTQ+, he wanted to be an ally and to better understand the community. He hopes to find a way to bridge his involvement with the two ERGs.
"I feel like there's opportunity to strengthen relationships, to understand each other," he says.
How to be a leader
Both Elmer and Lee are not only leaders at the Fed, but also in their communities. Elmer is a pastor, and Lee is a lay leader at his church, teaching Sunday school and leading a men's group.
They were also both surprised to learn of a religious ERG at work. "It didn't occur to me that we'd actually have a faith-based group geared toward folks that have similar beliefs," Elmer says. Being faith leaders outside of the group helped make the transition to becoming co-leads easier.
But Lee says being an ERG leader doesn't necessarily mean you need to know everything about the group or its subject. For people who are considering becoming leaders at an ERG, but aren't sure of their abilities, he encourages them to volunteer.
"You don't need to be an expert in the group you're part of," he says. "You just need to be willing to serve and connect with others."
Elmer' advice to would-be leaders is to listen.
"Find out what people are looking for and what you can provide," he says.