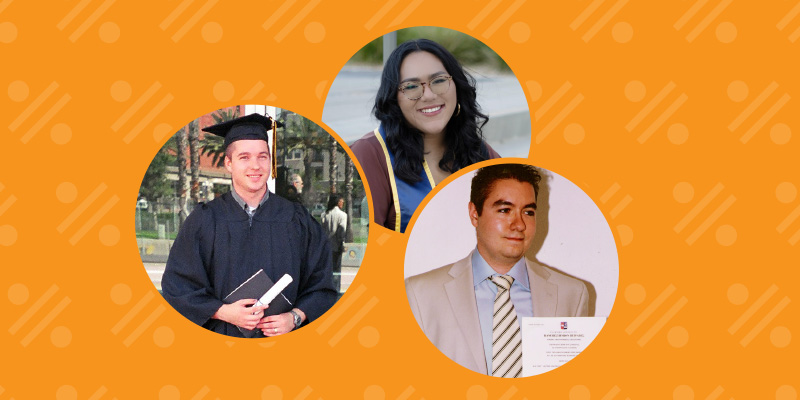 First-Gen Day
---
Celebrating the Stories of First-Generation College Graduates
November 8 was First-Generation College Celebration Day, which celebrates the success of those who are the first person in their families to graduate from college. SF Fed employees take many different paths to the Bank. To mark First-Generation College Celebration Day, we're featuring those who came to the SF Fed as the first people in their families to graduate from college. As you will see it's a diverse group of people and even includes our President and CEO, Mary Daly. Despite the diversity of their backgrounds, what they all share is perseverance, hard work, and determination.
Christine Strmac, Senior IT Project Manager: Striving for the ultimate goal
"I always wanted to go to school," Christine says. "For me, earning a degree provided an escape from my current situation. That was how I was going to better my life."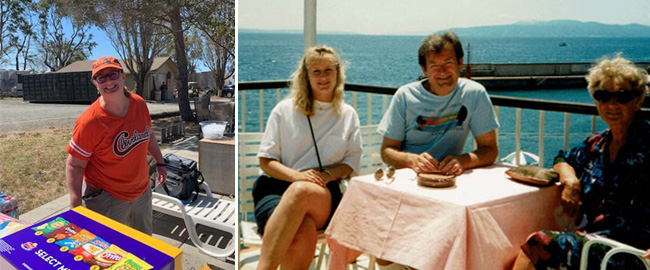 Although her family wasn't college educated, Christine learned from her father, a Croatian immigrant, to value higher education and learning. This mindset allowed Strmac to remain consistent in her studies in the face of difficult situations.
"There were a few moments where I didn't think I was going to survive. But I never felt failure or quitting was an option. My father's voice was always in the back of my mind. I would never hear the end of it if I quit."
Tammie McGee, Lead Ops Support Specialist: College is the key to change
For some first-gen graduates, choosing to go to college isn't merely about getting a higher education; it's also about what this decision means for their future—not just for themselves, but for their families.
"I was taking care of my brother and sister, taking care of my mom, taking care of the house. That's just the way life was," Tammie says. "As I got closer to high school, I knew that I needed something different to get my family out of our situation. I thought maybe I could try to go to college. Maybe this will change things. Maybe I can help my brother and sister. Maybe I can show them that we can go to college and be more than this."
For Tammie, that decision to attend college was made tougher because as the caretaker of her family, she would be leaving them behind in Southern California once she left for school.
"I moved up to Chico all on my own," she says. "I took out student loans, I got grants, and I had to work almost full time as I was putting myself through college. I struggled and had no extra income. It was all me."
Carly Vivian, VP of Organization Transformation: Sometimes the first step is the hardest
Carly's advice to first-gen graduates is to just start, wherever it may be. She says the advice may seem simple, but taking that first step is often the hardest.
"And it's not just the first step," Carly says. "It's continuing to take steps even when you don't want to or even when you don't think that you can."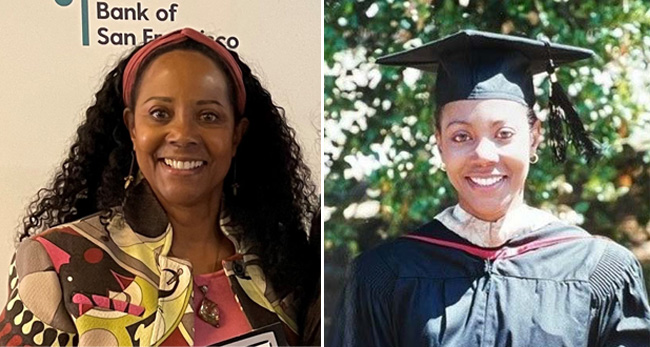 Carly knows about pushing through obstacles, as she didn't start her college journey until later in life. Family beliefs and traditions halted Vivian's college plans, as pursuing higher education meant breaking away from her family.
"It was ironic because I had an offer for a full scholarship coming out of high school and had to turn it down," Carly says. "I wasn't happy about it. It wasn't something that I wanted, but family ties can be really strong. When I made the choice to go to college, it was huge because I was breaking away from my family's ideology, religious customs, and what everybody thought was right."
Brian Walker, Creative Design Manager: Making it work can be a challenge
While making the decision to go to college is a crucial step, the most complex part of the journey to college is figuring out the "how" of it all—from selecting a school, to applying, to determining how to pay for school.
"The most difficult thing for me was money," Brian says. "I wanted to go to college, and I knew my parents didn't have a lot of money. We never really talked about how college was going to happen, if they were going to help, or how much money they could give me. I didn't want to burden them, so a lot of that pressure was on me. So that's why I chose community college."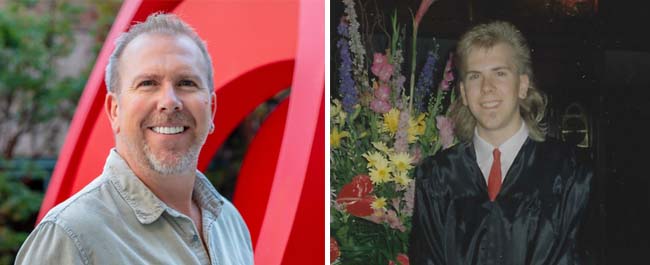 Brian says while his parents couldn't help him pay for college tuition, they helped him in other ways, like letting him live at home while he attended classes.
"I had free room and board, I had food, I could do my laundry. How they did help is I had all that free stuff."
Kevin Luke, AVP of IT Production Support: Education makes all the difference
Some first-gen students choose alternative routes to attain their education.
"I ended up joining the Navy because I figured I could learn a skill, go see the world, and then potentially have money for college afterwards," Kevin says. "As a junior enlisted guy, I was cleaning toilets on an aircraft carrier, thinking, 'man, there's got to be something more than this.' It taught me that if you want to get ahead in life, then education's a really good path for that."
His time in the Navy really opened Kevin's eyes to how education is valued by others. For example, education mattered to something as simple as sleeping arrangements in the Navy. Officers who had a college degree got their own state rooms, while Kevin had to sleep in a room with 65 other people. So, when the opportunity came for him to further his education, there was nothing that was going to stop him.
"I remember thinking the only difference between me and this other guy telling everyone what to do is that he went to school, and I didn't. After seeing that for four years and not being able to go to school, I just remember sitting down in a classroom on the first day of class and thinking, 'This is it. This is the start of where I've wanted to be for the last four years, in a classroom, learning.'"
Clifton Williams, Senior Risk Specialist: It's a marathon, not a sprint
"The start of the college journey may be tough, but it doesn't get any easier," says Clifton. Picking a major, keeping up with schoolwork, all while being in a totally new environment is enough to shake anyone's confidence.
"When you come from a background where everybody you know is basically working class or they don't have college education, you don't know how that world works," Clifton says. "You don't know what the jobs necessarily are or what the opportunities are. I remember just having to decide a major and I didn't know. I just looked through the newspaper and I saw a lot of accounting jobs."

Clifton, who stopped and started his college career multiple times, credits his family with giving him the support to keep pushing through college, and even going back to school to get his MBA.
"If you have a stable background and family, you have good community support. In my experience you have to find that support wherever you can."
Laura Cabrera, Financial Analyst: Find your support system
According to a study by the Department of Education's National Center for Education Statistics, first-gen students are more than twice as likely to leave school within three years (33%) than students whose parents have a bachelor's degree (14%).
"There were five other students from my high school that went to the college that I went to, and four out of five ended up dropping out," Laura says. "It's hard because those students were also the ones that I would spend every day with, and then they all slowly dropped out. And then I was like, 'Okay, I need to find a support system, how do I do this, what do I do?'"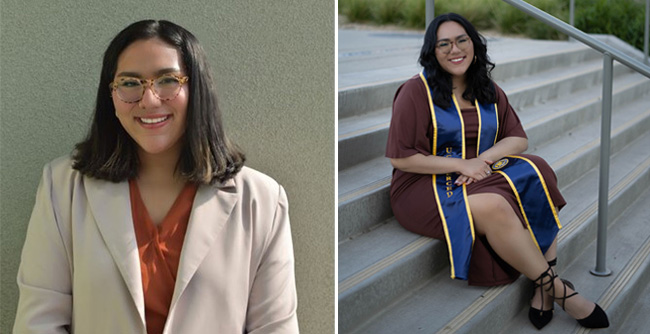 Laura leaned on extracurricular activities to keep her motivation going. Through concerted effort and discipline, she learned how to become a self-starter and avoided dropping out herself, even though she said she came close multiple times.
"I would say my family is a little bit different than other immigrant families because I think that education wasn't really something very pressing to them. Luckily, I was passionate about growing professionally and academically."
Emily Cubides, Associate Data and Policy Analyst: You've got to believe in yourself
For some first-gen graduates, being on their own for the first time is a test of their inner strength. 
"I think my parents are great and they have always supported me," Emily says. "But I always felt like if I complained about feeling a lot of pressure, or balancing work and school, it would be silly, given what my parents went through as teenagers, moving to another country and working hard jobs. So, it always felt like I shouldn't complain. That was the hardest part."
Emily says that it's hard to go through things like that alone, but self-assurance is one of the main traits of first-generation graduates. She says students must have confidence in themselves and their abilities even when faced with overwhelmingly difficult odds.
"Just because you come from a different background doesn't mean that you're less smart, less capable, or less qualified," she says.
Spiro Samonas, Senior Risk Specialist: Don't be afraid to widen your horizons
Some prospective first-gen graduates to go to great lengths to achieve their dreams—such as heading to an entirely different country to further their education.
"I moved to the UK, and then that's when I did my masters and my PhD," Spiro says. "It was a daunting experience because I was a first-generation college student coming from Greece. I remember the first few months, I was really depressed. I didn't have a lot of money to spend. And it was really, really hard."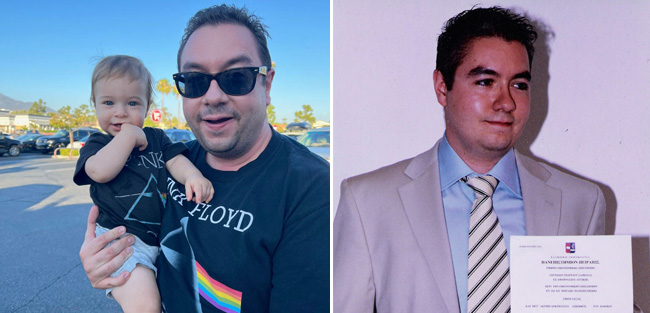 Spiro says first-gen students—particularly ones who are shy—may not be inclined to ask a lot of questions, particularly if they don't know the questions to ask.
"First-gen students under-appreciate themselves and their skills," says Spiro. "But, it's really important to just reach out to people."
Andres Curtolo, AVP of People Systems and Info Compliance: Paying it forward
When first-gen students complete college, they join a select group that can call themselves first-gen graduates. Being part of that group can come with a responsibility of passing on the lessons they've learned throughout their educational experiences.
"I'm on the board of a non-profit organization, Minds Matter Southern California, that runs a high school mentoring program for the underserved communities in L.A. county," Andres says. "That's how I lean in. That's how I give back."
Andres, whose parents came from Argentina, gave him all the support he needed to successfully complete college, despite not knowing much about the education system. Now, he is trying to provide that kind of support for the next generation of first-gen students, who may not have anyone to turn to.
"I was super lucky because I came from a household that had a lot of love. And yeah, maybe my parents didn't go to college, maybe they couldn't guide me in the ins and outs of that, but I at least had them. Some of these kids don't even have that."
The prevailing thought from these first-generation graduates is that they are not alone. Whether they graduated decades ago or this past year, they share a common bond that unites them all. And they feel it's their duty to do whatever they can to make sure the next group of first-generation students makes it across the finish line to be celebrated by their family and friends.