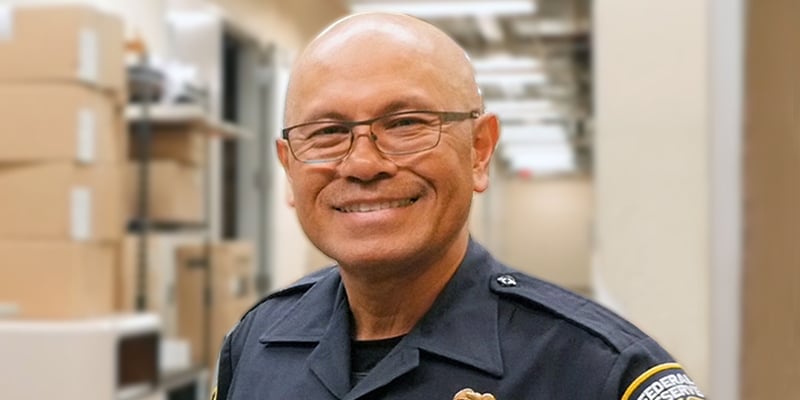 Fred Villaflor
---
Community Connections Built on Trust and Respect
Fred Villaflor knows community.
To help pay for college, he worked as a part-time Metro Transit bus driver. After graduating, he served as a youth leader at his church while working for a hospital. Then he was part of the Seattle Police Department for 18 years, working with neighborhoods on innovative solutions to crime prevention. His roles included community support officer, patrol officer, and Youth and Family Support Bureau detective.
Now he's a Federal Reserve law enforcement officer at the San Francisco Fed's Phoenix Processing Center in Arizona, where he's served for over 10 years. One of his most important duties is building bridges and relationships as a community liaison. He's so committed to it that Fred's peers honored him with an e3 Award in 2019 for his unrelenting focus on public service.
"I have been thoroughly impressed with Fred's energy, and his passion for the work is infectious. I can honestly state that he is one of the most positive individuals that you will ever meet," says Randy Bryant, director of Police Services. "His service to the community that our group serves is above reproach."
But Fred doesn't like taking the spotlight. He couldn't have won his award without help from another form of community: his team, he says.
Big family, big heart
Team spirit came early for Fred. You've got to be community-minded when you grow up in a house with your grandmother, two uncles and aunts, your parents, six brothers and sisters—and only one bathroom.
"Sometimes I wasn't able to get the bathroom until late at night," he says. But he never thought too much of it: "You don't miss something you never had."
Fred was born and raised in Seattle, Washington. His family moved from the Philippines to the Seattle area during World War II, settling in a diverse neighborhood. Growing up in a large family instilled a commitment to responsibility.
"Every one of them were disciplinarians," he says. "My parents held me accountable, and since I was the youngest in my family, my brothers and sisters did, too. I think that discipline they provided gave me a good push to finish college, as I was the first one in my family to do so."
That environment of accountability and duty may have also been the wellspring to his eventual leap to law enforcement, he says.
Pursuing a career in police work
Fred's family was active in church, and Fred went to Catholic school as a child. The idea to join the police force came when he later became a youth leader at a nondenominational church located in Seattle's Central Area. There he saw kids starting to get into trouble.
"It was the early era of gangs coming up to the Seattle area," he says. "You kind of knew that, listening to the kids, seeing what they were doing. Even though their families were members of the church, you could see some of the outside influences."
He felt a sense of responsibility to his home city: "I felt there was a way that I could get in there and work with kids who were at risk or were already involved in gangs."
As a police officer, Fred worked with social workers, school counselors and juvenile probation officers, defense attorneys, and superior court judges to help students get enrolled in mental health, family counseling, substance abuse, and job placement programs. His connections with the church gave him a way in to talk to some of the youth who ended up in trouble with the law. He likes that his job was focused on solutions, not punishments. And along with his team of detectives, he would teach prevention and intervention strategies to new police recruits in the Washington State Police Academy.
"Our whole focus was to keep kids from going to jail," he says.
Relationship building
When he retired from the Seattle Police Department after 18 years in 2007, his kids were grown up and he realized that it was time to leave his home city.
"We always thought that hopefully we'd get a home right in Seattle—but the prices of homes were just so expensive," he says.
So he and his wife moved to Phoenix, Arizona, where they had extended family. He worked as a security officer for the University of Phoenix stadium, home of the Arizona Cardinals. "That was awkward," he jokes, "because I'm a Seahawk fan, but was wearing Cardinals gear." He then joined the TSA where he worked for 10 months before landing his job at the Bank.
One of his roles at the Bank is community liaison. Because of his background as a police officer, he decided to reach out to the Phoenix Police Department and attend one of their "Coffee With a Cop" sessions (the first of several he's joined over the years), which give local residents the opportunity to ask questions, voice concerns, and get to know officers.
After "Coffee with a Cop," Fred invited the Phoenix PD to tour their facilities and created opportunities to get to know each other.
"We were able to show about a dozen officers the whole building. We wanted them to be familiar with the place, should they have to respond," Fred says. "Then our captain also opened up our facility to officers who were on duty, should they be in the area. They're welcome to come by, do their paperwork, have a cup of coffee, you know, relax."
He also visited the local Phoenix PD Precinct to give a presentation about Federal Reserve Bank Police Services, which colleagues helped him develop.
In addition, Fred has made a point of supporting the local police department during difficult times, such as when a K9, Bane, was killed in the line of duty.
"We passed around a condolence card and some employees made a donation in Bane's memory to the K9 unit," Fred says. "It wasn't a whole lot, but was a gesture that we were thinking of them."
Fred also attended the funeral of Officer Paul Rutherford, who died in the line of duty last spring. Afterward, he brought food and a condolence card signed by Federal Reserve Bank Police and Bank employees to the Phoenix PD Maryvale Precinct.
Leadership isn't a job title
Over his 30 years in law enforcement and security, Fred has learned a lot about leadership:
"It's not necessarily a position, you know. It's not a title. It's what you do, who you are, what you say, and how you treat others. I understand that there's leaders who lead work—but I think it's more about who you are and your character. I find it's easy to lead when you are winning and business is good. It's when we've lost or made a mistake or when business is not so good that tests our character and leadership."
Fred says that as an experienced law enforcement officer, he has a chance to lead by example—even when it's something as small as showing vulnerability. For example, Fred's not much of a computer guy, and sometimes he needs to ask for help. That's okay, and it's a good lesson for people who feel they need to take everything on their own shoulders. That's what the team is for.
He discovered that recently, when he had to work from home for the first time in his career due to the COVID-19 pandemic. "This whole computer thing was all brand new," he says. "It took a lot to get set up." But, with the help of the team, he was able to get up and running to work on tasks such as completing background checks for new officer applicants.
Fred, now back in the building, emphasizes that his team was also a major force in helping build the relationship with the Phoenix police. In fact, his job wouldn't be possible without a team, he says.
"It's important to be part of a team with different mindsets, different attributes, and strengths in areas that maybe I'm not so strong in," he says. "We help each other."