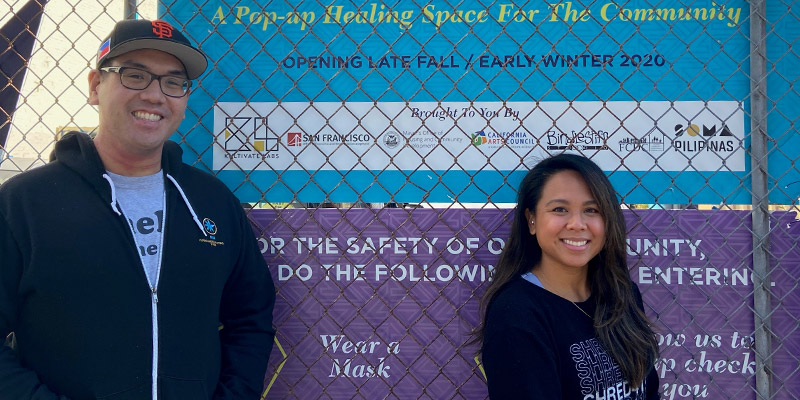 Jordan Villa and Jennifer Chaparro
---
Finding Common Ground in Filipino Roots
Growing up in a Chicago suburb, Jennifer Chaparro was the only Filipino kid around until middle school, when another girl transferred in.
"I want to say it was basically just the two of us up until we graduated from high school," she says.
So when she went to San Francisco State University, she was happy to discover a large Filipino student population. She joined Kappa Psi Epsilon, a Filipina-focused sorority whose mission included educating members about their ancestral histories. After graduating and landing a job at a bank, she joined an employee resource group (ERG) for people of Asian descent.
Naturally, when she was hired at the Fed three years ago, Jennifer was drawn to Halo-Halo—the SF Fed's Filipino-American (Fil-Am) network. Halo-Halo takes its name from a Filipino dessert made of shaved ice, milk, sweetened beans, fruits, and jellies; sometimes halo-halo is topped with flan, toasted rice, or even ice cream. The literal English translation for halo-halo is "mix-mix," and members of the ERG voted on the name to represent the group's commitment to more diverse connections and membership.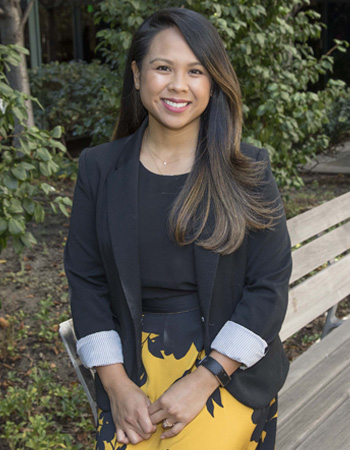 "Being new at the Fed, I viewed it as a great opportunity to connect and network with other Filipino Americans," she says. "I haven't had the opportunity to work at a place with a large population of Filipinos. I appreciate the sense of community that Halo-Halo has built."
There she met Halo-Halo co-chair Jordan Villa, who has also long found community in Filipino groups.
"When you join, you immediately feel like you have family," says Jordan, of the various Fil-Am groups he's been a part of since high school and college.
Now Jordan and Jennifer are both co-chairs of Halo-Halo. The pair are working to expand the scope and mission of the employee resource group (ERG), while continuing to build community among Filipinos and employees interested in Filipino culture.
Unlikely career paths
Both Jordan and Jennifer have untraditional stories about how they ended up at their current Fed jobs. Jordan, who is a senior business analyst, joined the Fed as a law enforcement officer in 2014, bringing with him over a decade of law enforcement experience.
At the time, he was the only Federal Reserve law enforcement officer in San Francisco who was also a volunteer tour guide.
"Being in Police Services, I was literally a walking billboard for the Fed—you walk around and you have patches on your shoulder that just advertise the Federal Reserve," Jordan says. "I felt it was important to be able to comfortably speak about what the organization represents and what we do."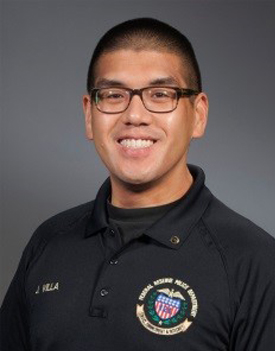 While conducting tours, Jordan would explain how the Fed's work directly connects to everyday life. His passion for this work was clear, and before he knew it, Jordan was promoted to be a project manager where his work included education, outreach, and managing the tour program. After honing his skills in that role for over two years, Jordan accepted a position as a senior business analyst for Cash Services. Now he is enhancing the training and development space within Cash Services, supporting over 250 people across 5 locations. "The SF Fed has blessed me with a lot of development and stretch opportunities, and now I can pay it forward by being a driving force in championing the training and professional development of our Cash Services staff."
Jennifer, meanwhile, began her career as a teller for a bank out of college. She thought she'd eventually move into administration. But after she interviewed for an admin position, the hiring manager was impressed and ended up recommending her for an analyst role. She joined the SF Fed as a senior privacy analyst in 2018. Earlier this spring, Jennifer was promoted to senior manager of Legal Operations, with oversight over privacy; bank ethics and compliance; and the implementation, deployment, and maintenance of legal technology.
Many employees at the SF Fed have had similar nontraditional career paths, and the Bank encourages employees to explore the possibilities at work. Three of the SF Fed's officers were recently featured on a career panel co-hosted by Halo-Halo and two other Asian ERGs—InspirAsian and Indus—during Asian American and Pacific Islander Heritage Month. The panelists shared their career journeys as well as their experiences as Asian Americans. When asked what advice he'd give to Asian Americans regarding career advancement, Vice President of Cash Apps Siva Iyer said, "Really think about building your network beyond your obvious inner circle—I want to put in a plug for an ERG. The ERG is a great avenue for you to step out of your bounds and start forming those networks outside of your traditional workspace."
How do you handle stereotypes in the workplace? Do you show up as your authentic self? For #APAHM, employees shared their thoughts and experiences as #AsianAmericans in the workplace on a panel hosted by our Employee Resource Groups Halo-Halo, InspirAsian, and Indus. pic.twitter.com/GcstzkCphr

— San Francisco Fed (@sffed) May 26, 2021
Connecting with colleagues
Jennifer says that ERGs like Halo-Halo can be great ways to connect with colleagues, learn from them, and find exciting new opportunities. In her former institution, taking advice from mentors within ERGs helped her navigate toward her analyst career. So one of the first events she organized as co-chair of Halo-Halo was a networking event (with the extra incentive of Filipino treats, such as a sweet bread called pandesal).
The word "networking" can leave a bad taste in some people's mouths, but it's not all about schmoozing to find a new job, Jennifer explains. It's also an opportunity to talk to folks who may become collaborators, who have expertise in areas you don't, or who may even become good friends.
"It opens a door for someone to go, 'Oh yeah, I remember seeing you or I remember chatting with you before,'" she says. "It makes things that much easier to collaborate or get questions answered on things you might be tasked with."
But what about the food?
Of course, it wouldn't be a Filipino group without a celebration of food and heritage. October is Filipino American History Month, a time Halo-Halo comes together to host cultural events.
In 2019, a big draw was a cook-off featuring adobo, a popular Filipino dish of marinated meat. Participants were asked to make dishes using family recipes, highlighting ancestral traditions and all the different ways adobo can be made.
While Halo-Halo is a great way to network and get your fill of adobo, lumpia (eggrolls), and pancit (noodles), Jennifer and Jordan also want to expand the group into a more community-focused organization.
Supporting their communities
In 2019, Jordan headed the group's initiative to partner with a local majority-minority high school. The initiative, taken on in partnership with the Fed's Inclusion and Diversity team, allowed Halo-Halo members to teach students skills (like resume writing or budgeting), and to educate them about the role of the Fed through events (like tours of the Bank).
Going from volunteer tour guide to managing the tour program, Jordan knows how impactful a tour can be—particularly if students can find a way to relate with their guides. For example, Jordan has found that many Filipino students gravitated toward him once they discovered he was Filipino. They would perk up after hearing him greet fellow Filipino SF Fed employees as 'Ate' (pronounced ah-teh) or 'Kuya' (pronounced kuh-yah), which are Tagalog terms for addressing older female or male relatives or friends, respectively.
"It makes relationships and connections more natural," he says. "More questions start coming in and the engagement is even deeper."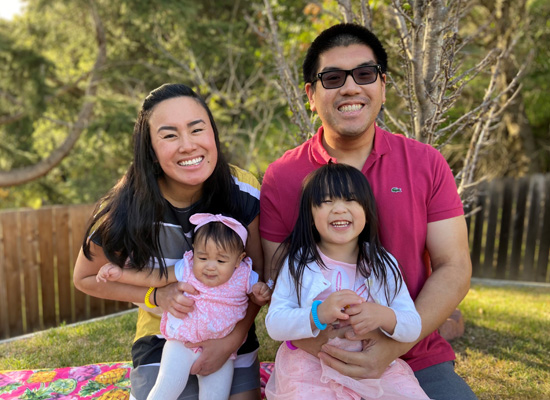 Last fall, Halo-Halo also volunteered at Kapwa Gardens, a new art and wellness pop-up space within the SOMA Pilipinas neighborhood of San Francisco. Members helped paint murals and build furniture.
"This was one way we could support the local Filipino community. And what really drew us to Kapwa Gardens is how they pivoted after the pandemic hit," Jennifer explains. "They redesigned their plans to factor in social distancing and focus on how they can help the neighborhood recover from the mental and economic effects of COVID-19."
The group's current fundraising efforts support a park that honors Filipino farmworkers, a leadership and mentorship program for Filipino women and girls, as well as a scholarship for Fil-Am college students.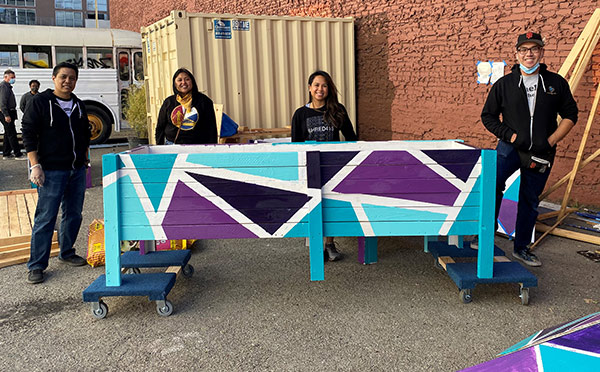 Building on different perspectives
One of the things about co-leading an ERG—or collaborating on anything at all, really—is that people have different points of view.
"We don't always agree on everything, which is not a bad thing," says Jennifer, of her partnership with Jordan. "Because it brings a more meaningful discussion to the table."
For example, Jennifer once posed the question: What if Halo-Halo became a subgroup of InspirAsian, the Asian-focused ERG, because that group tends to have more participation? Jordan, though, felt passionate about keeping Halo-Halo autonomous and finding ways to build engagement. So Jennifer suggested creating a survey to see what was keeping members from participating. They found that one of the major issues was scheduling conflicts.
That's why Halo-Halo started making their Filipino American History Month celebration more like an open-ended "festival" than a series of events. People could drop in as their schedules permitted and participate as they pleased, learning from various displays, nibbling on food, and socializing.
"They were able to mingle and learn at their own pace, at their own time," said Jordan. Last October, the celebration took a different approach, but Halo-Halo still kept the "festival" feel by including musical performances, a cooking demonstration, and an interactive trivia contest.
"We knew it would mean a lot to our members and allies to be able to engage in a casual and entertaining virtual setting for Filipino American History Month, especially during a time where its easy to feel disconnected," Jordan explains. "We are together while apart."
While we couldn't celebrate like we normally do, our #Filipino American Network (FAN) held their annual FANFair virtually. From a pancit-making demo to members showcasing their talents, thank you to FAN for an educational and entertaining event! #FilipinoAmericanHistoryMonth pic.twitter.com/ss61ReKrY9

— San Francisco Fed (@sffed) October 31, 2020
"Because we're still in a remote posture due to the pandemic, we're going to have another virtual celebration," Jennifer shares. "This year our theme is Filipino Unsung Heroes. We'd like to celebrate and share the stories of Filipinos who haven't received as much recognition for their work and contributions to the Filipino community or to society as a whole."
Jennifer's personal unsung heroes are close to home. She shares, "For me, these heroes are definitely my mom and grandmother because of the sacrifices they've made for my family."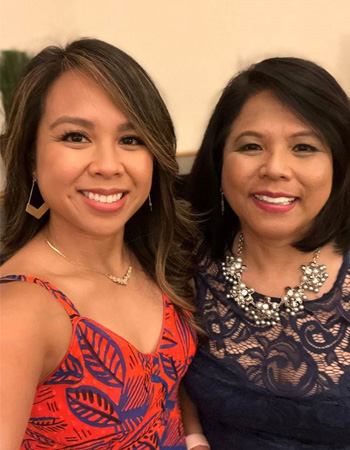 Jennifer and Jordan plan to continue finding ways to build the group. After all, they both know how meaningful a group focused on Filipino culture and community can be.
"I'm passionate about sharing our stories and educating others." says Jordan. "And I'm deeply passionate about this opportunity to be part of a community that understands where you come from, that accepts you for who you are."