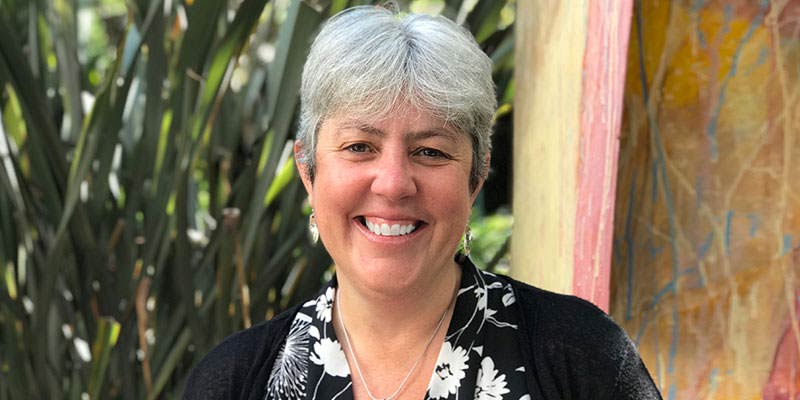 Jennifer Sanan
---
Making Childhood Dreams Come True, Combining Finance with Public Service
"I started running a 'mini bank' out of my bedroom when I was 9 or 10 years old," Jennifer Sanan recalls with a grin. "My two brothers and two sisters were my customers, borrowing money from me."
Her bank wasn't a moneymaker, though.
"It wasn't a very successful little bank," she laughs. "My mom said I couldn't charge interest to family, so it was more like a community service."
A flair for finance followed Sanan into her teen years. She'd earn money by babysitting and doing odd jobs, and always seemed to have cash on hand. As a high school freshman, she even loaned one of her brothers $1,000 to buy a truck—he was a senior.
Given those early inclinations, it's no surprise that Sanan grew up to work for the Federal Reserve. She spent two decades working in various capacities throughout the organization and today leads the Federal Reserve Cash Product Office (CPO) audit team.
She's proud to work for a public service organization and considers giving back to her community part of her DNA thanks to her parents.
Sanan's father worked for UC Berkeley's School of Public Health. Her mother was a public school teacher in an underserved district. The family spent weekends visiting families from her mother's class, working with Vietnamese refugees they'd sponsored, and setting up food kitchens for seniors living in poverty.
"My parents were always doing these amazing things. I was the youngest child. They dragged me to everything. At the time I probably complained, but now that I'm older I appreciate how much the experiences formed me. I'm thankful that they helped set me on my path in life," Sanan says.
Sanan earned a dual degree in economics and sociology at University of California Santa Cruz. Her studies satisfied her interests in math, finance, and public service. At graduation she knew she wanted to go on to work at a non-profit, the federal government's General Accounting Office (GAO), or the Federal Reserve.
Sanan started as an accountant for a biomedical research nonprofit, the Gladstone Institutes. The organization was researching the HIV and immunology to affect the growing AIDS crisis.
"It was a scary time, but an exciting place to be, to feel like you could do something," Sanan recalls.
After several years, Sanan took time off to travel. She then worked at a bookstore, contemplating her next career move. A thoughtful, understated person, Sanan was patient and methodical about finding just the right job.
"I wanted to do something that was socially responsible, and I wanted to use my skills," she says.
After months of exploring job openings, Sanan received three offers in one week. One of those offers was from the Federal Reserve Bank of San Francisco.
Sanan thought back to her goals as a new grad to work for a nonprofit, the GAO, or the Fed. Here was her chance to check a life ambition off her list.
"I thought about what the Fed does and how it combines finance and social responsibility, two things I had enjoyed all my life," she says.
She decided to make the leap.
"I'm glad I did because I've had a good career here," Sanan says.
Sanan's first job at the San Francisco Fed was as an accounting clerk. She's honest that it didn't exactly set her on fire. She spent hours on the phone with banks every day, resolving issues related to check processing.
Within a year, though, Sanan's unwavering professionalism paid off. She moved on to a job she loved as a financial analyst.
Sanan was tasked with evaluating the 12th District's facility needs and forecasting for its Northwest Infrastructure Project. The project led to the construction of the Bank's Seattle branch in Renton, Washington, which moved operations out of expensive downtown Seattle.
Sanan's role on the infrastructure project wrapped up once plans for the new building were approved, just in time for her to go on maternity leave. When she returned to work, Sanan joined the facilities department where she applied her knowledge of the Seattle building project to support its construction.
Her place within the team brought her back to a role familiar since childhood.
"I was there to help with the contracts and the purchase of the land, and everything that you don't think of, from purchasing steel to toilet paper. I would look at costs and make tradeoffs if necessary. We're always mindful that the Federal Reserve wants to allocate budget wisely," she explains.
In her new role, Sanan worked with all the 12th District facilities managers, helping them set budgets for everything needed to run their buildings.
"That was fun. People don't realize how these massive systems work together to run a building, from elevators to the chillers cooling the building," she says.
Once the Seattle building finished, Sanan was ready for a new challenge.
The Federal Reserve's Cash Product Office (CPO) is based out of the San Francisco Fed. Sanan heard through the grapevine that the office was taking on a 10-year software modernization project. Although she'd never worked in information technology, she felt this was the right problem to take on next.
"That's one of the things I really like about the Fed," Sanan says. "I've made a career of seeing what the next big problem is and then helping to solve it."
She dove into cash, learning about cash counting machines, bill production, bill shredding, and also about software development. Although the projects sound as different as could be, she found that only the details were different; the job was the same.
"I was doing what I know and I really do well," she says. "No matter if you're dealing in steel and builders or workstations and coders, every project needs a finance person to figure out the right amount of assets to allocate to the job."
At the end of 2017, the new system, Cash Forward, rolled out nationwide. But by then, of course, Sanan had already moved on to her current job overseeing CPO audits.
After two decades, Sanan is growing professionally and applying her knowledge to new problems.
"I ask more questions now, rather than being focused on providing solutions. It's been an interesting way to change my thinking, and I am enjoying that challenge. It's giving me a broader understanding of the operation," she says.
Sanan feels lucky that she joined an organization that allows her to follow her relentless curiosity.
"One thing I like about the Fed is that they're very open-minded in how you choose to grow," she says. "It's really up to you. Not a lot of organizations allow that, but here it's encouraged."