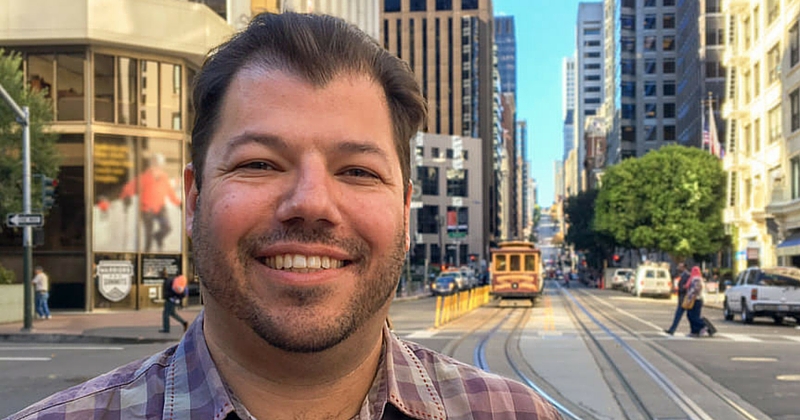 Jeremy Wall
---
When IT Manager Jeremy Wall Left His Heart in San Francisco, Getting Back to It Was a Long, Strange Trip
Like Tony Bennett's, Jeremy Wall's heart remained in San Francisco from the moment he first stepped foot in the City by the Bay.
Now manager of two information technology services groups at the Federal Reserve Bank of San Francisco, Wall's first taste of SF was a spring break getaway right before graduation from Ohio's Oberlin College. He instantly fell in love with the city and the idea of a life without Ohio's frigid winters and humid summers. He began mailing his resume to San Francisco companies when he returned home to wrap up his computer science degree.
Geography wasn't Wall's only criteria for employment, of course. He needed a reliable source of income to pay back student loans. That quickly ruled out start-ups, which were fledglings in the dot-com industry of the late 1990s.
"Juggling two to three jobs was the only way I could afford to go to Oberlin, even with student loans," Wall says. He worked as a resident advisor in the dorms, on the sales floor of a computer store, and as a marketing intern for a nonprofit. His favorite gig was cooking and tending bar for a café called The Feve, which kindled in him a lifelong love of cooking.
Though wary of moving without a new job lined up, Wall headed West with a few friends when they found reasonably priced plane tickets and a place to stay. Five people crammed into the small Bernal Heights cottage, and Wall slept on the screened porch for a week before receiving a job offer from Morgan Labs. He started work that day, on his birthday, and quickly rented an apartment in the Outer Sunset.
Life in the city was good until winter began and Wall found out just how cold and foggy the Sunset could be. It was an El Niño year.
"It started raining in November, and we didn't see the sun again until late spring. I took the old dilapidated L train through the tunnel, and it took me like an hour to get to work," Wall recalls. Then raising his arms in victory, says, "But I was living here, darn it!"
After that chilly year, Wall moved to sunnier Hayes Valley. By day he worked on financial software applications, and by night he sometimes cooked and tended bar at the venerable Hotel Utah Saloon.
Life in the city was good once more. Until.
"The dot-bomb happened," Wall says. It was 2002, and San Francisco's tech economy withered. This wouldn't have mattered to Wall, who had selected a stable software company to work for, except for one thing: Morgan Labs had just been sold to a company in Hoboken, NJ. Wall had to choose between relocating and finding a new job during the tech bust.
With student debt still weighing on him, Wall reluctantly packed his bags and spent three years in Hoboken. Professionally, it was a good move. Wall became manager of about a third of the company and created a professional services and training area from scratch. But he never felt comfortable. Eventually, Wall resigned and moved to Colorado and, "in a truly glamorous move, lived with my parents in my 30s," he says with a booming laugh.
Soon he was contacted by his former employer and landed a contract helping his replacement get up to speed. It led to another contract helping the company's client with implementation—in Paris.
Moving from your parents' house to Paris sounds like a dream, but Wall found living in the City of Light less than enchanting.
"Paris can be a great place to visit. Living there? Don't try to go to the grocery store on Sunday," he quips. Deciding to make the most of his experience, Wall came to enjoy the Paris nightlife, making friends in the restaurant business, many of them expats.
"I didn't have any shortage of things to eat and drink. And my restaurant French is excellent," he says, grinning. "One of the ex-pat restaurateurs I met was a student at (famed cooking school) L'Ecole Ritz Escoffier. I had the opportunity to cook with him off hours in his restaurant's kitchen as he practiced."
During the day, Wall managed his IT group. He was supposed to lead a team rolling out software implementation in Paris for a major French bank, and then do the same at its locations in other countries. But in 2008 his client froze investment projects, including Wall's, while investigating a high-profile trading scandal.
Rather than switching jobs, Wall decided to take a year off to travel the world. He visited U.S. National Parks. He reconnected with family. He went to Australia and earned his SCUBA certification. And, he sent his resume to some San Francisco companies.
"I selected the Fed as a place I wanted to work. I believe in the mission; I think it's a fascinating organization," Wall says.
When he returned to the States in 2009 Wall once again got a job offer on his birthday, this time with the Federal Reserve Bank of San Francisco. He would be a project coordinator for IT initiatives both in the 12th District and system-wide.
Since then Wall has held three distinct IT jobs at the SF Fed. This kind of mobility is not unusual for those who are interested in trying new things within the organization. He sums up the experience as, "There's stability without being static and with the flexibility to do things that interest you."
Today Wall is thankful to be in a professional environment that's as welcoming as the mild weather, rooted in his favorite city. He comments simply, "It was always my goal to have my home base in San Francisco. Of all the places I've lived, I love living here most."