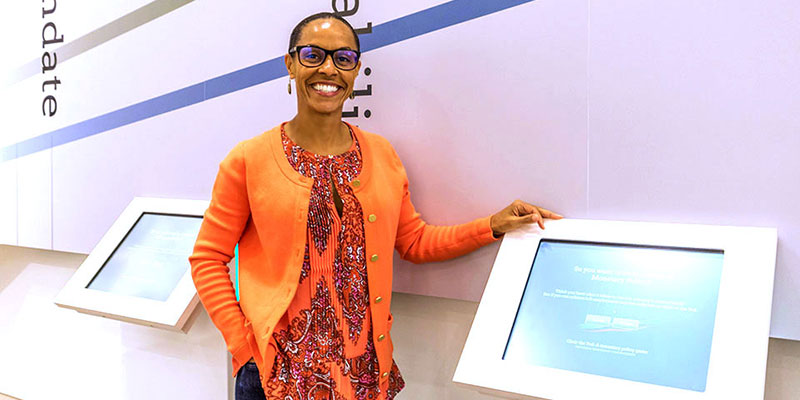 Joselyn Cousins
---
Building Healthy Communities: 'I Can't Ask for a Better Job and Get Paid to Do It'
Joselyn Cousins had been working in construction lending when she dove into her first community development project assisting at-risk kids in a Las Vegas, Nevada, childcare center.
"It was so wonderful to talk with the kids and be able to tell them what my mom and dad told me: 'you can do it and you can achieve anything you put your mind to,'" Cousins recalls. "I always say that I can't ask for a better job and get paid to do it."
The experience shaped her career for the next 20 years.
"Once you're in community development, I don't think you ever get out," she acknowledges with a big laugh that matches her personality.
It was that first community development opportunity, with Bank of America, where Cousins became familiar with the Community Reinvestment Act, a law that encourages banks to meet the credit needs of the communities in which they operate. The CRA became a constant in her life even as she moved states and changed employers.
After BofA, Cousins did a yearlong stint at the San Francisco Fed's Los Angeles branch, and then returned to Las Vegas to work for other banks. But she maintained her connections to the Fed, attending events as a CRA officer for Citibank and Bank of Nevada. At one of these events, she learned about the "healthy communities" concept. The idea, revolutionary at the time, was that physical health can lead to economic health.
"In order to be healthy, you have to have access to healthcare and healthy foods but you also need quality affordable housing, quality education, and a job that pays a livable wage," Cousins explains.
The healthy-communities concept brought a much more holistic approach to the work by integrating the health sector with the community development sector to promote better health outcomes.
Intrigued, Cousins soon threw herself deeper into community health when she took a job as vice president for community development at the United Way of Southern Nevada.
"I worked with the public health department to understand why some kids didn't succeed in school. It was because they hadn't gone to the dentist or they didn't have eye care so they couldn't see the board. Some kids couldn't get into preschool because they hadn't been immunized," Cousins explains.
The United Way provided Cousins with a new perspective on community development where she gained insights into the needs of nonprofit organizations. Two years later, paired with her background in banking, the experience made her the perfect candidate for a job covering Nevada, Arizona, and Utah for the San Francisco Fed's Community Development Department.
The Fed was like an old friend to Cousins. Not only had she worked at the LA branch, but she had worked with 12th District Community Development staff on CRA projects throughout her career. She made the move anticipating that it would empower her to use everything she'd learned to improve life for the communities she worked with on a larger scale by cooperating with a broader range of stakeholders, from community and government organizations to banks.
"My hope was that I could do more through all of the resources that are available at the Fed," Cousins says.
Her expectation proved accurate. Soon after joining, Cousins heard from a group in Reno that wanted to start a healthy communities initiative.
"We held a conference to inform the community about cross-sector collaboration opportunities between health and community development, and the initiative has grown," Cousins says.
By sharing research, bringing in expert speakers, and making connections with stakeholders, the Fed was able to help. Soon the group, now known as Truckee Meadows Healthy Communities, was off and running with grant funding. It recently became a 501(c)(3) organization.
Now the district manager for the field group, Cousins continues to truly enjoy making connections that help low- and moderate-income families and still has time for fieldwork.
"It is so exciting to see a small but mighty community like Reno come together and really catalyze an initiative," she says with a grin.