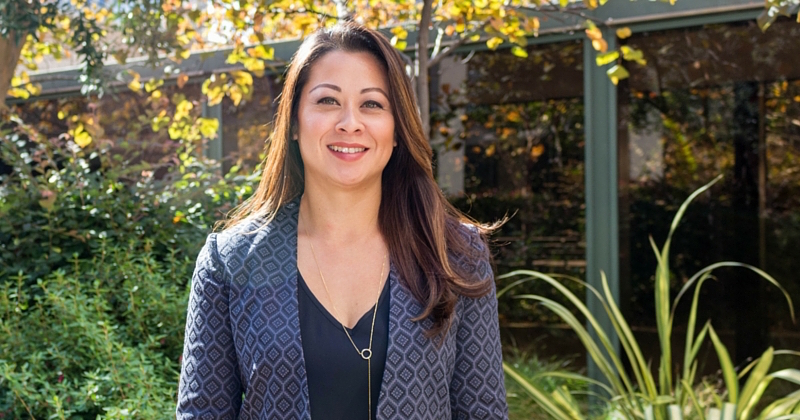 Joy Misola
---
How Does a Nursing Assistant Become an Auditor? Ask Joy Misola
Some young people know what career they want to pursue from an early age. They follow an arrow-straight path through college and internships into the perfect workplace. For others, like Joy Misola, the journey is more unpredictable.
Based out of Federal Reserve Bank of San Francisco headquarters, Misola is the technology audit manager assigned to the national Cash Product Office. But growing up the San Francisco native assumed she'd become a nurse, perhaps a physical therapist. "We have a lot of nurses on both sides of my family. There was this expectation that I would end up somewhere in the medical field," she recalls. Not wanting to disappoint, Misola became a certified nursing assistant after high school. She quickly realized she didn't love the job. "It just wasn't for me," she concedes with a smile.
Misola transferred to the hospital's billing department where she spent the next four years. "I would make repetitive phone calls to insurance companies. It became very redundant." But it was within that mundane day-to-day grind that Misola had a revelation: "I started to look forward to when tech support would come to troubleshoot frozen computers around the office, and eventually started pitching in to help."
Misola wasn't just interested in technology. She had an aptitude for it.
Soon Misola decided to pursue an accelerated three-year bachelor's degree in network communications management at DeVry University in Fremont, CA. The program provided opportunities to work part-time in her new field. It was the perfect way to gain hands-on experience and go to school while balancing motherhood.
"I was very driven to be successful and make a living for myself and my daughter. As a single mother, I also needed to make the transition from job to career quickly," she explains.
Soon after graduation, Misola accepted a position with Vitria Technology in Silicon Valley, first as a Help Desk responder and later in computer network support.
Everything was falling into place when a new challenge came Misola's way: The Sarbanes-Oxley Act. Dubbed Sarbox, the reform requires public companies to submit to independent audits designed to prevent corporate accounting scandals. Vitria's IT department was now tasked with conducting all-new performance tests and creating necessary compliance documentation.
"I became the liaison between the IT department and our external auditors," Misola says. She did so well that Vitria promoted her to manager of the company's Sarbanes-Oxley Compliance Program.
Without intending to, Misola had transitioned from IT to a career in auditing. She's still pleasantly surprised by how natural it feels to be an auditor. She's able to apply her writing skills, which she always excelled at in school, to carefully worded reports. Outgoing, she's comfortable asking a lot of questions of the subject matter experts whose projects she's auditing, other external auditors, and testing partners. And she has an inherent desire to do good.
"I like to help people. It's one of the reasons I originally wanted to go into the medical field. Audits really are about helping people. We help companies manage risk," she says. "There's also the aspect of working with different people across a company. I really enjoy learning about what people do and coming up with recommendations to help them be more efficient and effective. I find it interesting to understand the various processes and interdependencies."
Risks evaluated by technology auditors include Internet and network security, but Misola is careful to maintain a broad view of her work. "As systems, network environments, and the economy change, we have to adjust and look at things using different lenses," she says, knowing these types of changes come with the territory. But it was also constant change that drove Misola out of the tech sector.
Moving from Vitria to another company, Misola found herself needing to audit network operations at a company where technology and processes were in constant flux. Internal teams would often take matters into their own hands, changing their systems, adopting tools in the cloud without telling anyone, or completely changing their workflows.
"Technology is constantly changing. It's a fast-paced industry. People have to be able to respond quickly and are focused on keeping up with competition. They're worried about getting the job done in the shortest amount of time possible," she explains. It's a very different atmosphere from the SF Fed.
"It's like night and day compared to the 12 years I worked in the tech sector. People are very collaborative here, and have a genuine interest in making sure you can do your job well," she says frankly. "There's a very clear vision of the direction we're moving, of what the goals are, and where we want to get. Because of that, I'm finding that people are very open to exploring how we can work together."
She's also finding a much better life/ work balance that allows her to spend more time with her daughter, now a high school senior.
"When I was in my previous roles, my daughter was very involved with ballet and modern dance. In the past few years she's had to travel as far as New York City for competitions," Misola explains. Being a dance mom became a marathon that began first thing in the morning before she grabbed her first cup of coffee and continued well into the night. "After I'd leave the office my daughter had rehearsals every day. We wouldn't have dinner until 10 o'clock at night and she'd do homework until 1 or 2 o'clock in the morning."
Although her daughter loves dancing, Misola is thankful she's decided to pull back and enjoy other activities her senior year, even if she's unsure how long that'll last.
"Now that I have a job closer to home, my daughter's weighing whether she wants to major in pediatric nursing or dance professionally. Of course," she comments wryly. Misola's ready to support her decision either way, confident that even if there are twists and turns, she'll end up in a career that makes her happy, just like her mom.
As for her own future, Misola plans to stick around the SF Fed for a while, saying, "It's amazing. Some people have been at the Fed for decades and have moved between departments, districts, and even the Board. If something new catches your interest or if you see an opportunity, you can make things happen for yourself. It's a very stable environment that provides a multitude of opportunities for growth and development."